Russell Brand explores the impact mentoring can have on our lives in his book Mentors
In his book Mentors, Russell Brand shares how a series of significant people have had a positive impact on his life.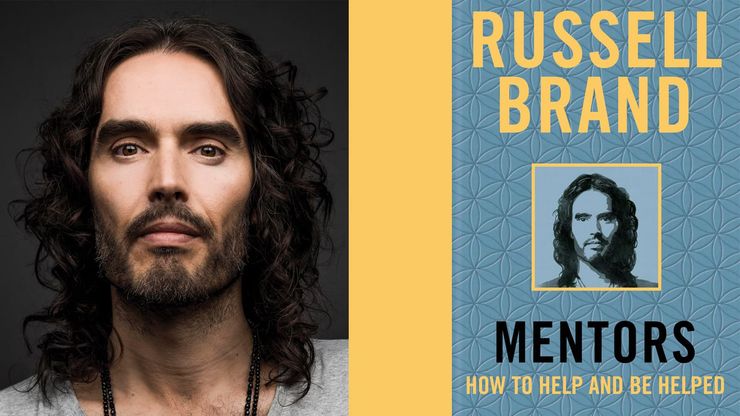 Russell Brand believes in the power of mentors in every area of your life. From your career path to parenthood, we can all benefit from the advice and guidance of someone who has been there and done that. In his book Mentors, Russell shares the stories of the significant people who have had a positive impact on his life.
From his first addictions counsellor to some of the internationally respected thinkers who have guested on his hit podcast Under the Skin; Mentors tells stories of key moments and encounters in Russell's life and is a meditation on how important both helping others and accepting help are to lasting happiness.  
Russell writes: 'I have mentors in every area of my life, as a comic, a Dad, a recovering drug addict, a spiritual being and as a man who believes that we, as individuals and the great globe itself, are works in progress and that through a chain of mentorship we can improve individually and globally, together.'
'We choose mentors throughout our lives sometimes consciously, sometimes not, sometimes wisely, sometimes not. The point of this book is to understand this process and to improve it. One of the unexpected advantages that my drug addiction granted is that the 12 step process of recovery that I practice includes a mentorship tradition.'
In this video, Russell reads an extract from Mentors while recording the audiobook.
'In this book I will talk to you about my mentors, how they have enhanced my life in practical and esoteric, obvious and unusual ways by showing me that it is possible to become the person I want to be in spite of the inner and outer obstacles I face. I will encourage you to find mentors of your own and explain how you may better use the ones you already have. Furthermore, I will tell you about my experiences mentoring others and how invaluable that has been on my ongoing journey to self-acceptance and how it has helped me to transform from a bewildered and volatile vagabond to a (mostly) present and (usually) focused husband and father.'