The best book-to-TV adaptations
From those we loved to those we can't wait to watch, we've rounded up the very best TV series based on fiction.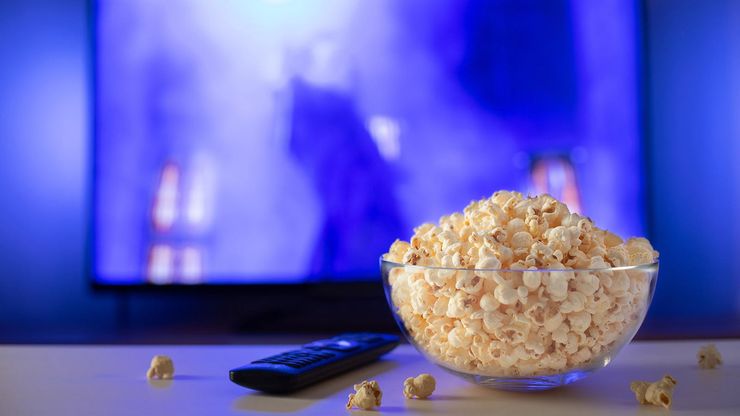 With some of the biggest small screen smash-hits of recent years - including  The Handmaid's Tale and Game of Thrones - adapted from fiction, there's little wonder screenwriters are looking to their bookshelves for inspiration. And there's more to come. A Netflix adaptation of Kristin Hannah's Firefly Lane and ITV's new crime series Grace, based on Peter James's Roy Grace books, are coming soon, while the TV adaptation of Booker Prize-winning novel Shuggie Bain is sure to have viewers shedding a tear when it hits our screens. 
Here's a selection of our favourite literary TV adaptations, as well as those that we can't wait to watch.
Matthew Hall's Coroner Jenny Cooper  series
Matthew Hall's gripping Coroner Jenny Cooper series has been adapted into the hit TV series Coroner starring Serinda Swan and Roger Cross. There are currently two seasons, with a third reported to be on the way. The TV series has relocated Jenny Cooper to Toronto, where she investigates suspicious deaths while raising her son alone following the death of her husband. 
Buy The Coroner, book one in the Coroner Jenny Cooper series
Matt Ruff's Lovecraft Country
HBO is adapting Matt Ruff's novel Lovecraft Country into a one-hour TV series executive produced by Jordan Peele, who directed Get Out and Us, and J. J. Abrams, who produced Lost and Westworld and directed Star Wars: The Rise of Skywalker. The series will star Jonathan Majors as Atticus, Courtney B. Vance as Atticus's uncle George Freeman and Jurnee Smollett-Bell as Letitia. The series is expected to premiere later in 2020.


Megan Abbott's Dare Me
Megan Abbott's gripping exploration of the teenage psyche set in the ultra-competitive world of high school cheerleading has been adapted into a TV series by USA Network, starring Herizen F. Guardiola, Marlo Kelly and Willa Fitzgerald. The series is available to stream on Netflix in the UK from 20 March 2020.
Read more about the Dare Me adaptation
Deep secrets lie behind their eyes. Find out what they're hiding when @DareMeOnUSA premieres Sunday, December 29 on USA Network. pic.twitter.com/Yyvp4G3ayS

— USA Network (@USA_Network) December 4, 2019
Peter F. Hamilton's Sonnie's Choice (featured in Love, Death + Robots)
Love, Death + Robots is an 18 part Netflix series executive produced by David Fincher, director of Seven, Fight Club and Netflix series Mindhunter. The series is comprised of 18 animated short films of varying lengths, each adapted from short stories, and is a genre mash-up of science fiction, fantasy, horror and comedy. The first episode is based on a short story, Sonnie's Edge, from Peter F. Hamilton's short story collection A Second Chance at Eden, and sees protagonist Sonnie fighting to stay ahead in the underground world of constructed monster fighting.
Please be advised, the trailer does contain explicit content and is suitable for mature audiences only.
Joe Hill's NOS4A2
AMC, home of The Walking Dead and A Discovery of Witches, has developed Joe Hill's third novel, NOS4A2, into a TV series starring Zachary Quinto, known for his roles in Heroes and the Star Trek films, as the book's villain Charlie Manx. The book, and series, follows Vic McQueen as she fights to defeat a supernatural killer who preys on children.
Victor Hugo's Les Misérables
The BBC's adaptation of Victor Hugo's novel of love and revolution has a star-studded cast, with Lily Collins, Olivia Colman, Dominic West and David Oyelowo all appearing. The six-part series will be a drama, not a musical, and is being adapted by Andrew Davies, the writer behind the BBC's War and Peace and Pride and Prejudice adaptations.
Aravind Adiga's Selection Day
As part of Netflix's recently launched programme of original Indian drama, Selection Day, by Booker-prize winning author Aravind Adiga has been adapted into a drama series for the subscription-based platform. The novel is a coming-of-age story of two Indian brothers being raised by a sports-obsessed father, set in a world of cricket and corruption.
Kent Haruuf's Our Souls At Night
This Netflix original film stars Jane Fonda and Robert Redford and is based on the book of the same name by Kent Haruf. Completed shortly before his death in 2014, Our Souls At Night is a love story about growing old with grace set in Colorado, USA.
Jessie Burton's The Miniaturist
Jessie Burton's number one bestselling debut novel was adapted into a two-part mini-series for BBC One, starring Anna Taylor-Joy, Romola Garai and Alex Hassell. Eighteen-year-old Nella Oortman arrives in Amsterdam from the country to start a new life with her husband Johannes, but all is not as it seems . . .
China Miéville's The City & The City
The City & The City stars David Morrissey as Inspector Borlu, who in the course of a murder case unravels a secret that the fictional city of Besźel has spent years trying to keep under the surface. The four-part drama was shot on location in Manchester and Liverpool and also stars Maria Schrader, Christian Camargo & Mandeep Dhillon.


Edward St Aubyn's Patrick Melrose novels
Edward St Aubyn's Patrick Melrose novels were adapted for television, and starred Benedict Cumberbatch as Patrick, alongside Jennifer Jason Leigh and Hugo Weaving as his parents. The series was critically acclaimed and won five Emmys in 2018.
Lottie Moggach's Kiss Me First
Lottie Moggach's thrilling and unsettling coming-of-age story about teenage identity in the digital world was the inspiration for the Channel Four and Netflix TV series from Bryan Elsey, the co-creator of Skins.


Wilkie Collins' The Woman in White
Often cited as the first mystery novel, and certainly, an inspiration for today's crime writers, Wilkie Collins' 1859 classic was adapted into a five-part drama for BBC One which aired in 2018. The series starred Ben Hardy as Walter Hartright, and Jessie Buckley, of War and Peace fame, as Marian Halcombe.
Coming soon
Douglas Stuart's Shuggie Bain
Douglas Stuart's heartbreaking Booker Prize-winning novel Shuggie Bain is being adapted for television by A24 and Scott Rudin Productions. The TV series will be produced by Scott Rudin and Eli Bush, while Douglas will adapt the book for the screen himself. Douglas said of the adaptation: 'I am thrilled to be partnering with A24 and Scott Rudin Productions in bringing Shuggie Bain to the screen. I often thought of the book in cinematic terms, and the glamourous, calamitous Agnes Bain certainly believes herself to be the star of her own movie. This is a chance to show the city of Glasgow with all her tenacity and unsinkable spirit, and to celebrate the love and hope between Shuggie and Agnes.' 
The story, set in Glasgow in the 1980s, follows Shuggie, a young boy growing up in a decimated mining town and struggling to help his mother in her battle with alcohol addiction. But despite the ruthless poverty that surrounds him, Shuggie believes that if he tries his hardest, he can be 'normal' like the other boys and help his mother to escape the depths of hopelessness.


Kristin Hannah's Firefly Lane
Netflix's adaptation of Kristin Hannah's novel Firefly Lane is coming to your TV screen soon. The ten-episode series will star Katherine Heigl (Grey's Anatomy) as Tully Hart and Sarah Chalke (Scrubs) as Kate Mularkey. Beginning in 1974, Kate Mularkey has accepted her place on the bottom rung of her school's social ladder. But then 'the coolest girl in the world', Tully Hart, moves in across the street and wants to be Kate's best friend. The pair are inseparable for thirty years, until a terrible betrayal tears them apart.
Peter James's Roy Grace series
Life on Mars star John Simm will star as Detective Superintendent Roy Grace in Grace,  ITV's adaptation of Peter James's bestselling Roy Grace crime fiction series. The first series will be two episodes long and will focus on the events of the first two books in the series, Dead Simple and Looking Good Dead.  Filming began on the series in Brighton in September 2020, and the first episode is expected to air sometime in 2021. 
Discover all the Roy Grace books here. 
In this episode of Book Break, Emma tells us all about the thrillers she'd love to see adapted into TV shows: