How to mend a broken heart by Gemma Cairney
Gemma Cairney's guide to getting over a broken heart, an exclusive extract from her book Open Your Heart.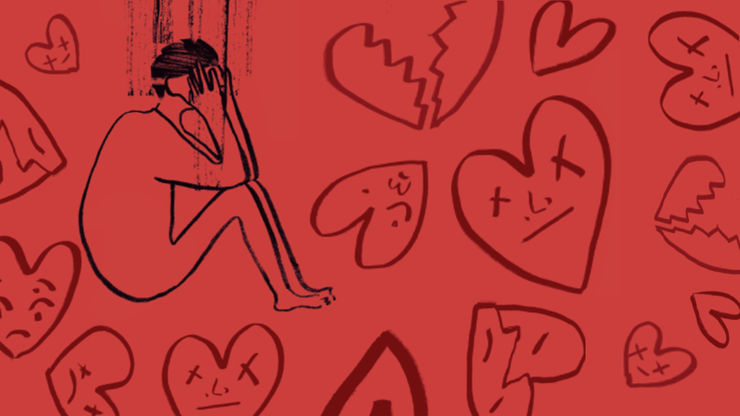 Gemma Cairney's guide to getting over a broken heart, an exclusive extract from her book Open Your Heart.
Most of the human race has experienced heartache. MILLIONS of people have had their hearts broken. It's a completely normal part of life, and an important part too.

Artists, poets and musicians have done their best work during or after heartbreak (more on this later).

Heartbreak means you are ALIVE. You feel things. And you will grow through it all. It makes you the amazing person you are, one who has empathy and compassion.
Heartbreak can...
Turn you into a bit of beast, a crying, snotty, wailing heartbreak monster – a stomping, angry, wild thing.

Make you react extremely emotionally to songs that wouldn't usually affect you.
Do the same as above, but with sad or romantic films, especially on planes for some reason. You can find yourself on a flight with an uncontrollably tear-drenched face (this has happened to me SO many times).

Dent your pride. You'll find that your ego is at a loose end when breaking up, even though sometimes a relationship just simply ISN'T RIGHT.

Make you lose your appetite. But please do eat – it'll make you feel better. Eat some ice cream.

Confuse the hell out of you. It's even possible to fancy someone harder when they are unattainable – a cruel and twisted element of fate.

Make you engage in some hard snogging with your ex, even though you are likely to crash and burn afterwards.

Hurt. It's been proven that heartbreak can create a physical pain and discomfort, like a tight chest, stomach pain or headache

Make you go off the things you used to love, like sunshine, or chips
Radically change your appearance, or cause you to take up exercise obsessively, anything to distract yourself!

Give you the most refreshing newfound sense of independence.

Make you wiser and stronger.
Heartbreak can't...
Stay forever.

Stop you from fancying someone else.

Stop you from being clever, funny, creative or good at maths. You are bright like a spark – if not brighter now.

Be shaken off easily. Give yourself the time you need to heal. Time will make it easier, and sometimes a good actual shake is worth a try.

Be fully described in emoji form. If you are ready to use these to describe how you feel, I reckon you're feeling a bit better
Always be understood by everyone around you. Sometimes our mates and family members just won't understand how we feel. Don't expect everyone to always get it.

Stop you from being beautiful. You are still beautiful.

Stop the world on its axis. Even though it feels like the world doesn't look the same during heartbreak, it is still there, waiting for you.

Sink your boat. It's been rocked but it can't sink it.
Gemma's three-step plan to heal a broken heart
1. Invite every single one of your friends to your house immediately, moan about your heartbreak till you have no words left.

2. Then cover your face in glitter and go out disco-dancing in the sparkliest outfit you own, and dance till it feels like your legs might drop off.

3. REPEAT EVERY WEEKEND TILL YOU ARE FEELING BETTER.