'What is the use of a book,' thought Alice, 'without pictures or conversations?' John Tenniel's Alice in Wonderland
This year marks 200 years since the birth of illustrator John Tenniel. Here we look at the story behind his much-loved original Alice in Wonderland illustrations and their lasting influence.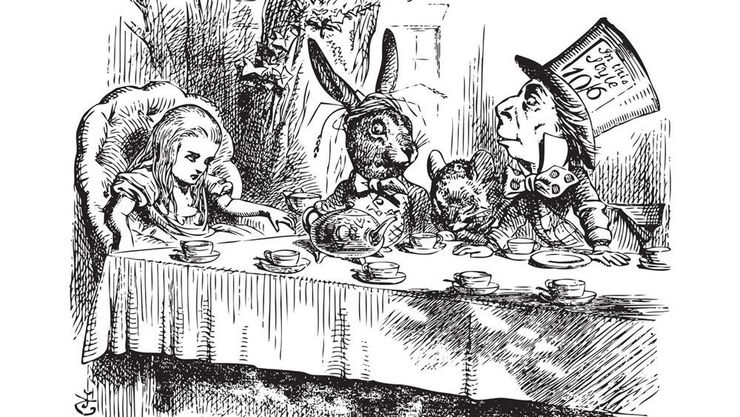 John Tenniel's charming illustrations brought to life Lewis Carroll's much-loved tales of Wonderland, and are some of the most famous literary illustrations of all time.   This year marks 200 years since the birth of John Tenniel, who was not just an illustrator but also a talented political cartoonist. Here we look back at his career, the story behind the illustrations he is best known for, and his continued influence, in particular on author and artist Chris Riddell who credits Tenniel with his decision to become an illustrator.
Although he is now best known for his illustrations of Wonderland, when Lewis Carroll approached John Tenniel to illustrate Alice's Adventures in Wonderland, the artist was already well known as the lead cartoonist for influential political magazine Punch. Born in 1820 in Bayswater, west London, Tenniel studied at the Royal Academy of Arts before finding work as a book illustrator. In 1850 he was offered the position of cartoonist at Punch, becoming chief cartoonist in 1861. 
Lewis Carroll originally illustrated Alice's Adventures in Wonderland himself, but approached Tenniel, whose work he had admired in Punch, to illustrate the edition that Macmillan agreed to publish in 1865. Tenniel drew the illustrations on paper, and these were then carved into woodblocks by engravers. Electrotype copies (a metal reproduction) were then made from the woodblocks to be used in the printing process.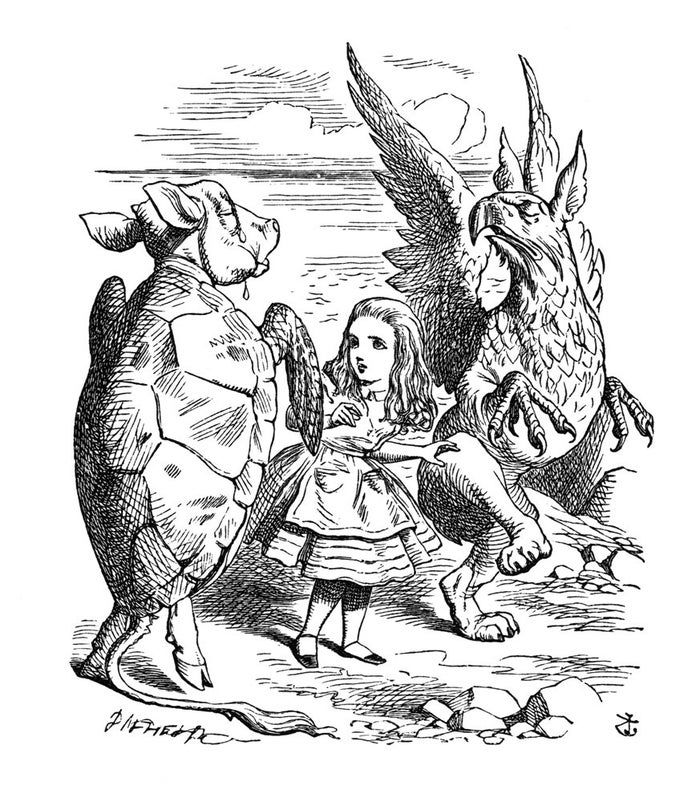 The iconic dress
The iconic image of Alice in her blue dress has influenced films, television, stage plays and fancy dress costumes around the world, but how did Tenniel originally picture Alice in colour? Well, Alice appeared in a red dress on the cover of the People's Edition in 1887, while in the first colour edition – The Nursery Alice, for younger readers – Alice's dress was yellow. It wasn't until The Little Folk's Editions of Alice's Adventures in Wonderland and Through the Looking Glass that Alice wore a blue dress, the same colour that was later used by Harry G. Theaker when he coloured sixteen plates of Tenniel's illustrations for a one-volume edition of Alice and Through the Looking Glass in 1901. That image of Alice in her blue dress and blue and white stockings has captured imaginations ever since.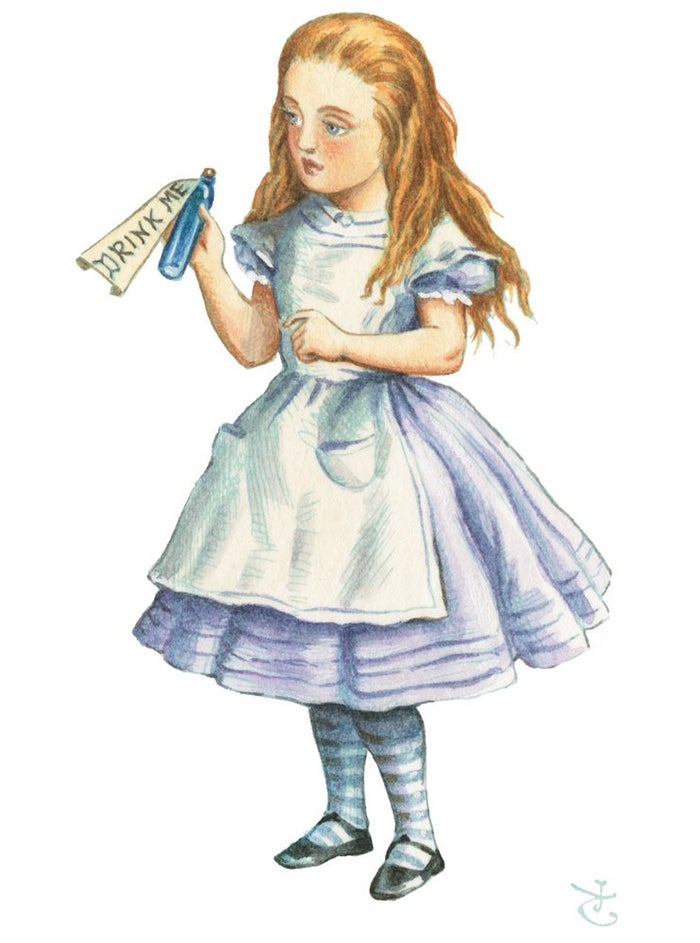 A lasting influence
 Alice in Wonderland continues to inspire authors and illustrators to this day. Chris Riddell is an acclaimed political illustrator for The Observer and the author and illustrator of children's book series Ottoline, Goth Girl and The Cloud Horse Chronicles. He fell in love with Tenniel's illustrations as a child, particularly his waistcoated White Rabbit, and has said that Tenniel is one of the reasons he became an illustrator. Here, he explains what it was about Tenniel's work that captivated him and made him want to follow in the illustrator's footsteps. 
 "'What is the use of a book,' thought Alice, 'without pictures or conversations?'" As a child reader of Alice's Adventures in Wonderland, I agreed, and oh, what pictures! And what conversations! For me, the book came fully formed; the words and pictures fused in my imagination into a single, magical object. I would copy the beautiful black-and-white illustrations with their cross-hatched shading in an attempt to understand how they were done: the impossibly lithe, yet fat, old Father William; the imperiously furious Queen of Hearts, with her outstretched arm and pointing finger; and, most of all, the nervy, twitching White Rabbit with those worried, wide open eyes . . .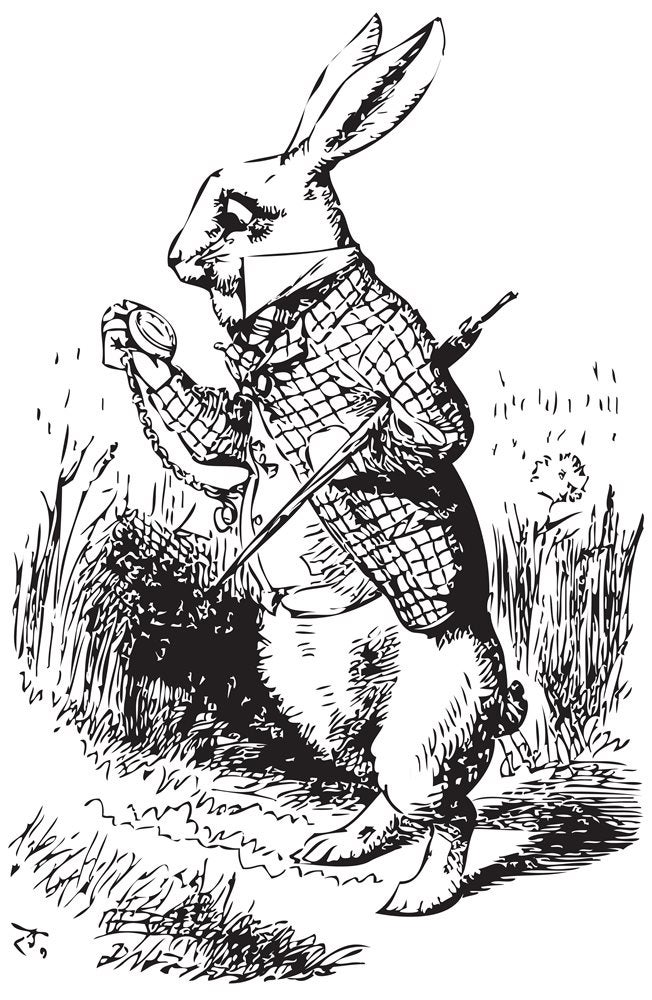 I copied the White Rabbit obsessively throughout my childhood and began to realise that the book I loved was the result of two remarkable imaginations coming together. As I decoded the intricate line and subtle characterisation, I decided that I wanted to be an illustrator of children's books, just like John Tenniel. Now, many twists and turns, ink stains and brush strokes later, I am an illustrator and, like many illustrators before me, I have stepped into the great man's cross-hatched shadow.'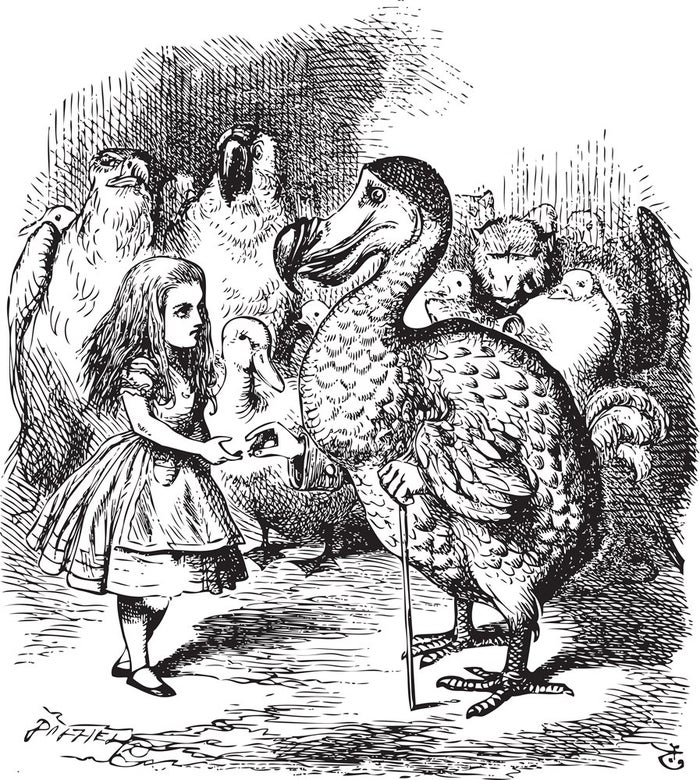 Chris Riddell's beautiful new edition of Alice's Adventures in Wonderland comes 200 years after the birth of Alice's first illustrator. Here he talks about illustrating a story that has influenced him since he was a child. 
'Illustrating the most iconic children's book ever written has been daunting and exhilarating. I have sifted through Lewis Carroll's extraordinary words as if I were on an archaeological dig, laying out those exquisite conversations over three hundred pages. 
I have carefully pieced together a notion of the landscape of Wonderland and tried, like my hero, Tenniel, to reconstruct the characters through my own imagination. I hope I have conveyed just a measure of my childhood love for this great book.
The most daunting challenge was imagining the character of Alice herself. In this, it was Lewis Carroll, rather than John Tenniel who came to my aid. When I looked at his beautiful photographs of the Liddell sisters, Alice's Adventures in Wonderland took on a whole new lease of life for me. Alice Liddell, looking back at me from Carroll's photographs, was my constant companion throughout this illustrative journey. She was the child who heard this story for the very first time, and it is her voice that we hear in those wonderful conversations. I hope I have done her justice and that future Alices will delight in the pictures and  conversations this book contains.'