Spotlight on: Dara McAnulty. Meet the award-winning, teenage nature writer who is inspiring a whole new generation
With his vividly felt descriptions of the natural world, Dara McAnulty won the 2020 Wainwright Prize for Nature Writng when he was just sixteen. We find out how the young naturalist became a star writer and activist.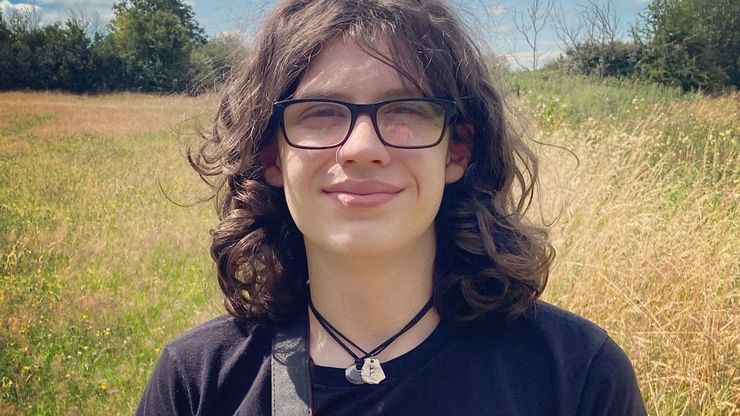 Dara McAnulty is a child of our times. Intensely wired to the natural world, he has used his skills of observation – and his ability to transform these observations into vivid prose – to draw attention to the climate crisis. His Diary of a Young Naturalist won the Wainwright Prize, he has taken part in global climate strikes and he has fundraised thousands for the Hawk-Eyes project to help protect endangered raptors, becoming the youngest ever recipient of the RSPB medal for conservation. Dara has also spoken and written with great eloquence about how being in nature helps him manage his autism. To celebrate the publication of his new book Wild Child, A Journey Through Nature, we tell you all you need to know about Dara McAnulty.
'Nature was and is as big a part of me as my own heartbeat.'

Dara McAnulty
Dara is from Northern Ireland, and spent his early years in Belfast, describing how he would kick and scream when he had to leave the park: 'everything about the constant buzzing was a struggle for me, I couldn't fade out the noise to hear what mattered.' When he was aged nine the family moved to the countryside, and he and his conservationist father, nature-loving mother, brother Lorcan and sister Bláthnaid began to explore the natural world around them.
Dara's autism meant that for a period he could only communicate verbally with his close family, and so he started to write a blog in 2016 to share the feelings about nature that were spilling out of him. He writes, 'the volume was turned down enough to hear things and we discovered quiet places so alive with wildlife, I felt a surge growing inside me.'
The blog was intended to be a journal for Dara to channel his thoughts and emotions, but its popularity grew rapidly: it was A Focus on Nature's best blog of 2016, and won the youth category in The Wildlife Trusts' 30 Days Wild campaign in 2017. A publishing contract followed, and Diary of a Young Naturalist went on to win multiple prizes, including the prestigious Wainwright Prize, which celebrates the best in nature writing.
As well as enthralling readers with his close observations of nature, Dara has pushed himself to engage himself with the outside world and help communicate the urgency of the ecological and climate emergency. Dara has spoken up to help protect his favourite bird, the hen harrier; he has recorded Tweets of the Day for Radio 4; and he has been given  BBC Springwatch's Unsprung Wildlife Hero Award, forming a mutual appreciation society with presenter Chris Packham. He has marched to Number 10 Downing Street and taken part in global climate strikes, and has raised money to tag and thus help protect red kites and buzzards.
But while Dara has bravely found a voice in the wider world, his skill is in communicating the joy of small things. Wild Child is essentially about going outdoors, sparking an appreciation of the tapestry of life that lies under our noses, often unnoticed. Through that appreciation, Dara believes, we can all become naturalists and activists:
'As a teenage author, it is such a privilege to be able to invite children into a world which is and always has been, theirs to explore and learn from. I really hope that many children and parents will gain a different perspective and a new, multi sensory way of looking at everyday nature on or near, our doorsteps.'

Dara McAnulty
Fun facts about Dara (which the little nature-lovers in your life will enjoy too):
He lives with his parents, younger siblings Lorcan and Bláthnaid and rescue greyhound Rosie in County Down near the Mourne Mountains. He and his family are all very close and are all nature and punk lovers.
His name means oak in Irish.
He loves The Lord of the Rings, Harry Potter, Agatha Christie and the poems of Seamus Heaney. His favourite place growing up was a forest called 'Big Dog' in Fermanagh, but now he says his favourite place in the world is being up high in the mountains. 
His favourite creatures change all the time from insects to mammals, but it's most often the hen harrier bird, because of how it moves like mist and fog and appears out of nowhere. 
His favourite time of day is dusk because of how the 'night seems to chase the sun out of the sky.'
His favourite subjects in school are biology and all sciences, and he always believed he'd have a career in conservation science, following in his dad's footsteps. He's also interested in maths and politics.
He wrote his first book, The Diary of a Young Naturalist, when he was 14.
He first met Chris Packham on the Springwatch set at the age of 13.