Alan Sugar's CV
Read Alan Sugar's impressive CV.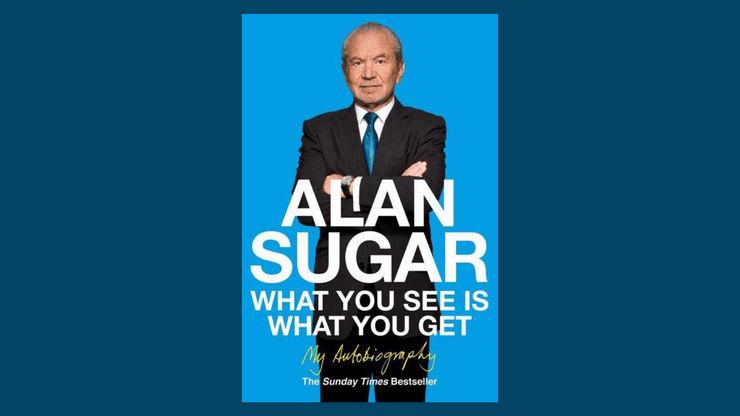 Lord Sugar – Curriculum Vitae
Alan Michael Sugar – Born 24th March 1947
1957 (aged 10)
• Asked by headmaster Mr Kershaw of Northwold Road Primary School (Clapton) to host parents and visiting dignitaries and talk them through an Open Day display of pupils' work.
1957 – 1958: Enterprise activities
• Collected free fabric remnants from local garment workshops and sold them to rag-and-bone merchants.
• Collected empty Lemonade, Tizer and Cola bottles and redeemed the 1d deposit per bottle from the local sweet shop.
• Built a replica Guy Fawkes and collected 'pennies for the guy'. Used proceeds to buy fireworks for Bonfire Night party at nearby ex-bomb-site.
1959 – 1963: Schooling
• Having spotted me during the Northwold Road school Open Day in 1957 (see above), headmaster Mr Harris of Joseph Priestley School in Hackney convinced my parents to send me to his school, which was soon to be merged with Upton House School to form an advanced comprehensive, Brooke House School in Clapton.
• 1960 – Persuaded deputy headmaster to invest in a printing machine in order to publish monthly school magazine. Printed magazines and sold them to the parents of pupils in local council flat estates.
• 1962 – Member of a 5-man Senior Science Society charged with distributing to students the news on breakthroughs in science.
• 1962 – Given small part as Curio in school production of Shakespeare's Twelfth Night (having been upstaged at audition for the lead rôle of Orsino), Performed in this play to parents and visiting dignitaries in school theatre (largest flagship theatre in the borough).
• 1962 – Completed and passed GCE O Levels in Engineering, Technical Drawing, Chemistry, Physics, History (1763-1914), Mathematics and Applied Mathematics.
1959 – 1963: Enterprise activities
• Carried out a newspaper round Mondays to Fridays delivering to local council estate.
• Worked in a greengrocer's shop on Saturdays. Pre-boiled beetroots for sale and prepared front-of-shop and potato displays.
• Recognised a better use for empty drinks bottles by making and selling my own ginger beer (using a ginger beer plant given to me by a neighbour).
• 1962 – Worked in a chemist/photographic shop in Walthamstow on Saturdays and school holidays in exchange for photographic film and development paper. Hit upon the 'easy sell' idea of photographing the children and grandchildren of council estate neighbours. Converted third bedroom of parents' council flat into a makeshift darkroom to develop film and print these photos. Obtained a rubber stamp to imprint my name/phone number on the rear of each photo.
• Collected discarded 35mm film cartridges (empty after development) from rear of chemist's in Walthamstow. Purchased bulk quantities of Ilford FP3 film (surplus to movie studio requirements) from an army surplus store in Hackney and, in my makeshift darkroom, cut the film into one yard lengths (approx 36 exposures) and loaded into the cartridges. Sold the films to school mates and others, undercutting the photographic stores by 50%
1963 – 1967: Early career
• 1963 – Failed the aptitude test to be a trainee programmer at both IBM Wigmore St and ICL Putney.
• 1963 – Left school (against headmaster's wishes) to join the Ministry of Education and Science (in Curzon Street) as a Clerical Officer in the statistics department. Worked on the Plowden Report on Junior Education, coding survey sheets to IBM punch cards.
• 1963 – Opened my first bank account with Lloyds Bank in Berkley Square. The Ministry moved from Curzon Street to Richmond Terrace (opposite Downing Street) where I worked for 6 months.
• 1964 – Left the Ministry to join Richard Thomas & Baldwin Iron & Steel Manufacturers in Gower Street in statistics department, monitoring the output of daily production from their plant in Redbourn in Wales.
• 1964 – Passed my driving test and sought a job that came 'with wheels'. Joined Robuck Electrical (owner Mr Sam Korobuck) – manufacturers of Tape recorders and record players – as a sales rep' for the London area calling on radio and TV shops. Became top salesman within 6 months and asked for the same rate of commission on sales I made to small retailers as on sales to the Currys chain group. This was turned down and I resigned on principle.
• Joined R Henson & Co., an electrical wholesaler, where I sold the goods and, in some cases, identified and bought the goods, delivered them and collected the money.
• 1966 – Got engaged to Ann (now my wife) and was earning £20 per week net of tax. To try and obtain the deposit for a house, I asked for a rise and was turned down. I resigned at the end of the week and decided to do for myself what I was doing for my employer.
• 1966 – The following Monday I took £100 from my post office savings account, bought a £1 National Insurance stamp, a second-hand mini van for £50 and third party fire and theft car insurance for £8. With the balance I drove to Tottenham Court Road and bought some car aerials. I made my first trade sale as Alan Sugar Trading to P W Thackston, a radio shop in East India Dock Road in Poplar. I set myself a target of making £60 per week – I had achieved it by Wednesday!
1967 – 1980:
• 1967 – I attained skills, first hand, in bookkeeping and accounting, credit control, banking systems, import and export requirements, lorry loading, electronic design and engineering, running production lines, purchasing, advertising, setting up factories and hiring staff. I suffered the pains of small-business cash flow and bad debts, thereby gaining a greater understanding of the lack of honesty and integrity of those I met and dealt with. I learnt that honesty, integrity (particularly with the bank) and being straightforward (even if sometimes a little too bluntly) is the best policy in business.
• 1967 – Trading from my parents' flat in Hackney, I observed an opportunity to acquire, from Radio and TV dealers, second-hand TV sets taken by them in part- exchange for new TVs. I stored the second-hand TVs in my makeshift darkroom and engaged my friend, a TV engineer, to fix them where necessary. Once fixed, I advertised them in Exchange & Mart and sold them, one by one, from my bedroom. As my mother was not happy having strange people coming and going from the flat, I invested in my first business premises – a store room in Rushmore Road Clapton. I contacted my old boss Sam Korobuck and bought from him returned faulty record players, which were also stored at Rushmore Road. My friend repaired these too so that they were fit for sale.
• 1968 – On 28th April, Ann and I were married and we moved to my first house in Redbridge Essex.
• 1968 – On 8th December 1968, formed the limited company A.M.S. Trading (General Importers) Ltd. I stored my stock in trade at home, but had it stolen during a break-in. This made me decide to take my first commercial premises: 388 St John's Street, Clerkenwell in London. My first employee (who looked after the office and answered the calls) was my father, whom I paid £20 per week. Previously he had spent a lifetime in uncertain employment in East London garment factories – his average pay at the time was £13 per week.
• 1970 – Invested in injection moulding tool to make record player dust covers for the then hi-fi audio boom. Was previously wholesaling them at 21 shillings (the cost to me was 18 shillings from a vacuum forming company). My method of injection moulding would give me a finished part cost of 4 shillings enabling me to sell them for 16 shillings, making a 400% margin and undercutting the vacuum former. Thus I started to make 'real' money. Observed that the stereo amplifiers market was a growing market.
• 1972 – Opened my first factory with 15 employees at Great Sutton Street, Clerkenwell. Changed the name of company to A.M.S. Trading (Amstrad) Ltd., producing stereo amplifiers under the 'Amstrad' brand. Employed my ex-employerSam Korobuck to run the production line as his company Robuk had gone bankrupt.
• 1973 – Moved to bigger factory at Ridley Road, Dalston to make full range of amplifiers, tuners and loudspeakers.
• 1975 – Moved again to larger factory at Garman Road, Tottenham. Started to import tape decks and was first company to enter the CB (Citizens' Band) radio market.
• 1976 – Qualified as a Private Airplane Pilot in both practical and written examinations.
• 1977 – Bought the cabinet making company Fircastle Ltd from the liquidator. The company (renamed Amstrad) in Southend Essex, was bought with all plant and machinery to expand loudspeaker production.
• 1979 – Moved to larger cabinet works at Eastwood Industrial Estate, Southend to produce Amstrad stereo tower system rack units. Turned down a bid from Laskys who offered me £2m to acquire 75% of the company. Met with Kleinwort Benson to discuss the possibility of floating the company to the London Stock Exchange.
1979 – 1990:
• Gained experience of City meetings, the production of prospectuses and circulars to share holders, corporate governance and yellow book requirements, stock market analysts' meetings, litigation, television advertising, accepting hospitality to lunches and dinners with the Prime Minster, Prince of Wales, her Majesty the Queen and Prince Philip. Gained experience of dealing with the media, charitable work, the importance of liability insurance, employment liability laws, the need for protection of patents and intellectual property. Entered the Real Estate market.
• 1979 – Engaged with Kleinwort Benson, Touche Ross and Herbert Smith, gaining first hand experience in numerous drafting meetings regarding the flotation of the company.
• 1980 – On 10th April renamed the company Amstrad Plc and floated it on the London Stock Market. Sold 25% of its shares for £2m – a better deal than selling 75% to Laskys for £2m.
• 1984 – Moved headquarters of the company to Brentwood Essex and built a new 400,000 sq ft factory in Shoeburyness Essex for production of hi-fi racked tower systems.
• 1984 – Launched first Amstrad Computer, the CPC464. Opened subsidiaries in Paris and Hong Kong.
• 1984 – Awarded Guardian Young Businessman of the Year at the Mansion House ceremony.
• 1985 – Launched the Amstrad word processor PCW8256.
• 1985 – Bought the rights to Sinclair Computers from Clive Sinclair (to prevent his company being placed in liquidation by Barclays Bank).
• 1985 – Set up Amsprop Ltd, a real estate company owning commercial properties, as a diversification from too much dependence on the electronics industry.
• 1986 – Launched Amstrad IBM compatible computer PC1512. Agreed terms with Managing Director of IBM UK for a licence to produce compatibles (not the same man who failed to hire me in 1963!). Agreed terms with Bill Gates for Microsoft MSDOS licence.
• 1986 – Launched advertising and designed the PC1512 campaign with the slogan, 'Compatible with you know who – Priced as only we know how'.
• 1986 – Invited to private lunch for 6 guests with the Queen and Prince Philip
• 1986 – Formation of The Alan Sugar Charitable Foundation.
• 1987 – Opened subsidiaries in Madrid, Brussels, Frankfurt, Sydney, Dallas and Milan. Achieved 30% of total European market for PCs.
• 1988 – Led government's Single European Market advertising campaign for DTI.
• 1988 – Engaged with Rupert Murdoch for the launch of Sky Television by undertaking to produce the equipment needed to receive the service, thus offering British consumers (for £199) the opportunity to view 16 new TV channels. Hitherto there had been only 4 terrestrial channels available.
• 1988 – Honoured by City of London University as a Doctor of Science.
• 1989 – Launched satellite receivers for the European Astra footprint, covering Germany.
1990 – 1999:
• Gained experience in the world of professional football, high level litigation, speaking events at the Oxford Union, Cambridge Union and other universities and schools, as well as to the business community. Was responsible for exposing corruption in the football industry and was engaged to write for several national newspapers on various topics.
• 1991 – Rescued Tottenham Hotspur Football Club to avoid bankruptcy.
• 1993 – Engaged in high profile court action where football corruption was core to the proceedings. Introduced the phrases 'bung' and 'Carlos Kickaball' into common usage in respect of football corruption and the influx of foreign players.
• 1994 – Acquired Viglen Computers Ltd, suppliers to schools and universities as well as to government departments.
• 1995 – Acquired Dancall Radio, a mobile phone manufacturer in Denmark for £6m, and made further investment of £10m for new designs, plant and equipment.
• 1996 – Launched the first dual-band mobile phone at Hanover Fair to the amazement of the then market leaders Ericsson and Nokia.
• 1996 – Involved in litigation against American Hard Disc Drive manufacturers to recover damages suffered by Amstrad due to defective drives.
• 1997 – On my 50th birthday (24th March), sold Dancall to Bosch Germany for US$150m, Dancall having been purchased just 2 years before at £6m.
• 1997 – Amstrad Plc, by way of a Scheme of Arrangement, was broken up with substantiation amount of cash returned to shareholders, and new shares issued to shareholders in ex-subsidiaries Viglen Plc and Betacom Plc (which changed its name to Amstrad) as well as entitlement to any proceeds of litigation with the Hard Disc Drive manufacturers.
• 1998 – At the request of Gordon Brown, the then Chancellor of the Exchequer, embarked on series of visits to schools and universities to conduct Q&A sessions on enterprise.
• 1999 – Victory decision in the High Court with US$150m damages awarded to Amstrad from the Hard Disc Drive manufacturers.
• 1999 – Invited to tea at The White House by US President Bill Clinton and the First Lady.
2000 – 2009:
• Gained experience in participating in television programmes, further engagement in writing for newspapers including own column in the Daily Mirror. Continued visits and Q&A sessions on enterprise.
• 2000 – Was honoured by her Majesty the Queen with a Knighthood.
• 2001 – Sold part of my interest in Tottenham Hotspur FC and resigned from the Board as Chairman and Director.
• 2005 – Appeared in the first series of 'The Apprentice' and won BAFTA award.
• 2005 – Honoured by Brunel University as a Doctor of Science.
• 2006 – 'The Apprentice' won most of the awards granted to TV shows (except ITV national TV awards – no surprise as 'The Apprentice' is a BBC show),
• 2007 – Sold Amstrad Plc (formerly Betacom) to BSkyB for £135m.
• 2008 – Appointed to Government Business Council by Prime Minister Gordon Brown.
• 2009 – Led government's Apprenticeship advertising campaign and four roadshow seminars.
• 2009 – Appointed by Prime Minister Gordon Brown as Enterprise Champion to advise the government on small business and enterprise.
• 2009 – On 20th July, took my seat in the House of Lords as Alan Baron Sugar of Clapton in the London Borough of Hackney.