How immersing ourselves in nature can make us happier and healthier
Obsession with your herb garden? It may be more than just the fresh mint tea you've been craving. Bringing nature into our homes has healing powers that we are evolutionarily drawn to, says journalist Ali Roff-Farrar.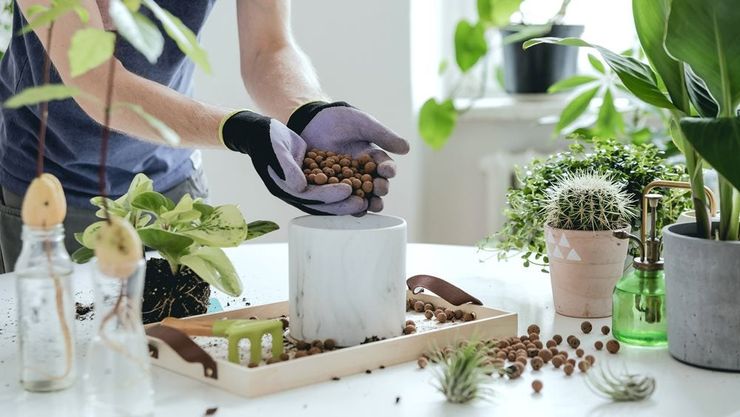 Houseplants are a big trend right now, one fuelled by millenials who, often starved of green space and unable to keep pets in shared houses, are on the lookout for the next Insta-worthy succulent or Monstera plant to bring into their homes. But this craze for houseplants is about more than Instagram likes; there's growing awareness of the benefits of nature for our physical and mental health.
Nature has always been an intrinsic part of florist and nature writer Willow Crossley's life, and her book The Wild Journal is a beautifully illustrated guide to help you bring nature into your life. Here, journalist Ali Roff-Farrar investigates how bringing the natural world into our homes can make us happier and healthier, and shares some easy techniques for doing so from The Wild Journal.
We humans have always used nature in our homes and dwellings, from practical uses such as warmth and comfort, to décor. And as we moved from living in nature to building structures that keep the more uncomfortable aspects of nature out (I'm looking at you, British weather), we've continued to embrace the beauty of nature in our homes. In fact, 2020 seems to be embracing it with open arms; from earthy colours to organic materials, nature was seen all around at the recent Maison & Objet 2020 design fair – a style being coined 'biophilic design'. But bringing nature indoors is more than just a design trend. It's in our programming, and it has huge power to make not only our homes prettier, but our bodies and minds healthier, and happier too.
 "We are programmed to be part of the natural world. We need to be surrounded and immersed in it to flourish. Equally, if we are removed or taken away from it we will begin to suffer", says Willow Crossley in her book The Wild Journal: A Year of Nurturing Yourself Through Nature. "This concept", she explains, "is known as 'biophilia', and it was originally conceived by the psychoanalyst Erich Fromm in the 1960s. The term is taken from the Greek word meaning 'love of life and the living world', referring to our primal urge to connect with the natural world." 
 Suddenly, all the peace lilies and succulents on your window sills, the driftwood on your mantel, the conker on your desk and that obsession with your herb box all begin to make sense . . .  Seeking out the healing benefits of nature is in our DNA – it's in our bones.
 So, as we gather it up and bring it into our homes, what exactly are the healing benefits that nature can gift us? An extensive study at NASA (and you can't really ignore studies from NASA) found that houseplants have the power to remove up to 87% of air toxins in 24 hours. Pretty impressive stuff, especially considering the scary quality of our indoor air, which, as Crossley explains "can be up to five times as polluted as outdoor air . . .  pretty alarming considering most people spend 90% of their time inside." The NASA study explained that it's not just pollution from greenhouse gases that is affecting our air quality, but the use of synthetic materials in our environments which give off low levels of chemicals known as 'off-gassing'. So, bringing nature indoors by using more organic and natural materials in our homes, as seen in 2020's trendy 'biophilic design' interiors, could also have a positive impact on our physical health. 
 Of course, home doesn't mean only being indoors – getting out into your own little patch of nature, be it the garden or a window box, can provide a first-class ticket to the health benefits nature has to offer. And while we might groan at the thought of mowing the grass twice a month, gardening actually has some deeply therapeutic qualities. In fact, fascinatingly, studies have found that soil contains a bacterium called 'Mycobacterium vaccae', which acts as a natural antidepressant, stimulating serotonin production which in turn boosts feelings of relaxation. 
 An important study published by Natural England with the University of Essex and Mind found that taking part in nature-based activities helps those of us suffering from 'mental ill-health' by reducing anxiety, stress and depression. Green activities can also help improve dementia-related symptoms. So, getting out and spending time gathering nature's wonders to bring the outside inside, for example picking flowers or shell hunting, one of Crossley's suggestions, can be time well spent too.
 Plants also have the power to improve focus and productivity (a great excuse to buy a pretty succulent for your desk then), and outside of home, forest bathing (aka walking in, you got it, a forest) lowers blood pressure and levels of the stress hormone cortisol, versus walking through a city environment*.
 But interacting with nature doesn't need to only be with plants and trees. Crossley suggests a practice called moon bathing, for connecting with nature on a more celestial level. "Sunlight triggers the release of serotonin, energizing and lifting our moods, while moonlight helps us to slow down and relax, stimulating our spiritual, softer side. Exposing ourselves to moonlight can help regulate menstrual cycles, increase fertility awareness, lower blood pressure and reduce stress and anxieties," explains Crossley. 
 So how do we do it? "The actual practice of moon bathing couldn't be simpler. All you need to do is lie out and bask under the vibrant light of the full moon for about 30 minutes, wearing as little as possible. Breathe deeply, reflect and allow yourself to soak up the magic. If it's cold and wet or you just can't face going outside, throw open your windows and lie in full view of the moon and bathe from the comfort of your bed instead."
 And if it's a little peace you need, nature can also provide us with a space in which to be truly present – natural, living, growing features are quite simply made for mindfulness. It's so easy to notice and appreciate the beauty of blossoming springtime flowers after the winter's darkness, to be curious about the daily activities of the birds that inhabit our gardens, and observe the natural changes on tree branches through the seasons. Through mindful attention, nature can teach us many lessons, from accepting change, to seeking out the positives in life versus the negative, to being curious about our own lives with less judgement. So, when feeling stressed, take a moment to stand in the garden, or stare out of the window at the clouds and trees. Even a minute looking closely and curiously at the small miracle of a houseplant can provide a pause, a breath, a well-needed break in a busy day. Crossley's advice? "Be kind to yourself. Sleep. Don't put yourself under any pressure. Put down the technology and let your pre-frontal cortex recover. Go for a walk. Turn your face to the sunlight and try and think of something you love – going on holiday/swimming in the sea/walking in the woods." Or, as I now like to call it, "forest bathing."
 * The physiological effects of Shinrin-yoku (taking in the forest atmosphere or forest bathing): evidence from field experiments in 24 forests across Japan. Park et al., Environ Health Prev Med. 2010