Low-calorie Moroccan-spiced salmon recipe from Pinch of Nom
The wait is over: the Pinch of Nom cookbook is now available! Read on for a delicious, low-calorie and healthy recipe, exclusively from Pinch of Nom.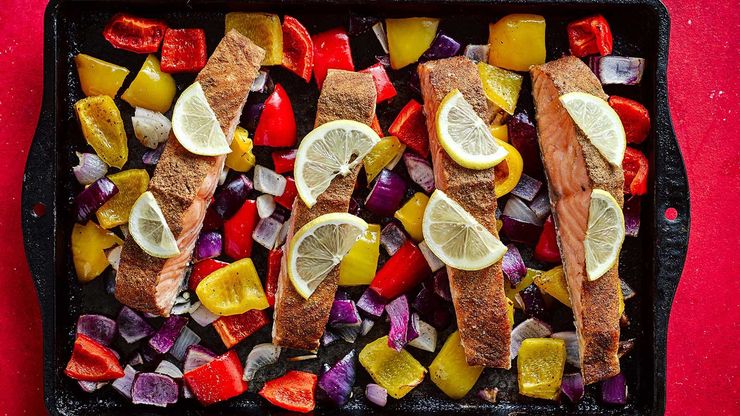 Total time

20 minutes

Prep time

15 minutes

Amount

Four

Ingredients

1 red pepper (deseeded and diced)
1 yellow pepper (deseeded and diced)
1 red onion (diced)
low-calorie cooking spray
sea salt and freshly ground black pepper
4 skin-on salmon fillets l lemon
2 tsp ground ginger
1 tsp ground cumin
2 tsp ground coriander
1 tsp ground cinnamon
1 tsp ground white pepper
1/2 tsp ground allspice
1/2 tbsp ground turmeric
Mix all of the spice mix ingredients together and set aside.
Preheat the oven to 200°C (fan l80°C/gas mark 6).
Place the peppers and onion on a baking tray. Spray with some low-calorie cooking spray and season with salt and pepper.
Coat the top of each salmon fillet with the spice mix and place the fillets on top of the veg on the baking tray (you can keep any remaining spice mix in an airtight container for another time).
Cut the lemon in half lengthways and cut one half into eight slices. Arrange two slices on each piece of salmon and season with a little salt. Squeeze the remaining lemon half over the fish.
Place in the oven and cook for 20 minutes, or until the fish is cooked through.
Remove from the oven and serve the spiced fish fillets with the roasted vegetables.
In this episode of Book Break, Emma finds out why everyone is so excited about the Pinch of Nom cookbook, and makes sticky toffee pudding with YouTuber Bradley Bakes: