Our edit of the greatest American poets
From Walt Whitman to Sylvia Plath, we've curated a selection of our favourite poems from some of the greatest American poets.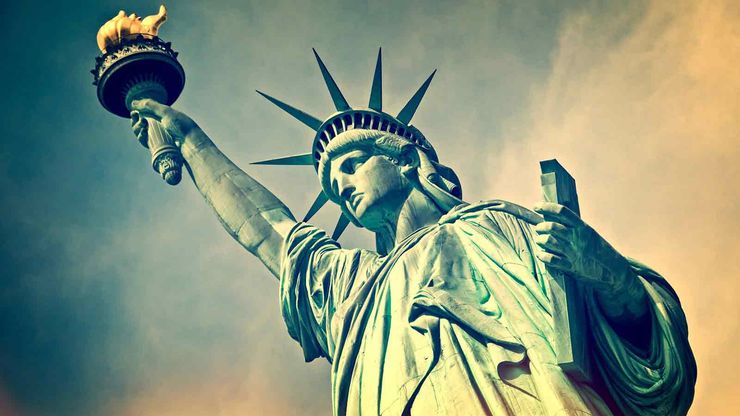 From Walt Whitman's elegy to Abraham Lincoln, 'O Captain! My Captain!', to the spectre of racial inequality that creeps into playground games in Maya Angelou's 'Harlem Hopscotch', we have curated a list of some of the best-loved poems from a selection of the greatest American poets.
O Captain! My Captain!
Walt Whitman
O Captain! my Captain! our fearful trip is done,
The ship has weather'd every rack, the prize we sought is won,
The port is near, the bells I hear, the people all exulting,
While follow eyes the steady keel, the vessel grim and daring;
                        But O heart! heart! heart!
                           O the bleeding drops of red,
                              Where on the deck my Captain lies,
                                 Fallen cold and dead.
O Captain! my Captain! rise up and hear the bells;
Rise up—for you the flag is flung—for you the bugle trills,
For you bouquets and ribbon'd wreaths—for you the shores a-crowding,
For you they call, the swaying mass, their eager faces turning;
                        Here Captain! dear father!
                           This arm beneath your head!
                              It is some dream that on the deck,
                                You've fallen cold and dead.
My Captain does not answer, his lips are pale and still,
My father does not feel my arm, he has no pulse nor will,
The ship is anchor'd safe and sound, its voyage closed and done,
From fearful trip the victor ship comes in with object won;
                        Exult O shores, and ring O bells!
                           But I with mournful tread,
                              Walk the deck my Captain lies,
                                 Fallen cold and dead.
Taken from A Poem for Every Night of the Year
The Road Not Taken
Robert Frost
Two roads diverged in a yellow wood,
And sorry I could not travel both
And be one traveler, long I stood
And looked down one as far as I could
To where it bent in the undergrowth;
Then took the other, as just as fair,
And having perhaps the better claim,
Because it was grassy and wanted wear;
Though as for that the passing there
Had worn them really about the same,
And both that morning equally lay
In leaves no step had trodden black.
Oh, I kept the first for another day!
Yet knowing how way leads on to way,
I doubted if I should ever come back.
I shall be telling this with a sigh
Somewhere ages and ages hence:
Two roads diverged in a wood, and I—
I took the one less traveled by,
And that has made all the difference.
Taken from A Poem for Every Day of the Year
'Hope' is the Thing with Feathers
Emily Dickinson
"Hope" is the thing with feathers -
That perches in the soul -
And sings the tune without the words -
And never stops - at all -
And sweetest - in the Gale - is heard -
And sore must be the storm -
That could abash the little Bird
That kept so many warm -
I've heard it in the chillest land -
And on the strangest Sea -
Yet, never, in Extremity,
It asked a crumb - of Me.
Taken from A Poem for Every Night of the Year
I, Too
Langston Hughes
I, too, sing America.
I am the darker brother.
They send me to eat in the kitchen
When company comes,
But I laugh,
And eat well,
And grow strong.
Tomorrow,
I'll be at the table
When company comes.
Nobody'll dare
Say to me,
"Eat in the kitchen,"
Then.
Besides,
They'll see how beautiful I am
And be ashamed—
I, too, am America.
Taken from A Poem for Every Night of the Year
To Science
Edgar Allan Poe
Science! true daughter of Old Time thou art!
  Who alterest all things with thy peering eyes.
Why preyest thou thus upon the poet's heart,
  Vulture, whose wings are dull realities?
How should he love thee? or how deem thee wise,
  Who wouldst not leave him in his wandering
To seek for treasure in the jewelled skies,
  Albeit he soared with an undaunted wing?
Hast thou not dragged Diana from her car,
  And driven the Hamadryad from the wood
To seek a shelter in some happier star?
  Hast thou not torn the Naiad from her flood,
The Elfin from the green grass, and from me
The summer dream beneath the tamarind tree?
Taken from A Poem for Every Day of the Year
Balloons
Sylvia Plath
Since Christmas they have lived with us,
Guileless and clear,
Oval soul-animals,
Taking up half the space,
Moving and rubbing on the silk

Invisible air drifts,
Giving a shriek and pop
When attacked, then scooting to rest, barely trembling.
Yellow cathead, blue fish---
Such queer moons we live with

Instead of dead furniture!
Straw mats, white walls
And these traveling
Globes of thin air, red, green,
Delighting

The heart like wishes or free
Peacocks blessing
Old ground with a feather
Beaten in starry metals.
Your small

Brother is making
His balloon squeak like a cat.
Seeming to see
A funny pink world he might eat on the other side of it,
He bites,

Then sits
Back, fat jug
Contemplating a world clear as water.
A red
Shred in his little fist.
Taken from A Poem for Every Day of the Year
Harlem Hopscotch
Maya Angelou
One foot down, then hop! It's hot.
         Good things for the ones that's got.
Another jump, now to the left.
         Everybody for hisself.
In the air, now both feet down.
        Since you black, don't stick around.
Food is gone, the rent is due,
         Curse and cry and then jump two.
All the people out of work,
        Hold for three, then twist and jerk.
Cross the line, they count you out.
         That's what hopping's all about.
Both feet flat, the game is done.
They think I lost. I think I won.
Taken from A Poem for Every Day of the Year
The Naming of Cats
T. S. Eliot
The Naming of Cats is a difficult matter,
It isn't just one of your holiday games;
You may think at first I'm as mad as a hatter
When I tell you, a cat must have THREE DIFFERENT NAMES.
First of all, there's the name that the family use daily,
Such as Peter, Augustus, Alonzo or James,
Such as Victor or Jonathan, George or Bill Bailey--
All of them sensible everyday names.
There are fancier names if you think they sound sweeter,
Some for the gentlemen, some for the dames:
Such as Plato, Admetus, Electra, Demeter--
But all of them sensible everyday names.
But I tell you, a cat needs a name that's particular,
A name that's peculiar, and more dignified,
Else how can he keep up his tail perpendicular,
Or spread out his whiskers, or cherish his pride?
Of names of this kind, I can give you a quorum,
Such as Munkustrap, Quaxo, or Coricopat,
Such as Bombalurina, or else Jellylorum-
Names that never belong to more than one cat.
But above and beyond there's still one name left over,
And that is the name that you never will guess;
The name that no human research can discover--
But THE CAT HIMSELF KNOWS, and will never confess.
When you notice a cat in profound meditation,
The reason, I tell you, is always the same:
His mind is engaged in a rapt contemplation
Of the thought, of the thought, of the thought of his name:
His ineffable effable
Effanineffable
Deep and inscrutable singular Name.
Taken from A Poem for Every Day of the Year
The Red Wheelbarrow
William Carlos Williams
so much depends
upon
a red wheel
barrow
glazed with rain
water
beside the white
Chickens.
Taken from A Poem for Every Day of the Year
'since feeling is first'
E. E. Cummings
since feeling is first
who pays any attention
to the syntax of things
will never wholly kiss you;
wholly to be a fool
while Spring is in the world
my blood approves,
and kisses are a better fate
than wisdom
lady i swear by all flowers. Don't cry
– the best gesture of my brain is less than
your eyelids' flutter which says
we are for each other; then
laugh, leaning back in my arms
for life's not a paragraph
And death i think is no parenthesis
Taken from A Poem for Every Day of the Year
Thunder
Elizabeth Bishop
And suddenly the giants tired of play.--
With huge, rough hands they flung the gods' gold balls
And silver harps and mirrors at the walls
Of Heaven, and trod, ashamed, where lay
The loveliness of flowers. Frightened Day
On white feet ran from out the temple halls,
The blundering dark was filled with great war-calls,
And Beauty, shamed, slunk silently away.
Be quiet, little wind among the leaves
That turn pale faces to the coming storm.
Be quiet, little foxes in your lairs,
And birds and mice be still--a giant grieves
For his forgotten might. Hark now the warm
And heavy stumbling down the leaden stairs!
Taken from A Poem for Every Night of the Year