Michelle Zauner on her bestselling memoir of mother-daughter love and grief
Michelle Zauner is the new name taking the music and literary worlds by storm in perfect unison. Frontwoman of indie rock band Japanese Breakfast and now bestselling author of her memoir Crying in H Mart, we caught up with Michelle on grief, humour, rejection, success and all that exists in between.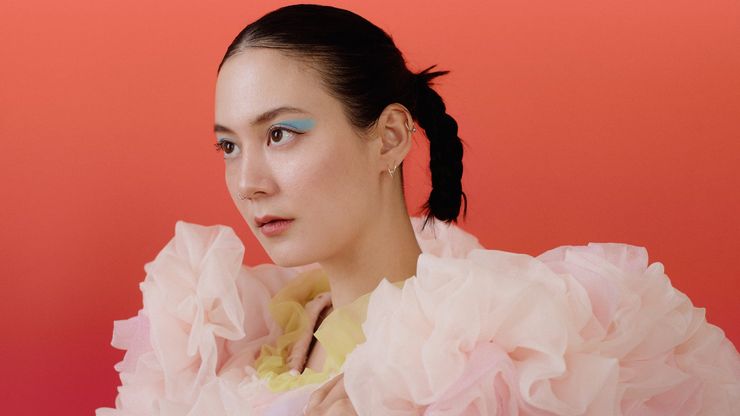 'Within the past five years, I lost both my aunt and mother to cancer. So, when I go to H Mart, I'm not just on the hunt for cuttlefish and three bunches of scallions for a buck; I'm searching for their memory. I'm collecting the evidence that the Korean half of my identity didn't die when they did.'

Michelle Zauner in her bestselling memoir, Crying in H Mart
In 2014, Michelle Zauner's mother Chongmi was diagnosed with an aggressive form of pancreatic cancer. Just four months later, she had passed away. 
In the throes of the month that followed, time after time Michelle found herself in H Mart, a supermarket chain that specializes in Asian food, tearful and clutching bags of Jolly Pong and ppeong-twigi.
'In moments like this, H Mart is the bridge that guides me away from the memories that haunt me, of chemo head and skeletal bodies and logging milligrams of hydrocodone. It reminds me of who they were before: beautiful and full of life, wiggling Chang Gu honey-cracker rings on all ten of their fingers, showing me how to suck a Korean grape from its skin and spit out the seeds.'
In search of reckoning for her mother's death and compelled to share the comfort and healing she had found through learning to cook the foods that bonded her with her mother for so long, Michelle penned an essay on her heartache. At first, the essay, 'Love, Loss and Kimchi', received rejection letter after rejection letter until it ultimately won the Glamour Essay of the Year in 2016. In the months that followed Michelle received an outpouring of responses to her honest exploration of grief, identity and belonging.
It was in the same year that Michelle's music career started to soar, performing under the name Japanese Breakfast. Fast forward to 2021, and Michelle's words are as radiantly alive on the page as they are in her lyrics after Michelle's first essay grew into a second, published in The New Yorker in 2018, and now lives as an honest, and vivacious (not to mention, bestselling) memoir, Crying in H Mart.
We caught up with Michelle to hear more about her writing, her relationship with rejection and determination, and her journey through life-changing grief.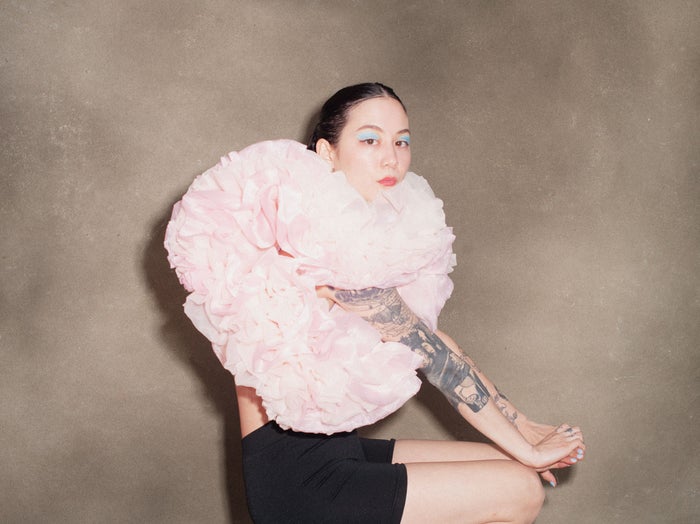 What a feat to have written both music that has reached millions, and a memoir! So far, has either felt more personal to share with the world than the other? And if so, why do you feel that is?
'Publishing a memoir feels much more personal. Music offers a lot to hide behind, both sonically and lyrically. It's in the nature of songwriting to leave something to the imagination, whereas with memoir, you have a narrative responsibility. You really have to guide the reader very directly.  You have no choice but to expose yourself.'
Crying in H-Mart is certainly an exploration of grief, loss and love, but it's also a powerful coming-of-age story, what advice would you give to someone that is feeling a little lost at the moment?
'Stay the course! I've experienced so much rejection and so many years of paying dues, it's completely normal and just part of the struggle. And never pander.'
When you first wrote the award-winning essay that would later inspire Crying in H-Mart, for many months you received rejection letters until suddenly, the essay was celebrated as the winner of Glamour's Essay Contest. What has been your experience of persevering past the rejection of your work, and have you found that ultimately this has had a positive impact on you?
'I've just learned that rejection doesn't always accurately reflect the quality of your work. It often means it just hasn't reached the right hands yet. Before I got the call from Glamour, I must have sent that same essay around to a hundred food blogs and every essay contest I could find without an entry fee. And in due course, I received a hundred rejection letters. You've got to learn to wear them as a badge of honor.'
The specificity of your connection to Korean food and memories of your mother's cooking brings Crying in H Mart to life so vividly, and yet it speaks to people from unlimited backgrounds. Why do you feel that is?
'I think the experience of enjoying food, like music, has this very specific link to your senses. It can transport you to particular moments in time and space. So many families connect with one another over food, and pass down their culture through recipes over the generations. It's something close to a universal experience.'
Your memoir is beautifully punctuated by moments that will make a reader laugh out loud. Do you think humour and grief can exist side by side?
'I think the human experience is made up of that duality. The incorporation of humor or some lightness felt necessary to get through the really heavy parts of the book, not only for the reader, but for me as a writer, too. I also think that humor has a way of accompanying a heartbreaking moment and filling it with even more pathos.'
You've spoken about the fact that you drifted slightly from your beloved mother in your teens over differences in your opinion toward your passion to pursue music - something I'm sure that many people can relate to. Do you think that for you and your mother, this was a learning experience, and if so, what do you think you learnt about each other?
'I think I eventually came to understand what my mother was trying to protect me from, and she began to understand that some things were just going to have to be out of her control. Honestly, it wasn't until I wrote this book that I realized so much of our friction was rooted in the differences in our cultural and generational upbringings, in the absence of a reference point to understand our particular shade of mother/daughter animosity.'
'You've shared previously that it took many years for you to become a working artist, but that success came when you started writing with no expectation. How do you think that letting go of your attachment to outcome had a positive impact on your creative work?'
'I think I just started to channel my writing from a very essential place. I started to write the stories I felt only I could tell, ones that consumed me, ones I needed, and maybe some of that necessity and immediacy was reflected in the work and was, ultimately, what resonated with other people. But primarily, I think it was a lot of luck and time spent sticking to it.'
Image credits: Tonje Thilesen