Shore 2 Shore tour diary
Follow our poets on their tour from Shore 2 Shore with our photo diary.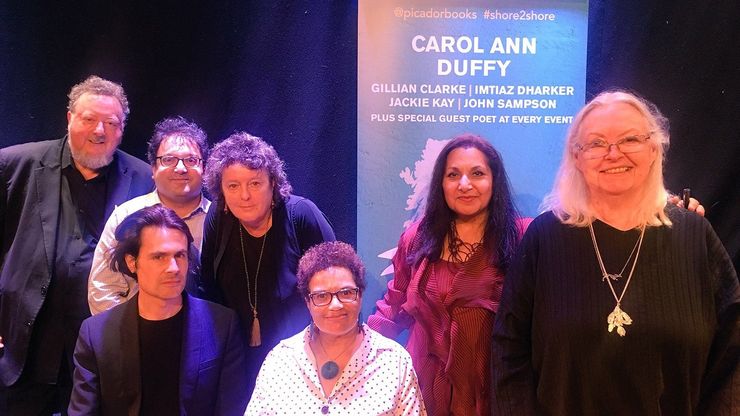 Our poets are on the road again for Shore 2 Shore 2018, with Poet Laureate Carol Ann Duffy, Gillian Clarke, Imtiaz Dharker, Jackie Kay and MC John Sampson travelling from Penarth to Dunoon to visit and perform in nine independent bookshops across the country. Travelling with them is Publicity Director Camilla Elworthy, who will be keeping us up to date with all the goings-on in her daily diary entries. 
Saturday 16th June - Griffin Books, Penarth
The group converged on our hotel in Penarth, just west of Cardiff in the Vale of Glamorgan, arriving from different parts of the country in a flurry of excitement and the warmth of fond reunion. Reminding us that Shore 2 Shore wasn't the only thing of interest happening, Carol Ann arrived raving about Ronaldo's third goal against Spain, which she claimed could only have been drawn by Leonardo da Vinci. 
We set off to sound-check for our first event, hosted by Penarth's wonderful independent store Griffin Books and held at the imposing All Saints' Church. As we sat in the makeshift green room, surrounded by robes and hymn books, we heard the happy hub-bub of the audience arriving and taking their seats. It was a homecoming gig of sorts for Gillian Clarke, National Poet of Wales from 2008-2016, who grew up in Penarth, and made our first event of the tour extra special. We were joined by local poet Stephen Payne, who filled the guest spot with aplomb, and the tour began in fine, rousing style.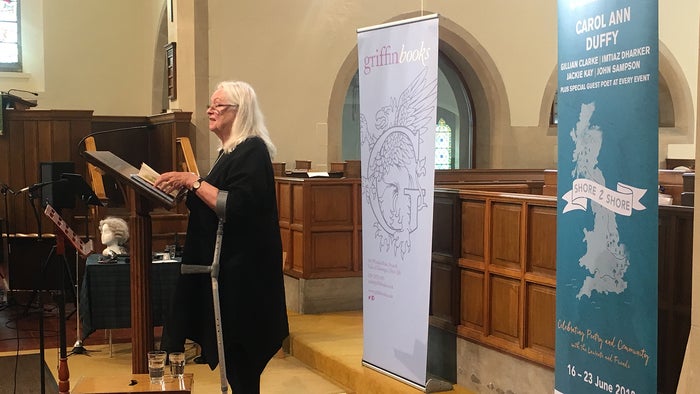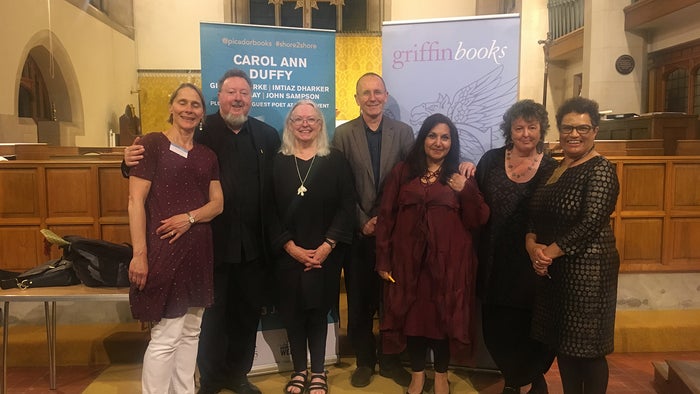 Sunday 17th June - Topping & Co Booksellers, Bath
Over the Severn Bridge and into England for today's event in Bath. A quick turn-around at the hotel before we set off for the venue, and walked from the bright, honeyed streets into the faded glamour and darkness of the venue, which had once been a cinema. Inside was a hive of activity, with hundreds of chairs being set out, and even more books being stacked up on the Topping & Co bookstall.
Joining the line-up today was Sean Borodale and once our musical MC John Sampson had taken everyone through the tech run, and the audience had filled the venue, event two began and once more, there were gales of a laughter, and tears shed, too. Carol Ann treated the Bath audience to a world exclusive: the first public reading of an as-yet unpublished poem, a brilliant, hilarious and angry sestina, several of whose six core words have perhaps rarely been used in the form before...! Find out more when we publish Carol Ann's new collection, Sincerity, this autumn.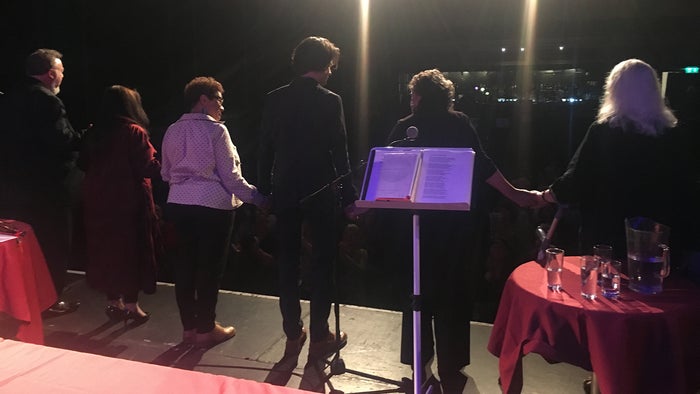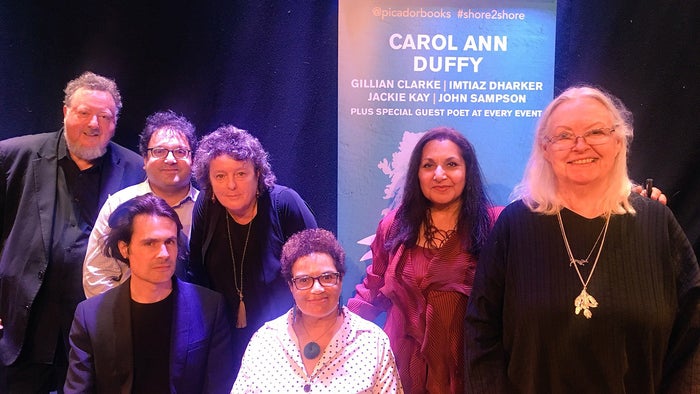 Monday 18th June - Newham Books, London
'I feel as if I'm cheating: I'm on tour but I'm going to sleep in my own bed tonight!' exclaimed Imtiaz Dharker, as our poetry pantechnicon rolled into London. We'd driven across from Bath, the conversation in the car roaming from anguished discussion of the Glasgow School of Art to the keeping of diaries (Gillian Clarke has written an entry every day for over 60 years). As traffic ground to a halt in the capital, we kept ourselves amused as we inched along with a game that Jackie Kay had played on family car journeys as a child: someone shouts out a word and someone else has to come up with a song which features it. This somehow led to Carol Ann Duffy and me duetting on the Wombles theme tune. (You had to be there.)
That evening's gig was at Conway Hall; we all developed a bit of a venue crush. Guest poet was the wonderful Maura Dooley, and our indie partners were Newham Bookshop, led by the legend that is Vivian Archer. Someone at the Bath gig the previous day had told one of the poets that the event had changed her life, and there was certainly the sense tonight, too, that the evening was charged and special. It was eventful, as well, but in ways to which the audience will have been oblivious: one of our number got locked in the Green Room loo, freed by the hall's caretaker just in time for the curtain call, and the drama of the England-Tunisia game was followed by Carol Ann and Jackie who watched on a phone when not on stage, in thrall to the beautiful game. Anyway, it was back-of-the-net time for each of the performers again tonight. Magic.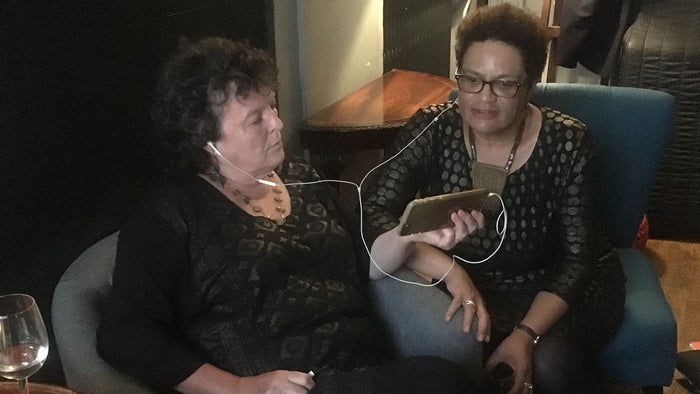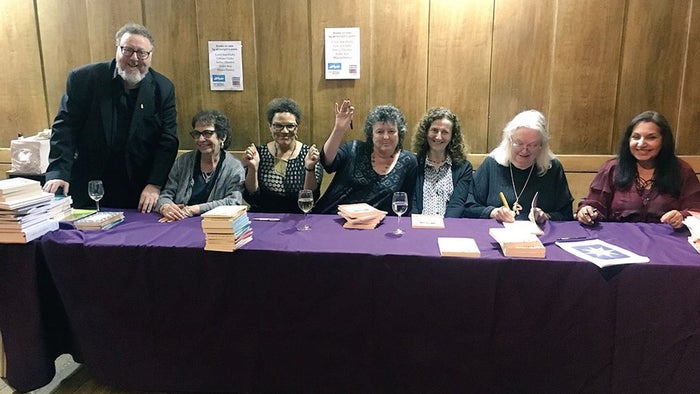 Tuesday 19th June - Aldeburgh Bookshop, Aldeburgh
The long pull up the A12, until we peeled off and headed towards the coast for Aldeburgh (and one of three shores on Shore 2 Shore, which should therefore, strictly speaking, be entitled Shore2Shore2Shore but that would be too long a hashtag). Talk in the tour bus en route ranged from discussions of Zaffar Kunial's forthcoming collection Us (warm and laudatory) to Donald Trump (less so), and, as we got ever closer to the sea (and past lunchtime), to fish and chips. I'd taught the group the v handy acronym JFGI, and Carol Ann looked up 'best fish & chips in Aldeburgh'; we eschewed the suggestion of what the web told us is Ed Sheeran's favourite chippy, and plumped instead for a place that Jackie had had an amazing cod & chips from just a few weeks earlier. We got there 5 minutes after they'd turned the fryers off and it felt like being turned away from paradise. But we foraged with the skill of hardened tourers and quickly found food, made all the more delicious by being eaten from paper on the seawall.
While the others had a quick rest before heading off for the sound-check, I made a pilgrimage up to Maggi Hambling's Scallop, her extraordinarily moving and monumental sculpture commemorating Benjamin Britten, with its line from Peter Grimes ('I hear those voices that will not be drowned') and rising as if organically from the beach, the greys, browns and silvers of the sea echoed in the pebbles and the sculpture itself.

That evening, our event was at beautiful, light-filled Aldeburgh Parish Church, Benjamin Britten and Peter Pears perhaps lending an ear from the graveyard. Our bookshop partners were the wonderful Mary & John James and their team from the Aldeburgh Bookshop, with Poetry in Aldeburgh luminaries Daphne Astor and Robin Boyd an equally welcoming presence; they had invited Suffolk poet Rebecca Goss to join the evening's line-up, and how lucky we were to have her.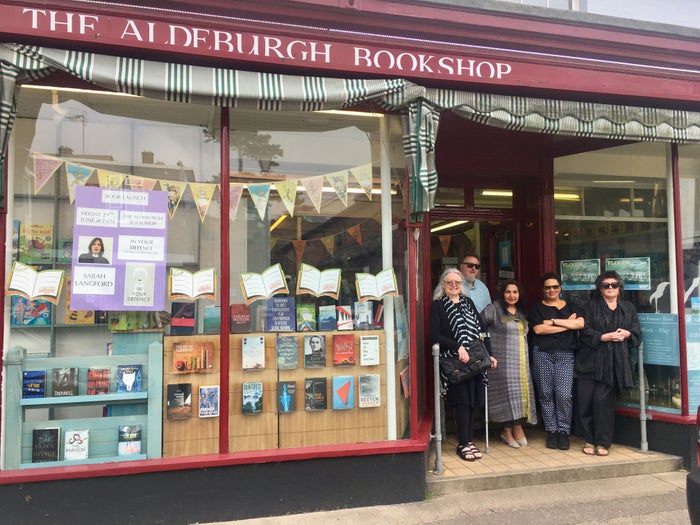 The event was to be introduced by Maggi Hambling, which was a great honour for us all; Hambling, a big tennis fan, watched Andy Murray's Queen's match on an iPhone propped up on her can of Special Brew in the Vestry (our Green Room). Despite Murray's defeat, she went out to deliver a spell-binding intro, which included a couplet she'd composed for the evening ('Now sit up all and give a cheer,/Hurrah, hurrah, the poets are here!') and went on to talk about the community of poets, musicians, artists... :'All artists are trying to touch that territory where life and death meet; where we know what it is to be alive, and what it might be to die.' Anyone who heard the poets read that evening will have felt the premonitory power and truth in those words. It was another spell-binding evening.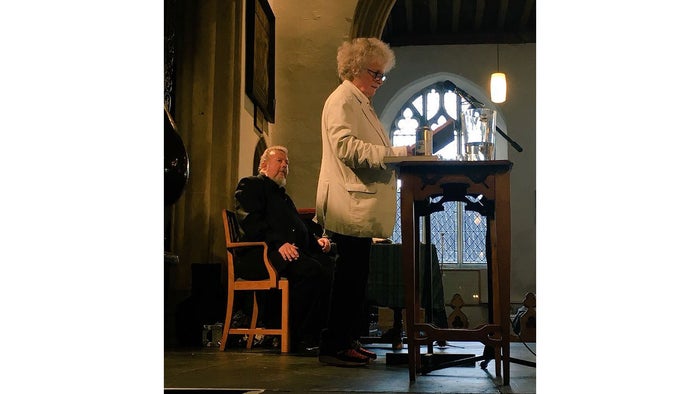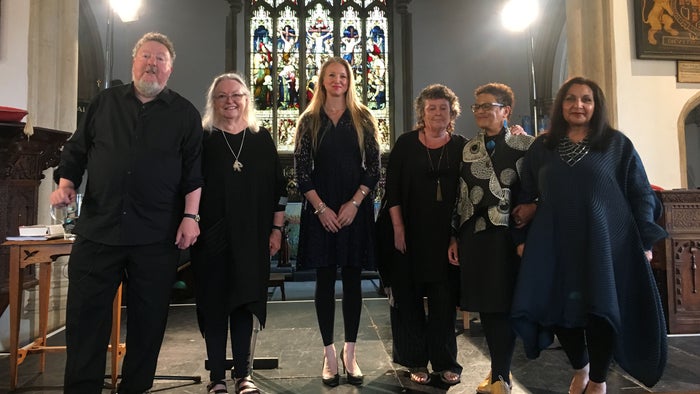 Wednesday 20th June - The Bookcase, Lowdham
West along the A14 for the tourbus today, past signs for Bury St Edmunds ('I come not to bury St Edmund but to praise him...'), then Cambridge and on into Leicestershire for our first stop of the day, at the wonderful Kibworth Bookshop for a lunchtime signing as part not just of Shore 2 Shore but of the Kibworth Book Festival, which is run by the bookshop's indefatigable and creative owner/manager, Debbie James. We walked into Debbie's gem of shop to be greeted not just by her and her fab staff member Clare (great taste in books, I might add), but by a group of pupils from Leicester Grammar School, clearly there not (just) because their English teacher had told them that it would be a good idea, but because they were genuinely fans and interested in meeting the poets, as witnessed by the impromptu q&a session that followed.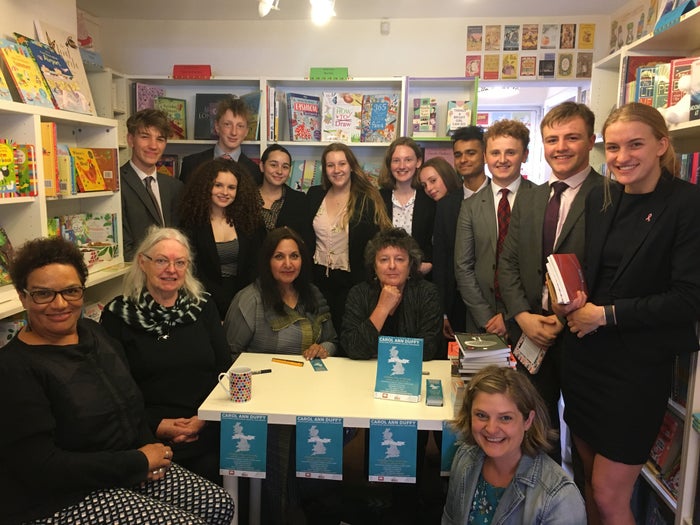 Someone spied a chippy next door to the shop so, after some excellent - if landlocked - fish and chips (it's hard to eat healthily on tour, so one might as well embrace the naughty stuff wholeheartedly), we headed north for Nottinghamshire. Checking into our accommodation a couple of miles from Lowdham, we were met at the door by a black labrador called Hermes doing a full-body wag and bringing us the gift of a plaid rug in his mouth. Once we'd met our host Emma, and seen the beautiful, unbroken views, we all felt as if we never wanted to leave. There was a grand piano in the drawing room, and Carol Ann played for us, those of us who know and love it singing along to Abbey Road's 'You Never Give Me Your Money' (the Poet Laureate is a big Beatles fan).
We set off for that evening's venue, Lowdham Village Hall, to find it decorated by the village yarnbombers. The Crafty Chatters, many of whom were in the audience that night, had even knitted some special Shore 2 Shore bunting: one of the many heart-squeezing moments of the tour, as was the profferred detail that the group meets at The Bookcase, their wonderful indie, to knit while fabulous manager & bookseller extraordinaire Jane Streeter reads to them. Guest poet Georgina Wilding, Nottingham's Young Poet Laureate, brought youthful zest and technology to the evening, reading from an iPhone and her iPad, and we all enjoyed her performance enormously. The village hall was packed, and Jane's team of bookshop staff and community volunteers could not have been warmer in their welcome nor more enthusiastic in their reception (see tweet below for marvellous summary of the tour's effect as a whole) and we all went back to Emma and Hermes, bunting safely secured for the rest of the tour, feeling a lot of love for the Midlands.