Easter activities and books for kids
From Easter crafts and games to songs and books, we have plenty of activities to keep kids entertained over the Easter holidays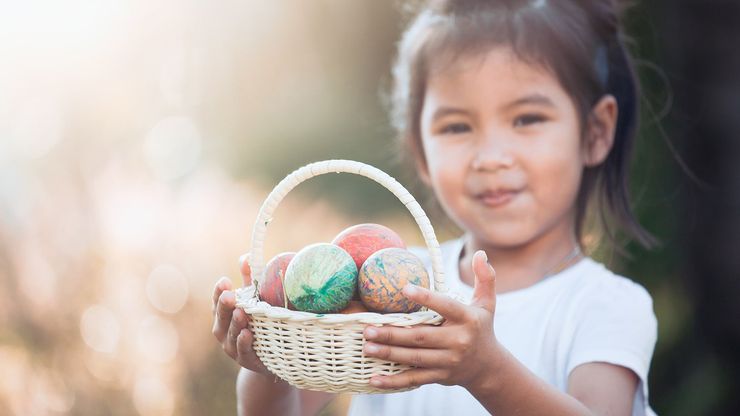 If you're looking for things to do with the little ones over the Easter holidays, these Easter activities will provide hours of outdoor and indoor fun for kids.  From Easter crafts and games to songs and books, there is plenty here to keep them entertained come rain or shine!
We all hope we'll be able to get outside over the Easter holidays, but if not, these indoor activities for kids will make sure little ones don't get bored. 


Easter crafts and activities for kids
Discover Spring with this Julia Donaldson Activity Pack
Meet all kinds of new characters in this activity pack, from Sharon King-Chai's mathematical wildlife to Yuval Sommer's Woolly Bear Caterpillar!
Get crafty with The Rhyming Rabbit
Get ready for the Easter Bunny with these colouring and word-matching activity sheets, featuring characters from Julia Donaldson and Lydia Monks' The Rhyming Rabbit. 
Get ready for Easter with a magical Easter Bunny 
Colour in an assortment of Easter eggs, a fluffy chick and a very magical Easter Bunny with this downloadable Easter colouring sheet. 
Make your own Charlie Chick
Kids will love cutting out and colouring in Charlie Chick to make a cute Easter decoration.
Do some Easter colouring with Emily Gravett
Follow the colour key to complete this drawing of Duck from Emily Gravett's The Odd Egg.
Bake some very chocolatey Easter treats
These delicious chocolate nests full of mini eggs are the perfect Easter treat to make with little cooks. 
Colour in the Little Bunny for Easter!
Give the Little Bunny some colour in time for the Easter Surprise.
Make your own Gruffalo Easter card 
This colour-in Gruffalo Easter card with a fun pop-up face is perfect for little Gruffalo fans to make for friends and family. 
Meet all the animals from Dear Zoo
From join the dots to colouring in, discover several crafts and puzzles as part of Dear Zoo's 40th Anniversary!
Explore the great outdoors with The Gruffalo nature trail 
Do you have a little Gruffalo Explorer? This activity sheet is full of games, crafts and things to spot on your very own stroll through the deep dark wood. 
Easter games for kids
Egg and spoon race
Kids will love this easy, fun race that can be played indoors or outdoors.  All you need is a spoon and egg for each person who is playing. Each child balances their egg on their spoon and runs as fast as they can to the finish line. The first one to make it without dropping their egg wins. To avoid any mess (especially if you're playing indoors) hard boil the eggs and leave them to cool before the race begins. 
Bunny hop race
Add cotton wool bunny tails to a sack or pillowcase for this bunny hop race. As in a normal sack race, children put both feet in their sack or pillowcase and hold it up around their waist, bunny-hopping to the finish line. The winning bunny gets a carrot!
Pin the tail on the bunny
Draw or print out a picture of a bunny on a piece of paper A3 size or larger. Cut out a bunny tail shape (you can cover this with cotton wool or tissue paper if you like). Then stick some Blu-tack on the back of your bunny tail, pop a blindfold over the first player's eyes, and see how close they manage to get to where the bunny's tail should be. 
Easter books for kids