How Winston Delivered Christmas: Christmas crafts for kids
How Winston Delivered Christmas is a very special children's book to be enjoyed in the run up to Christmas. Here, Alex T. Smith introduces us to the book, and shows us some simple Christmas crafts for kids.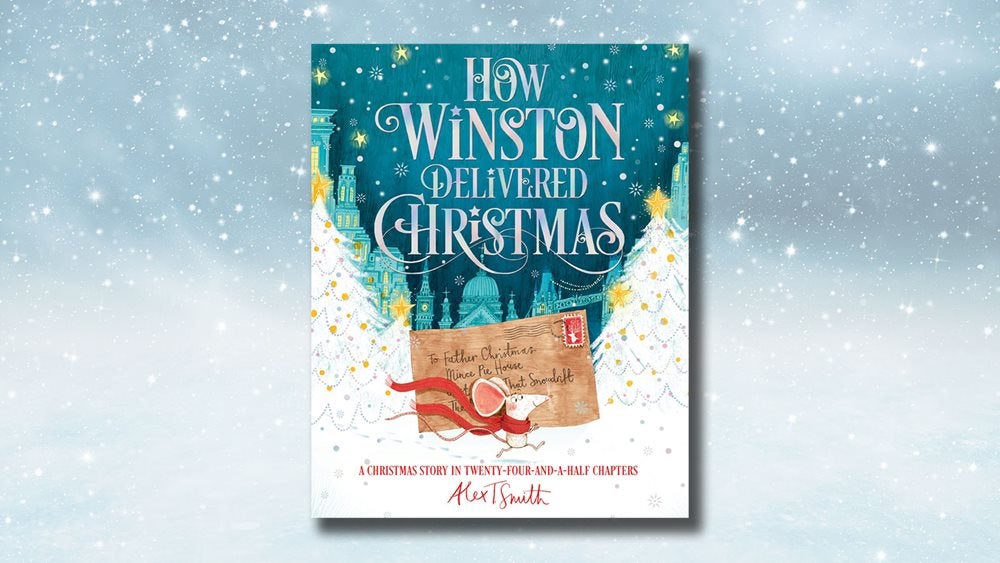 How Winston Delivered Christmas is a beautifully illustrated festive story told in twenty-four-and-a-half chapters, one for every day of advent. Each day includes a festive activity, from writing a letter to Father Christmas to Christmas craft ideas.

Here, author Alex T. Smith shows us how to get your letter to Father Christmas noticed and make your own wrapping paper, and we share some more fun Christmas activities for kids from the book. 

Plus, for even more festive fun, we share an exclusive download of the first two chapters of the book, along with Alex and Winston's tips for making storytime as fun and cosy as possible.

If you still haven't finished your Christmas shopping, don't miss our kids Christmas gift guide.

If you're looking for even more fun festive activities, discover more Christmas activity sheets here.
Hello!
I've always loved winter. All those frosty mornings and getting cosy after being outside in the cold. And when December arrives Christmas magic is in the air! 

The busy bustling shops, the glitzy decorations, the waiting and then of course the big day itself!
I got the idea when I was helping my niece and nephews write their letters to Father Christmas and I wondered (with a shiver) what would happen if one of the letters got waylaid? Hopefully there would be some kind of person (or in this case a mouse) to deliver it for us. And what adventures would they have?

Of course Christmas isn't just about the things you buy from the shops. I wanted to write a story about the sorts of things that are free - like bravery and kindness. I hope Winston's Christmas adventure shows you that you are never too tiny to be brave and that little acts of kindness can often make huge differences to other people.

Have a very cosy Christmas and an adventurous New Year!

Love from,
Alex
x
Writing your letter to Father Christmas:
Alex T. Smith - Writing Your Letter to Santa
How to make snowman wrapping paper:
Alex T. Smith - How to make snowman wrapping paper
More wrapping paper ideas:
Alex T. Smith - More Winston wrapping paper
Make your own pompom robin, perfect for hanging on the Christmas tree!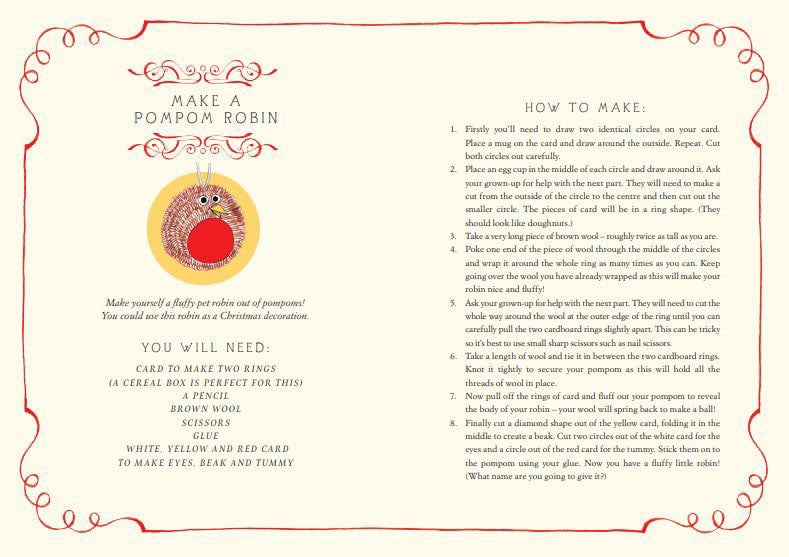 Download more of Winston's activity sheets, and get into the festive spirit with some Christmas crafts.
Click on the envelope to download chapter one:
Listen to chapter one here: 
Click on the envelope to download chapter two:
Listen to chapter two here: 
A guide to reading this book for mouslings and/or human persons (small or otherwise)
The lovely thing about books is that they can be read anywhere: in an armchair, on a bus, in a sleigh whizzing across the globe, etc.
Of course, the very best place to read a book  – especially this one – is in bed. 
However, here are some tips for creating the perfect reading environment if you aren't quite ready for bedtime
1. You need somewhere soft and comfortable to park your bottom. A sofa is ideal. Kick off your shoes and put your paws put up on the cushions. Lounging or lying down is perfect for reading.
2. Now, you need to be not just warm, but COSY. I think it would probably be best if you were wearing your pyjamas. So go and changed into them and then come back and have a lie down on the sofa again.
3. You will want SOME lights on so you can see the pages and not hurt your eyes, but it doesn't want to be too bright. Maybe you could read this book by the light of the fairy lights on the Christmas tree?
4. A blanket of some kind over your knees would be a tremendous addition to this whole situation I think.
5. Do you have a nice friendly pet who might like to join in? My four dogs love to join in with anything that involves sitting down or lounging about  – especially when there is a story to listen to. If you DO have a pet, see if they would like to join you for a story. If you don't have an Actual Pet, an imaginary one will be perfect too. I have a large imaginary cat called Pyewacket who just lives for storytime.
6. The thing about reading is that it can make you peckish. It would be a good idea to see if your nice, helpful grown-up wouldn't mind making you a warm drink. Hot chocolate would be ideal, but anything warm will do. And you will probably need at least two biscuits. My favourite biscuits are chocolate chip cookies. (Any size will do but my favourite ones are the ones that are the exact same size as my face.)
7. You will want to dunk your biscuits in your drink.
8. Talking of nice, helpful grown-ups, I think it would be lovely if they joined in with the story. They could read it to you perhaps. They could do voices maybe, especially if you helped them with some ideas for how the characters might sound.
9. Of course, you are never, ever too old or grown up to hear a story, so maybe you could read the story to your grown-up? If there are some tricky words, your grown-up will be sure to help  – they like doing that sort of thing.
10. Finally, when you've finished your chapter, don't go busily onto your next Very Important Job. Sit for a few minutes and think about what might happen next. Have a natter with your grown-up about it and see if they have any clever ideas. (Yours will be cleverer, I'm sure of it!) 
Then I think it will probably be time for bed.
Goodnight!
With love and biscuits, from 
Alex T. Smith and Winston.
x