Free Christmas crafts and activities for kids
Discover Christmas crafts, activities and colouring pages that are sure to entertain children through the Christmas holidays.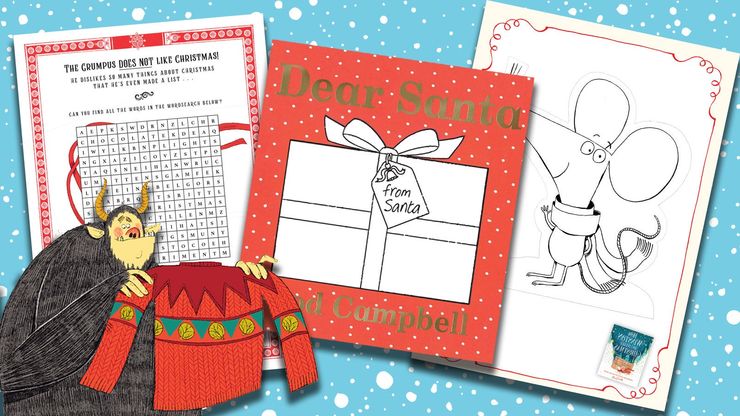 When it's cold outside and little ones are full of excitement that Santa will soon be on his way, it can be difficult to keep them occupied. These free Christmas activities for kids of all ages provide hours of entertainment and festive fun, and feature characters from some of our most beloved children's books. 
And if you still haven't finished your Christmas shopping, don't miss our kids Christmas gift guide.
Christmas crafts for kids
Learn to draw Furball from The Grumpus with Alex T. Smith
Make a snowflake
Make your own Gruffalo Christmas tree decoration
Colour in or paint this Gruffalo picture and turn it into your very own handmade Christmas tree decoration.
Make your own pompom robin
This activity from the beautifully illustrated Christmas story How Winston Delivered Christmas by Alex T. Smith shows you how to make a cute pompom robin.
Discover more Christmas crafts for kids with How Winston Delivered Christmas and How Winston Came Home for Christmas.
Christmas colouring pages for kids
Colour in this Christmas scene featuring Winston the mouse
Use your colouring pencils or pens to colour in this festive scene featuring Winston the mouse from How Winston Delivered Christmas.
Colour in Winston
Colour in this picture of Winston from How Winston Delivered Christmas  You could cut him out and stick him in the window so Santa sees him waving!
Colour in the Christmas present
Colour in this Christmas present picture from Rod Campbell's Dear Santa. 


Christmas activities for kids
Design the Grumpus a new Christmas jumper
Help feed birds this winter
Help out Squirrel and his friends from Acorn Wood in this activity sheet, with illustrations from Axel Scheffler
Draw your own Winston the Mouse and much more with this Christmas activity sheet!
Join up the dots to reveal a special Christmas character
Connect the numbers on this dot-to-dot to find out who Winston is trying to deliver a lost letter to.
Find all the words in these Christmas wordsearches
Discover all the reasons the Grumpus hates Christmas!
Search for all the words that Winston needs to deliver a letter to Father Christmas.