Who was Mabel Lucie Attwell?
Find out more about the iconic British illustrator.

Mabel Lucie Attwell's iconic illustrated editions of J. M. Barrie's Peter Pan and Wendy and Lewis Carroll's Alice in Wonderland return to print as beautiful new gift hardbacks. To celebrate, here we share a little more about this much-loved illustrator.
Who was Mabel Lucie Attwell?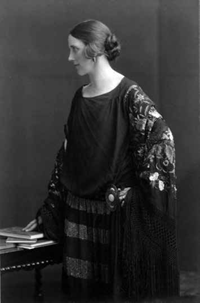 Born on 4 June 1879 to a large family in the East End of London, Mabel Lucie Attwell had a strict Victorian upbringing. Her father, a butcher, progressive thinker and homeopath, was eccentric and stern. She loved her parents and respected the perfection her father strove for, but her childhood lacked warmth, and her early drawings reflected her yearning for comfort and affection. By the age of sixteen, Mabel Lucie had sold her first drawings and was able to fund her own further education. At Saint Martin's School of Art, she fell in love with the carefree, warm and sociable artist Harold Cecil Earnshaw, who later became her beloved husband and father of her three children.
A huge commercial success in her lifetime, her characters were produced on everything from tableware to textiles, postcards and figurines. Royal patronage began in 1937 when Princess Margaret ordered a personalized Christmas card, and Mabel Lucie's china was used in Royal nurseries after the Queen gifted a tea set to Prince Charles in 1949.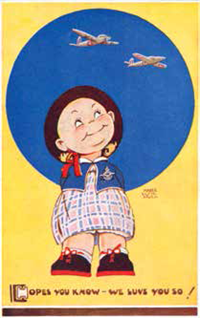 But Mabel Lucie's really unique appeal was her ability to communicate honestly with adults. Her popular wartime postcards and advertising reflected the national spirit, giving comfort and hope when it was most needed. 'I draw mainly for adults . . . the message is between adults – me and any other.' Her cheerful, witty slogans that aimed to take 'the steam out of the family battleground' inspired people to 'smile through the tears' as they faced two World Wars.
Throughout her life, Mabel Lucie was extremely hard-working, producing a huge body of work. She had a strong personality, was a stylish London socialite and was fiercely independent. In 1922 she had her first trip abroad after being invited to visit the Queen of Romania in Bucharest. The two women had a remarkable affinity for one other, but Mabel Lucie's heart was with her husband and her children, and she returned home.
In 1937 her adored husband Harold died from the effects of his war wounds, aged only fifty-one, and she coped with her grief by working even harder, her popularity never dwindling. Her only daughter, Peggy, also a talented artist, began helping her in the 1950s with postcard designs. Peggy's grandson Webster Wickham is now the licensing agent for Mabel Lucie Attwell's work.
Reflecting on her life in 1964, she said 'My life has been good and sad. I have, according to many letters I have received, given a lot of happiness to a lot of people through two World Wars.' Mabel Lucie Attwell died peacefully on 5 November of the same year in Fowey, Cornwall, where she had lived for the last twenty years of her life. Her illustrations are timeless and retain their familiarity and appeal today. In the face of adversity and for families around the world, her witty lines remain as poignant as ever.
Watch a wonderful 1921 film from the British Pathé archive, of Mable Lucie Attwell at work in her garden.