Peter James and Hugh Bonneville in conversation
Peter James and Hugh Bonneville discuss Peter's book Absolute Proof, their friendship, and religion.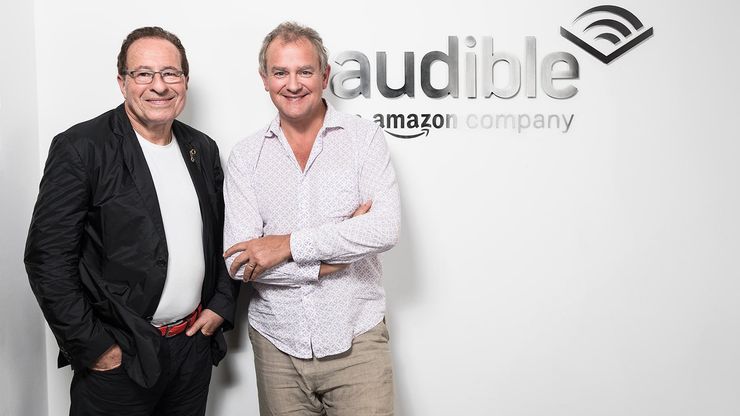 What would it take to prove the existence of God? And what would be the consequences? Peter James' gripping thriller Absolute Proof follows the journey of investigative reporter, Ross Hunter, who is soon to discover the answers to those very questions.
Here, Peter and his friend Hugh Bonneville, actor and narrator of the Absolute Proof audiobook, discuss how they met, the genesis of Absolute Proof, and their thoughts on a higher power.
Hugh and Peter on how they met
H: It was about January 2011 when we met. It was in the East Beach Café in Littlehampton, and we met to talk about the possibility of developing one of Peter's most famous characters, Roy Grace, for TV. Is that right?
P: Indeed, and it was a really strange thing because we picked quite a remote place and I said to Hugh that if it moved forward there was a particular detective, who Roy Grace is partly inspired by, that I'd love him to spend some time with, he was still serving at the time, and this bloke just walked in the door.
Peter on how Absolute Proof came about
P: Its genesis was in 1989, I got a phone call out of the blue from an elderly sounding guy saying is that "Peter James the author?" and I go "Yes . . . " and he says, "Thank God I found you! I'm not a lunatic, I was a pilot in the war, I'm a retired university professor, and I have been given absolute proof of God's existence. And I've been told you're the man to help me get taken seriously . . ."
Hugh on Peter's writing
H: When you start a Peter James book, it's very hard to put it down. And (Peter) said "I think it's something to do with my training in television", in that some of his chapters will be one or two pages, and the next one will have a longer rhythm to it, and the next one is a short one, but there's always a hook that's pulling you into the next thread of the story.
Peter on storytelling
P: It's so easy to forget that storytelling was an oral tradition, and we only put it down to record it. I still think that the greatest compliment you can pay any novel is to narrate it because you're getting it in the voice of the author.
Listen to Hugh narrate an extract from the audiobook below, and buy the audiobook here.