We asked you: What are your best books featuring alternative families?
Families come in all shapes and sizes, and when we asked you to suggest books featuring unusual or alternative families over on @panmacmillan's twitter feed, we were overwhelmed by the response. If you fancy reading outside the usual 2.4 children box, check out some of our favourites.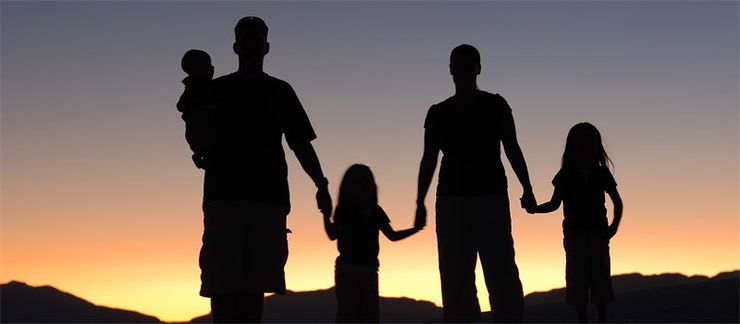 Families come in all shapes and sizes, and when we asked you to suggest books featuring unusual or alternative families over on @panmacmillan's twitter feed, we were overwhelmed by the response. If you fancy reading outside the usual 2.4 children box, check out some of our favourites.

The Girl Who Just Appeared by Jonathan Harvey
Recommended by @CamillaElworthy, Publicity Director

Holly Smith has never fitted in. Adopted when just a few months old, she's always felt she was someone with no history, the girl who just appeared. All she has is the Liverpool address of the place she was born. When she hears that very flat is available to rent in the same week that she quits her job, she finds herself travelling north and moving in. But it's not until she discovers a biscuit tin full of yellowing papers under the floorboards that she starts to unlock the secrets of her past.

The Girl Who Just Appeared is a warm, wonderful read – and it'll have you crying with laughter as well as just plain crying!


The House We Grew Up In by Lisa Jewell
Recommended by @SamiG76
 
The Bird family had an idyllic childhood: a picture-book cottage in a country village, a warm, cosy kitchen filled with love and laughter, sun-drenched afternoons in a rambling garden. But one Easter weekend, they are hit by a tragedy so devastating that, almost imperceptibly, it begins to tear them apart. The years pass, and as the children become adults they start to develop their own quite separate lives. Soon it's almost as though they've never been a family at all. Almost.
But not quite. Because something has happened that will call them home, back to the house they grew up in - and to what really happened that Easter weekend all those years ago.
 A Twist of Fate by Joanna Rees
Recommended by @ChablisPoulet, Katie James, Publicity Director
Sisters Romy and Thea are both babies when the toss of a coin seals their futures. One is adopted by a rich family who give her a life of privilege, whilst the other is forced to fight for survival in an East German orphanage. Over the years, their paths cross many times, and both women face secrets, blackmail, and – eventually - murder.
A brilliant escapist read that spans snow covered European forests, bone-white Caribbean beaches and the towering skyscrapers of New York, A Twist of Fate proves that family really is what you make it.
Julie of the Wolves by Jean Craighead George
Recommended by @AlmostMoriarty
It's hard to imagine a more alternative family than a pack of wolves. This evocative children's novel has scooped numerous awards, but its inclusion in school reading lists has been challenged several times due to some graphic scenes. Julie of the Wolves tells the story of a young girl who becomes lost in the Alaskan tundra, and is slowly accepted by a pack of Arctic wolves. Gradually, she learns to love them as though they were family. But eventually the time comes when she must leave the wilderness and choose between the old ways and the new.
 Almost English by Charlotte Mendelson
Recommended by @EllaMWatkins, Communications Intern
Most sixteen year olds don't share their home with three ancient Hungarian relatives. At least, Marina thinks they're Hungarian. That's the language they speak, but the borders of the old country are shifting and porous. Imprisoned by her family's crushing expectations and their fiercely un-English pride, by their strange traditions and even stranger foods, she knows she has to escape. But what happens when the place you run to makes you feel more of an outsider than ever?
I Know Why The Caged Bird Sings by Maya Angelou
Recommended by @peppadoll
Maya Angelou's stunning I Know Why the Caged Bird Sings is a classic coming-of-age story. The book opens when three-year-old Maya and her brother are sent to live with their grandmother in Stamp, Arkansas, and the author's childhood in the American South of the 1930's is beautifully evoked. She learns the power of the white folks at the other end of town and suffers the terrible trauma of rape by her mother's lover. Maya Angelou faces discrimination and extreme poverty, but also experiences hope and joy, celebration and achievement; loving the world, she also knows its cruelty.
Red Dust Road by Jackie Kay
Recommended by @LucieTwiggs, Junior Publicist 
From the moment when, as a little girl, she realizes that her skin is a different colour from that of her beloved mum and dad, to the tracing and finding of her birth parents, her Highland mother and Nigerian father, Jackie Kay's journey in Red Dust Road is one of unexpected twists, turns and deep emotions. In a book remarkable for its warmth and candour, she discovers that inheritance is about much more than genes: that we are shaped by songs as much as by cells, and that what triumphs, ultimately, is love.
Whatever It Takes by Adele Parks
Suggested by @JenRhymer
Eloise Hamilton is a Londoner born and bred, so it is a momentous day when she reluctantly agrees to uproot to Dartmouth, leaving behind her perfect world so her husband can finally live in his. Luckily, she can still rely on best friend Sara to be her lifeline to London.But Sara is facing her own difficulties, and thrust into unexpected turmoil, Eloise finds she is the one holding everything together for her loved ones - and by an ever-weakening thread. As her world implodes with the strain of being responsible for all around her, someone is bound to be overlooked. And the damage might be irreparable...