Eddie Jones reveals his career highlights and the secrets to his leadership success
England rugby coach Eddie Jones talks career memories, leadership tips, inspirations and what businesses can learn from sport.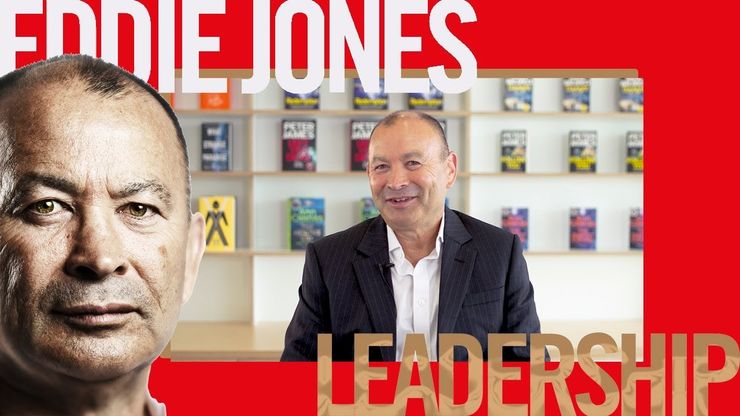 One of the most successful sports coaches of all time, Eddie Jones is a leader that thrives in high-performance and high-pressure environments. Having coached three different nations to Rugby World Cup finals, and achieving a winning record of nearly eighty per cent with the England team, it's clear Eddie knows a thing or two about leading from the front – thanks to almost 30 years of rugby coaching experience. His new book, Leadership, shares his secrets to success as a leader.
Here, Eddie talks through his favourite rugby memories, his own advice for good leadership, and the principles that apply to both sport and business. 
Don't miss the best sports books and autobiographies of 2021 here.


Eddie's top five career highlights:
The semi-final in 2019 against New Zealand.
The semi-final against New Zealand in 2003 (it's always good to beat the All Blacks).
Japan's win against South Africa in Brighton, in the 2015 World Cup.
The Super 12 victory with the Brumbies back in 2001.
This one is coming up – the 2023 World Cup final.
Eddie's top three most important leadership habits:
Be diligent about your vision – always refer back to your vision, keep the dream alive for your staff.
Make sure you have a routine – a routine that involves being disciplined about your work habits. 
Have a rule every day to reflect on what you've done – to see what you can do better and to see how you can improve the way your organisation is operating.
Eddie's five tips for creating a successful and sustainable team:
Create a vision – know where you want to go and finish with the end in mind.
Make sure you secure the right people – and have them in the right job.
Create a plan – but continually evaluate and adapt the plan to the situation.
Along the path, create a togetherness of your staff – so that they're aligned with the project.
Never think you're winning – always move along to a better path.
Eddie's top three inspirations for his leadership style:
Ian Chapel – former Australian cricket captain.
Bob Dwyer – who coached me.
Dylan Hartley – because he was an exceptional captain for England.
(All three were very tough men, all had a vision of where they wanted to go, and Dylan was an exceptional leader of men.)
Discover more of Eddie's stories and lessons in his new book, Leadership: