The most empowering feminist quotes from strong women
We've compiled a selection of the most inspirational feminist quotes from strong women, from Emmeline Pankhurst to Melinda Gates.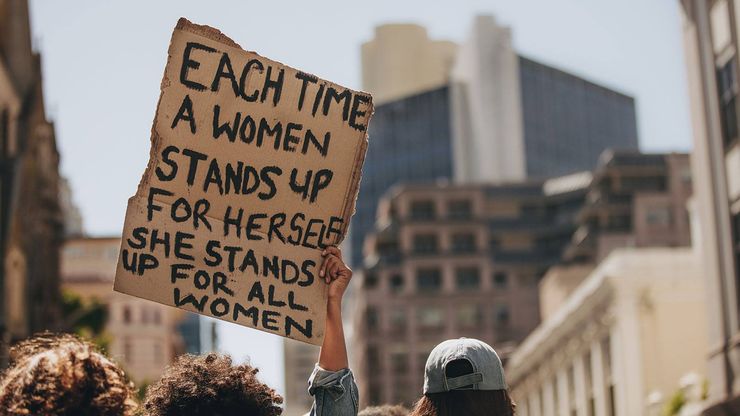 From the fight for suffrage to the tidal change that was the #MeToo movement, throughout history women have stood up against inequality and discrimination. The advances that have been made in the battle for gender equality are incredibly inspiring, and although there is still much to achieve people around the world continue to push for progress. If you're looking for inspiration or motivation, we've compiled some of the greatest feminist quotes from strong women, including feminist activist Gloria Steinem, writer Virginia Woolf and actress and UN Ambassador Emma Watson.
Melinda Gates – philanthropist and businesswoman​, The Moment of Lift
'Being a feminist means believing that every woman should be able to use her voice and pursue her potential, and that women and men should all work together to take down the barriers and end the biases that still hold women back.'

Melinda Gates – The Moment of Lift
Rebecca West – writer
'I myself have never been able to find out precisely what feminism is: I only know that people call me a feminist whenever I express sentiments that differentiate me from a doormat.'
Emma Watson – actress and UN spokesperson, HeForShe UN campaign speech
'Both men and women should feel free to be sensitive. Both men and women should feel free to be strong… It is time that we all perceive gender on a spectrum not as two opposing sets of ideals.'
 Watch Emma's speech in full here:
Virginia Woolf – writer, A Room of One's Own
'It is much more important to be oneself than anything else. Do not dream of influencing other people . . . Think of things in themselves.'
Chimamanda Ngozi Adichie – writer, We Should All Be Feminists
'I have chosen to no longer be apologetic for my femaleness and my femininity. And I want to be respected in all of my femaleness because I deserve to be.'
Buy We Should All Be Feminists
 Watch Chimamanda's TEDx talk, here:
Maya Angelou – writer, poet and civil rights activist
'I'm a feminist. I've been a female for a long time now. It'd be stupid not to be on my own side.'
Michelle Obama – lawyer, writer and former First Lady of the United States, speech at the Summit of the Mandela Washington Fellowship for Young African Leaders​
'No country can ever truly flourish if it stifles the potential of its women and deprives itself of the contributions of half its citizens.'
Watch Michelle's full speech here:
Charlotte Perkins Gilman – writer
'There is no female mind. The brain is not an organ of sex. Might as well speak of a female liver.'
Mariam Khan – writer and activist, It's Not About the Burqa 
'Writing is dangerous because we are afraid of what the writing reveals: the fears, the angers, the strengths of a woman under a triple or quadruple oppression. Yet in that very act lies our survival because a woman who writes has power. And a woman with power is feared.'
Find out more about It's Not About the Burqa and watch the book's contributors discuss what being a Muslim woman means to them.
Emmeline Pankhurst – suffragette​
'We have to free half of the human race, the women, so that they can help to free the other half.'
Rupi Kaur – poet, 'Medicine'
'we need more love not from men but from ourselves and each other'
Rupi Kaur


Kate Chopin – writer​, The Awakening
'She was becoming herself and daily casting aside that fictitious self which we assume like a garment with which to appear before the world.'
Buy The Awakening and Other Stories
Malala Yousafzai – activist and Nobel Peace Prize winner​
'We cannot all succeed when half of us are held back.'
Gloria Steinem – writer and activist
'A feminist is anyone who recognizes the equality and full humanity of women and men.'
Beyoncé​ – singer and actress
'Who run the world? Girls.'
 Watch Beyoncé perform Run The World (Girls):
If you're looking for even more inspiration, we've curated an edit of the best feminist books you need to read
For more words of wisdom, don't miss our selection of the most inspiring poems from female poets