Rob Burrow: 'I was told to not give in, to forget your life expectancy and do your own research'
Rob Burrow has always beat the odds, both on and off the pitch. Here, he reflects on the highlights of his extraordinary career and how positive imagery, self-belief and the support of a loving family are transformative in the face of adversity.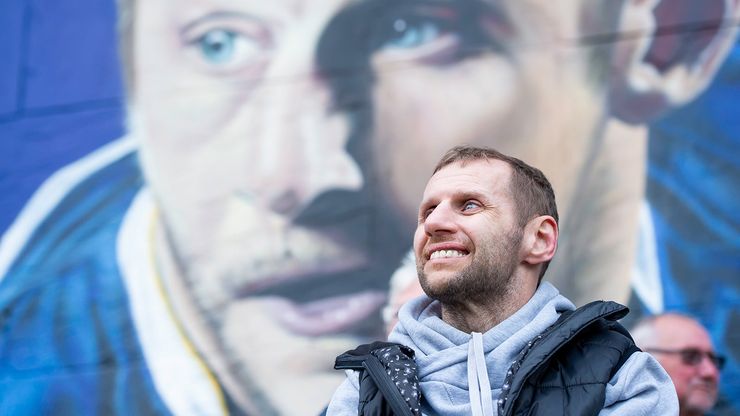 Rob Burrow became a sporting star against the odds, developing into one of the greatest rugby league players of all time and playing for his beloved Leeds Rhinos for seventeen years. In 2017, Rob ended his celebrated career on a high with an astonishing eight Grand Final wins under his belt, but just two years later he was diagnosed with motor neurone disease and given just two years to live. 
Since then, Rob has gone on to beat the odds once again, but this time off the pitch. What's more, he's become a beacon of hope, inspiring many with his trademark positivity in the face of immense adversity.
Here he tells us how his approach to illness – using positive thinking and living by his own research – has helped him and his family face the future with extraordinary optimism, and shares how others can find their own happy place, whatever the obstacles may be.
As a boy, you were told that you were too small to play rugby, but throughout your remarkable career, did you ever find that your size was actually an advantage on the rugby pitch? Did you feel you had to adapt the way you played the sport as a result of your size, and if so, how?
I was wondering how I could cope with being small but it was my size which would be my greatest adversary. I quickly learnt that I had to do it my way and differently to others. I knew that to be the strongest pound for pound, I would need to be the quickest in the team.
What kept you at Leeds Rhinos for seventeen years?
I think what kept me at Rhinos was first and foremost that I loved the club. I know they say life begins at the end of your comfort zone, but I had no need to move from within my comfort zone. Believe me I did resent Mac at times but this was my club - why should I move because he did not rate me?
Your positivity even in the face of immense hardship has inspired awe in millions of people, to what do you credit your positive outlook?
I am not sure how much I have been positive. I suppose you don't know how you'll react to life-changing news until it happens.
I don't know how I became so positive and smiling all the time. I definitely think it is something I have dealt with in my life previously. I have a wonderful family who can't do enough for me, especially my wife and kids. My mum still pampers when I go up and my dad is the most positive person I have met. I use positive imagery a lot, like walking my girls down the aisle. I often see me and Lindsey going to the villa for 90 days when she retires from her job. The brain is really powerful and I believe I can get to that stage.
Is there a particular match, or moment, from your career that stands out as your greatest highlight?
Definitely the try in the 2011 final. If I could take that day and relive it, I would do. I think the moment when I scored the try was the perfect memory of me being me. Being 'big' was irrelevant, and that moment was one for all the small ones and for people who were told they could not do it or that they were not big enough.
You mention Doddie Weir as a huge inspiration in your book, in what ways do you think he has shaped you?
I think he fundamentally changed my perception of, and mentally toward the disease entirely. I was told to not give in, to forget your life expectancy and do your own research. The doctors tell you the script, but Doddie gave me the best advice: 'If you don't move it, you lose it .'
What advice would you give others who are facing immensely difficult times in their lives?
I would advise anyone dealing with tough times to live in the moment. You should be in your happy place as often as you can. Whether that is being with your family, friends or kids. I live my life through my kids, I just love seeing them use their imagination and enjoying their youth.
Image credit: Allan McKenzie and SWpix.com