'What's my Lego?': what the world's most successful big projects have in common
From the Empire State Building to Pixar's Oscar-winning animations, world expert Bent Flyvbjerg and bestselling author Dan Gardner reveal the secrets behind How Big Things Get Done.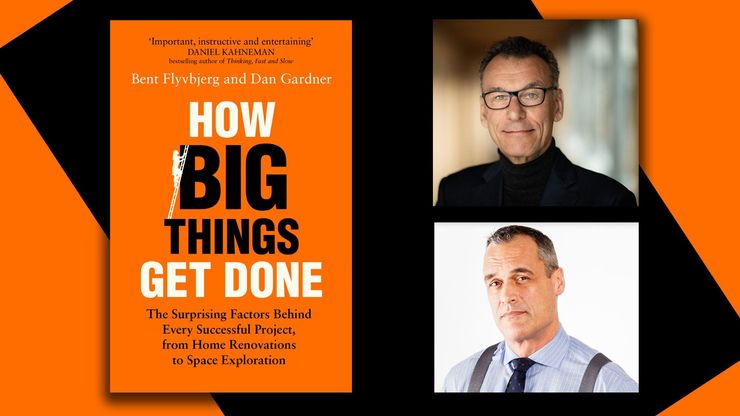 In their new book, How Big Things Get Done, Oxford professor Bent Flyvbjerg and bestselling writer Dan Gardner use research-based principles and vivid examples to explain how to get any ambitious proposition done on time, and on budget. Here, they share the top six lessons we can all learn from the world's most successful big projects.
Picture two projects.
The first is the renovation of a small kitchen in a Brooklyn townhouse. By the standards of major projects, it's quite modest – but it's a big deal for David and Deborah, the owners of the townhouse. They can't afford for it to go wrong. So they hire an architect who lays out a plain design and prepares carefully detailed plans. 
The second is the creation of a major new art museum. An architect known worldwide as a visionary artist is hired to lead the project and unleash his wild imagination. He starts by taking out a piece of paper and drawing mad scribbles.
One of these projects is completed on schedule and a little under budget. Everyone is delighted. The other project becomes a hot mess. It takes eight times longer to finish than it was supposed to and it goes almost 400% over budget.
Which project is which?
The successful project is the art museum. In fact, it's the Guggenheim Bilbao, designed by legendary architect Frank Gehry. Not only is the building considered one of the masterpieces of modern architecture, its creation was a model of efficiency and economy.
The disastrous project is the kitchen renovation. As modest as it was, as carefully detailed as the architect's plans were, as determined as David and Deborah were to do it right, it got away from them. And they paid the price in money, time, and frustration.
Unfortunately, outcomes like David and Deborah's are vastly more common than projects that deliver across the board: the world's largest database of major projects reveals that fewer than half of projects (47.9%) finish on budget. Fewer than one in ten (8.5%) are completed on budget and on time. And a nearly invisible 0.5% of all projects are completed on budget, on time, and with the expected benefits. 
Why do so many big projects turn into fiascos like David and Deborah's kitchen renovation? And why do a select few deliver on their promises and turn visions into triumphant realities? Here's what we can learn from some of the world's most successful big projects. 
1. Projects don't go wrong so much as start wrong. Successful ones think slow and act fast.
There is a clear pattern in projects that fail: they don't ask fundamental questions, the planning is quick and superficial, and they rush to start delivery. This makes everyone happy because shovels are in the ground. But challenges unrecognized or ignored in planning don't disappear. When they eventually surface, managers rush around in search of solutions. Delays cause more problems. More rushing around. Slowly, what started as a sprint turns into a painful slog. Deadlines are missed. Costs soar. 
If you think fast, you will act slow. And the project will be in deep trouble. 
The solution is to reverse the pattern.
Start by asking the fundamental question: Why do this project at all? Only when the answer is clear and agreed by all should planning move on to decisions about what form the project will take and how to deliver that.
This is how Frank Gehry works and it's a fundamental reason why, even with his daringly innovative buildings, he so often delivers on budget and on time.
2. Simulate and iterate.
Up. Inside Out. Finding Nemo. These animated movies, and many more, won Oscars, earned fortunes and became beloved cultural touchstones. And Pixar Studios created them all with a relentless process of trying ideas, testing them, and trying again.

Planning should not be an abstract exercise of flowcharts and schedules. Instead, it should be an active process of learning. Try something. See if it works. Change it and try something else. By continuously simulating and iterating, challenges and problems are surfaced and solved in the relatively cheap and safe environment of planning.
3. Make the most of experience. 
The Empire State Building went from concept to shovels in the ground in less than a year and completion a little more than a year after that. When it officially opened – exactly on schedule – it was significantly under budget. The key reason why?
They hired experienced people and firms. Used proven designs. Deployed technology that had done the job before. The more real-world experience that is woven into all the facets of a project, the likelier it is to succeed.
4. See the project as "one of those." 
Every project is unique, in some sense or other, but when forecasting the project's schedule and budget, it's a dangerous mistake to think of the project as being in a category of one. That's how people get tripped by optimism bias and best-case scenarios. Instead, see the project as being in a larger category – it is "one of those" – and use the real-world results of that category as the foundation of your forecast.  
This is how a high-speed rail fiasco in Hong Kong turned into a project that moved as quickly as its trains – and finished on budget and on time.
5. Make the team real.
People working on projects are routinely called "teams" but when they come from different organizations that have different interests and objectives, they're not likely to truly be a team. They don't put the project first. And they don't perform to the best of their combined abilities. To forge a real team, align interests. Ensure the purpose of the project is understood by all. Empower people to do their bit and take pride in it. When you have a shared sense of vision, mission, and contribution, you have a team – and a much better shot at making your project one of the rare triumphs.
This alchemy was essential to the successful delivery of Heathrow Airport's Terminal Five. Airport projects are a particularly dreadful category but Terminal Five defied the odds and came in on budget and on time (though not without problems for the first few weeks of operation). And in the years since, it has frequently been voted the world's best terminal by passengers. 
6. Ask, "what's my Lego?"
Lego is made of simple, interchangeable blocks churned out by factories. But add one block to another, and another, and another, and there's no limit to the size and complexity of what you can build. 
That's modularity. It's the principle behind solar and wind power. It's how server farms are designed. With a little imagination, the principles that make modularity work – simplicity, factory-based construction, scalability – can be applied to a wide array of projects, from cars and construction to software and satellites. 
You just have to ask "what's my Lego?"