Helen McGinn's wine guide: The stuff you really need to know . . .
If your go-to response to being asked your drinks order is, 'Glass of pinot grigio please!', Helen McGinn, author of The Knackered Mother's Wine Guide, is here to help broaden your horizons.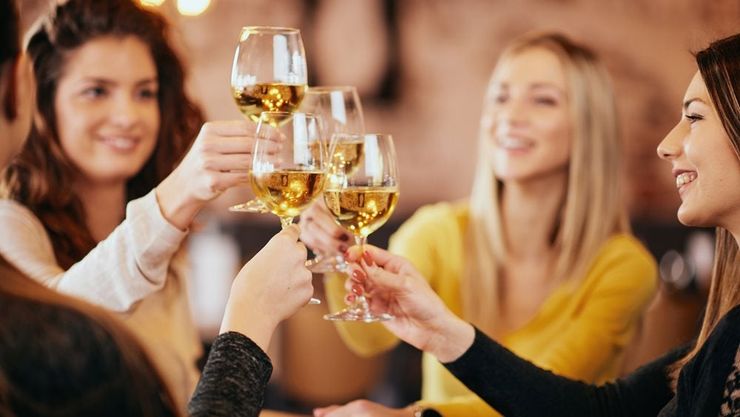 Helen McGinn believes that life's too short to drink bad wine. Her fabulous book, The Knackered Mother's Wine Guide, is a stress-free, fuss-free guide to choosing great (and great value) wine for every occasion. Here she shares her top tips and suggested buys for anyone who has stared, daunted, at shelves full of wine before grabbing that same bottle of merlot on a Friday night.
Ever found yourself standing in front of a wall of wine in the supermarket looking for something – anything – that looks familiar/not too expensive? Yep, me too – but with a little know-how, navigating your way around the wine shelves or the wine list needn't be complicated. Here are a few pointers to get you going. 
Keep your wine options open
With thousands of grape varieties from around the world, we're spoilt for choice. Now, we wouldn't dream of eating the same thing every night (except for peanut butter on toast, could totally do that) but when it comes to wine we often stick to what we know. But start making a note – mental or actual – of what wine styles suit you and you can then find other wines to try that are similar but different. For example, if you're over pinot grigio, try the vermentino grape instead. If Argentinian malbec is your thing, try one from its spiritual home, France, for an earthier take on it. The possibilities are endless. 
Finding the good stuff under a tenner
The only problem with so much choice is finding the good stuff. And the promise of a bargain can lead us, quite literally, by the nose. But a word of warning: if the cut-price deal looks too good to be true, it probably is. So before you pop that half-price bottle in your basket, ask yourself if you would have paid full price for it. If not, put it back and move on. Better to head for the unfashionable wine regions if you want to find a proper bona fide bargain. Try the Loire Valley for whites, Navarra in Spain for rosé and smaller appellations in Southern France for reds and you'll get great value for money compared with some of the big wine region names. 
Know what you're paying for
If you're spending £5 on a bottle, more than half of that goes on tax alone. I know, gets slightly stuck in the throat, doesn't it? But spend just a pound or two more and because the duty rate on a bottle of wine is fixed you're likely to get much better value for money. Happily, there's plenty of good stuff under a tenner. It's just a question of knowing where to look. And reading my newly updated book, of course. 


Helen's top wine picks
Tesco Finest Pignoletto, £8.50, Tesco
Like prosecco with its light, lemony froth – but slightly drier. Made in the same way but with different grapes and from a neighbouring region in Italy, it makes for a properly refreshing change. 
Cascina Valentino Roero Arneis, £8.50, Asda
The little-known Italian grape arneis is hard to find on shelves – and usually a lot more expensive – so this is a real find. If you like your whites crisp and fresh with a hint of nectarine, you'll love it. 
Da Vida No Added Sulphur Garnacha, £8, Co-op
From Navarra, made by a forward-thinking producer who chooses not to add any sulphur to their wines once made. Juicy, with lots of bramble fruits, it tastes as good as it looks. 
Bijou Cabriéres Rosé, £9.39, Waitrose
This pretty pale pink rosé from the Languedoc in the south of France is all white peaches with a citrus twist. Makes a great (cheaper) alternative to Provence rosé. Guaranteed to put a spring in your step. 
For more wine recommendations visit Helen's wine blog www.knackeredmotherswineclub.com and/or follow her on Instagram @knackeredmother