Make Joe Wicks' McLeanie Breakfast Hash
Is Joe Wicks' McLeanie Breakfast Hash a bit of you? Make it this morning with this recipe from his new book, The Fat Loss Plan.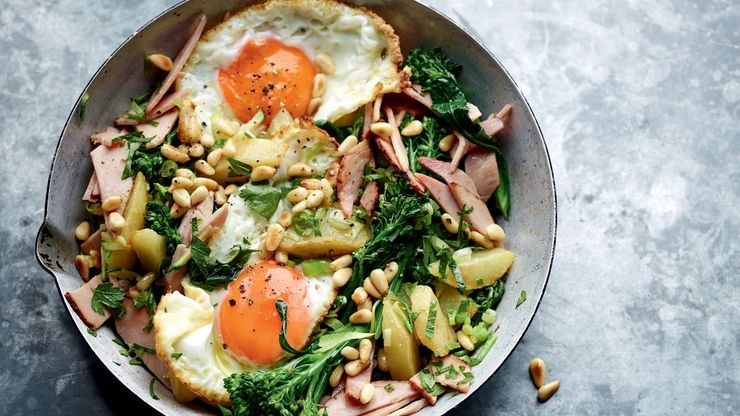 Total time

Prep time

Amount

Ingredients

30g midget trees (tenderstem broccoli) thinly sliced
1/2 tbsp coconut oil
1 large potato peeled cooked and roughly chopped (about 200g)
1 clove garlic crushed
4 spring onions finely sliced
1/4 courgette coarsely grated
large handful of baby spinach
leaves
chopped salt and pepper
3-4 thick slices of lean deli-style ham
roughly chopped (about 180g)
2 tbsp parsley finely chopped
2 medium eggs
1 tbsp toasted pine nuts to scatter (optional)
Simmer the broccoli in a small saucepan of boiling water for 2 minutes. Drain and roughly chop.
Melt the oil in a wide non-stick frying pan and add the potato, garlic, spring onions and courgette. Stir and cook for 5-6 minutes over a high heat.
Stir in the spinach and cook for a further 2 minutes, or until just wilted.
Season the mixture and stir in the chopped ham, broccoli and parsley.
Make two dips in the hash and crack an egg into each one. Put a lid on the pan and cook until the egg is just set or cooked to your liking.
Season and serve scattered with the toasted pine nuts, if using.