Make Joe Wicks's delicious chorizo, turkey and sweet potato hash
Bored of the traditional turkey this Christmas? The Body Coach's chorizo, turkey and sweet potato hash may be the perfect solution.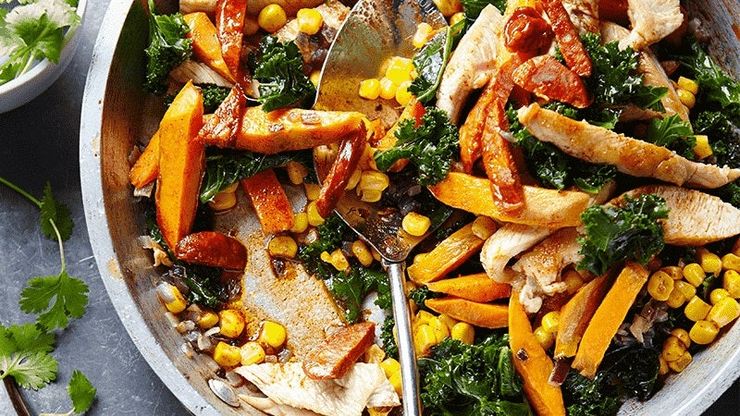 This delicious recipe from Joe Wicks, AKA The Body Coach, makes a delicious dish for an informal lunch or dinner with family and friends. 
Total time

20 minutes

Prep time

5 minutes

Amount

Ingredients

1 sweet potato (peeled and roughly chopped into 2cm chunks)
½ tbsp coconut oil
½ red onion (diced)
Large handful of kale
30g chorizo (chopped into 1cm pieces)
1 x 240g skinless turkey breast fillet (sliced into 1cm strips)
½ tsp ground cumin
½ tsp cayenne pepper (more if you like it spicy)
80g tinned sweetcorn (drained)
1 red chilli (de-seeded and finely sliced)
1 tbsp reduced-fat Greek yoghurt (to serve)
Handful of coriander (roughly chopped – optional)
Place the sweet potato in a microwaveable dish and zap at 900w for 4 minutes. Leave to rest for 2 minutes and then zap for a further 4 minutes. Leave them to sit until ready to use.
Meanwhile, melt the coconut oil in a large frying pan over a medium to high heat. Add the onion, kale and chorizo and fry, stirring regularly, for about 3 minutes, by which time the vegetables will have softened.
Crank up the heat to maximum and slide in the turkey, tossing it in the pan with the other ingredients. Stir-fry over the high heat for about 3 minutes, or until the turkey is nearly done. Sprinkle in the cumin and cayenne pepper and fry, stirring constantly, for 30 seconds.
Tumble in the sweetcorn and the microwaved sweet potato and continue to fry for a further 2–3 minutes, or until you are certain the turkey is totally cooked through. Check by slicing into one of the larger pieces to make sure the meat is white all the way through, with no raw pink bits left. If you're worried that the pan is drying out or the spices are burning, add a splash of water, which will steam up and help everything cook through.
Slide your sunshine hash onto a plate and scatter with the fiery chilli. Serve with a dollop of cooling yoghurt and a sprinkling of chopped coriander, if using