Joe Wicks' Cheeky Chicken Katsu Curry
Joe's healthier chicken katsu curry is shallow fried (rather than deep fried) with just enough spice to warm you up on even the coldest nights.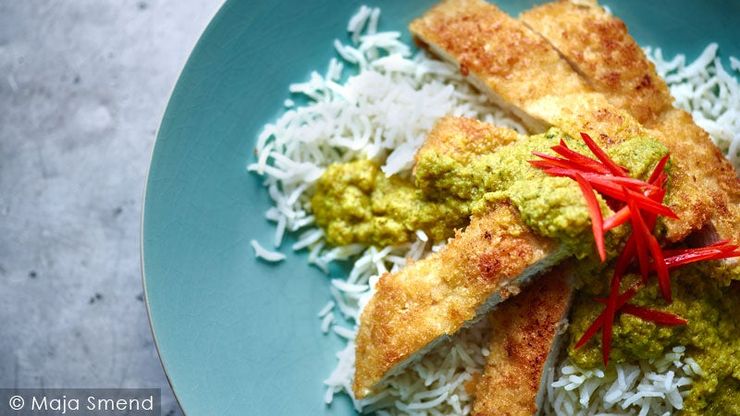 This healthier chicken katsu curry from Joe Wicks's third recipe book, Lean in 15: The Sustain Plan, is shallow fried (rather than deep fried) with just enough spice to warm you up on even the coldest nights. Try it for a quick winter weeknight dinner or double the recipe and make it for a friend this weekend.
Total time

25 minutes

Prep time

10 minutes

Amount

Serves 1

Ingredients

1 tbsp coconut oil
3 finely sliced spring onions
1 chopped celery stick
1/2 dessert apple - peeled and roughly chopped
1 tbsp chopped coriander
2 tsp curry powder
Salt and pepper
100ml chicken or vegetable stock
1 x 240g skinless chicken breast fillet
75g fresh breadcrumbs
1 egg white
200g pre-cooked rice
1 sliced red chilli - to serve (optional)
Melt half of the coconut oil in a saucepan over a medium heat. Add the spring onions, celery, apple and coriander and fry for 1 minute. Throw in the curry powder and a good pinch of salt and continue to stir-fry for 45 seconds. Pour in the stock and bring to the boil before simmering for 10 minutes.
While the sauce is cooking, place the chicken breast between two pieces of cling film, or even better two pieces of baking parchment, on a chopping board. Using a rolling pin, saucepan or any other blunt instrument, bash the breast until it is about 1.5cm thick all over – this is a decent workout. Slide the beaten chicken to one side.
Next, pour the breadcrumbs into a bowl. Whisk up the egg white until it is a little frothy, then dip the flattened chicken into the egg and then straight into the breadcrumbs. Push the crumbs into the chicken so that as many stick to it as possible.
Melt the remaining coconut oil in a frying pan over a medium to high heat and cook the chicken for 3 minutes on each side, by which time it should be fully cooked through – check by slicing into the thickest part to make sure the meat is white all the way through, with no raw pink bits left. This is a good time to zap your rice in the microwave according to the packet instructions.
When your sauce has simmered for 10 minutes, blitz the ingredients using a blender until smooth. Taste and season with a little more salt and pepper if needed.
Slice the chicken and serve up with the rice topped with the yummy sauce and, if using, a sprinkling of fiery red chilli slices.
This delicious recipe is taken from Lean in 15 - The Sustain Plan. If you're looking for more of Joe Wicks's books, discover our ultimate guide here, which includes Joe's latest cookbook Joe's Family Food.