Joe Wicks' Christmas turkey recipe
Make your turkey the centrepiece of your Christmas table with Joe Wicks' turkey, smothered in bacon and stuffed with garlic, tarragon and cranberries, and serve with The Body Coach's banging Brussels sprouts.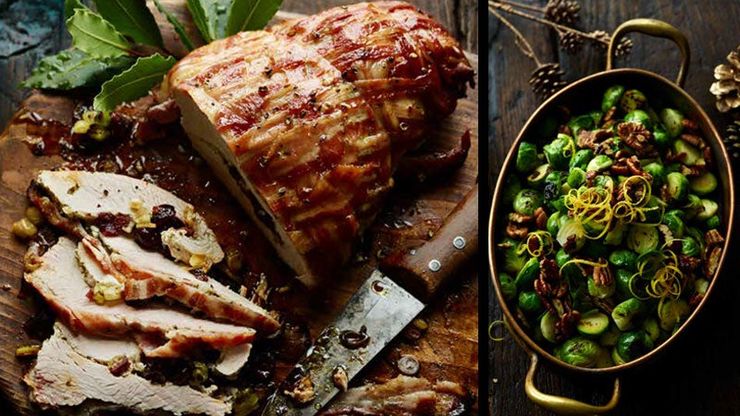 This show-stopping turkey recipe from Joe Wicks, stuffed with garlic, tarragon and cranberries, and smothered in bacon, will be the centrepiece of your Christmas table. And no Christmas dinner is complete without Brussels sprouts - try the Body Coach's spruced-up sprouts that even the kids will enjoy.
Herby Cranberry Rolled Turkey
Total time

1 hour 30 minutes, plus resting

Prep time

15 minutes

Amount

6 - 8

Ingredients

4 cloves garlic - crushed
2 knobs of butter - softened
2 tbsp finely chopped mixed herbs (tarragon and parsley)
Salt and pepper
2 x
800g skinless turkey breasts
100g dried cranberries
6 spring onions - finely sliced
12–14 rashers of lean smoked back bacon (all visible fat removed)
Preheat your oven to 200ºC (fan 180℃/gas mark 6).
Mix together the garlic, butter and herbs and season well with salt and pepper. Divide the butter between the two turkey breasts and rub them all over.
Lay one breast on a chopping board, and top with the dried cranberries and spring onions. Lay the other breast on top, the opposite way round so that the thickness is even across. Stretch the bacon slices over the joint, stretching with a knife if needed and overlapping each rasher slightly.
Tie the rolled joint with kitchen string, spacing each string about 5cm apart. Wrap the joint in foil and place on a wire rack over a foil-lined roasting tin. Roast in the oven for about 45 minutes.
Remove the foil and cook for a further 45 minutes, or until the juices run clear when a skewer is inserted into the thickest part of the joint.
Transfer to a board and cover lightly with foil, allow to rest for 20 minutes before carving and serving.


Lemony Charred Sprouts
Total time

15 minutes

Prep time

5 minutes

Amount

4 - 6

Ingredients

800g Brussels sprouts - trimmed and halved (or quartered if large)
2 tbsp olive oil
100g toasted chopped pecans
1 tbsp coconut oil
Finely grated zest of 1 lemon and 1 tbsp of lemon juice
Toss the sprouts in the oil, until well coated.
Heat a griddle pan until medium hot, then cook the sprouts in batches, cut-side down, for 4-5 minutes until charred on one side and just cooked all the way through. They should be quite firm.
Melt the coconut oil in a a wide non-stick frying pan. Add the sprouts and nuts, and season well. Fry, tossing everything frequently, but being careful not to break up the sprouts too much. Once they're heated through (about 3–5 minutes), stir through the lemon zest and juice. Serve.