Lorraine Pascale's Banana Loaf with Peanut Butter Frosting
Lorraine Pascale shares her delicious and easy banana bread recipe from her irresistible new book, Bake.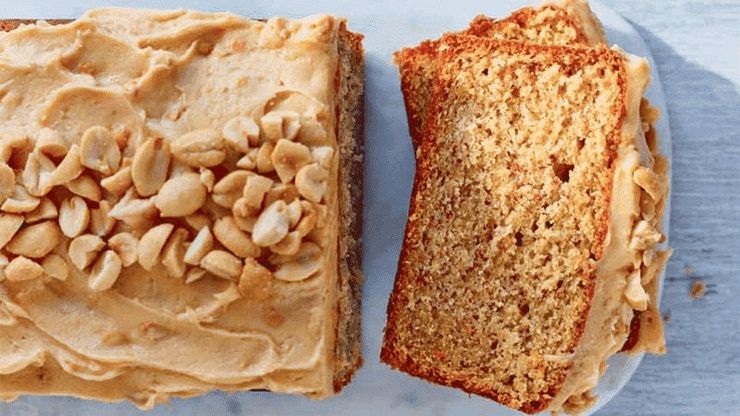 The bananas need to be super ripe for this cake recipe. If your bananas are under-ripe, here is a neat trick to help. Simply heat our oven to 200°C (fan 180°C/400°F/gas 6) and place the bananas (in their skins) on a baking sheet. Bake them for about 15-20 minutes, or until the skins have turned black. Allow to cool a little, then peel back the banana skin to reveal soft, squishy and slightly sweet bananas. Now, will it be one slice or two?
Total time

60 minutes

Prep time

20

Amount

8-10

Ingredients

150g butter (softened)
I50g soft light brown sugar
2 eggs (at room temperature)
150g wholemeal or regular self-raising flour
I tsp baking powder
2 very ripe bananas (mashed)
handful of lightly salted peanuts )to decorate - optional)
25g unsalted butter (softened)
125g Icing sugar60g cream cheese
50g crunchy peanut butter
Equipment
 1.2 Litre loaf tin
hand-held electric whisk or stand mixer
Method
 Preheat the oven to 180°C (fan I60°C/350°F/gas 4) and line the loaf tin with baking parchment. I usually put a strip along the whole length of the tin, making sure that it comes well over the edges. This makes It easy to remove the loaf when it is cooked.
Using a stand mixer or hand-held electric whisk. cream the butter and the sugar together in a large bowl until light and fluffy.
Then add one of the eggs and half of the flour and beat well, followed by the other egg and the rest of the flour along with the baking powder.
Fold in the mashed bananas and then spoon the mixture into the lined tin.
Bake the loaf for about 1 hour. If after about 25-30 minutes in the oven, the bread is browning too much on top, cover it with foil.
To check that the bread Is cooked, insert a skewer Into the centre of the loaf - it should come out clean. When the loaf is cooked, leave it to cool completely in the tin.
Once the loaf is  almost completely  cooled  down, mix  together  the  butter and icing sugar in a bowl using a wooden spoon, until light and fluffy.
Beat in the cream cheese until it is just combined and then finally stir in the peanut butter.
When the loaf is completely cool, remove it from the tin and place it onto a plate.
Using a palette knife, spread the loaf with the peanut butter frosting and sprinkle over the peanuts to decorate, if you fancy.