Brian Bilston, the mystery man of poetry, answers our questions
We caught up with Brian Bilston, the Banksy of the poetry world, to talk about his new poetry collection, Alexa, what is there to know about love?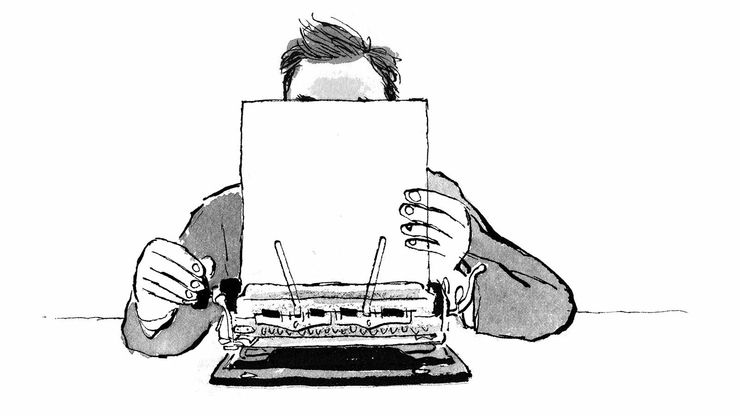 With his identity clouded in mystery, Brian Bilston has amassed over 80,000 Twitter followers and has become known as the unofficial Poet Laureate of the social media platform. His unique debut novel, Diary of a Somebody, was a hilarious mix of poetry and diary which was shortlisted for the Costa First Novel Award. Now Brian is back with a wonderfully witty new poetry collection, Alexa, what is there to know about love? We spoke to Brian about making poetry accessible, his advice for budding poets and those burning questions he really wishes Alexa would answer. 
Discover our edit of the best poetry books.
With your true identity cloaked in mystery, you've been called the Banksy of the poetry world. But how much do you truly hold in common with your alter ego, the debonair Brian Bilston?
He is rather debonair, isn't he? Unfortunately, that's not a quality we have in common; I'm somewhat scruffier, and far less self-assured, than he is. But we do share the same sense of humour and a similar way of looking at the world, which at the moment is generally by squinting at it or peeking out at it through the gaps between my fingers.
You're affectionately known as the 'unofficial Poet Laureate of Twitter' – quite the accolade! Why did you choose Twitter as the medium to share your poems? 
There was nothing deliberate about it. I'd joined Twitter simply to not feel so stupid at work. Colleagues would use expressions like 'we need to monetise our social media strategy' and I didn't have the faintest idea what they were going on about. I joined under a pseudonym but it was only after a couple of years that I began sharing the poems I was writing. Even then, it wasn't with any ulterior motive other than to play around with words and have some fun. I'm not sure how it's all come to this.
Poetry is sometimes labelled as difficult to understand and inaccessible, yet your poems seem to resonate  –  why do you think that is? 
I think that's probably to do with the kind of topics I find myself writing about – which can often be the fairly banal and humdrum stuff of everyday life – and that I tend to tackle these subjects head-on, and with humour if possible. My poems aren't hard to understand, readers don't have to go digging for hidden meanings. I do sometimes wish I could be a bit more oblique, though; I've even answered this question directly when what I should have done is responded through imagery and metaphor, perhaps involving a mislaid colander or the distinctive song of the white-throated sparrow.
Many of your poems, even those with a political slant, are likely to elicit more than a few laughs. Is it important to you that your poetry is intrinsically laced with comedy? 
I wouldn't say that it's necessarily important for my poetry to contain comedy. It's rather that whenever I try to write a poem without humour, it nearly always ends up jarring in some way. It's not my natural voice. There are exceptions to this in my writing – sometimes there are subjects where humour simply doesn't seem appropriate at all – but these I always approach with caution, being aware of my own limitations. 
Your novel Diary of a Somebody sees Brian resolve to improve his life by writing a poem a day. What would be your advice to any budding poets out there?
My advice would be that I should be the last person any budding poet should listen to for advice. 
Your latest collection, Alexa, what is there to know about love? is about love in all its various forms  –  why did you decide to write a collection of love poetry? 
Good question! I suppose love is one of those topics, isn't it?  One of the Big Ones – like Life or Death – that we spend a ridiculous amount of time wrestling with, and which we've come to see as intrinsic to our happiness or otherwise. I don't want to be seen only as the guy who writes those silly poems about changes to his bin day collection schedule. I would like to be seen as the guy who writes those silly poems about love as well as the changes to his bin day collection schedule. I am very ambitious in that way.
Finally, apart from, 'what is there to know about love?', what other questions do you find yourself wondering if Alexa could give you the answer to?
Will life ever get back to normal? When can I hug my parents again? Why does the winner of Mr Universe always come from Earth? Is it landfill or recycling this week? What do you think about when I'm not asking you questions?