Dear Mrs Bird: a story of friendship, courage and love
AJ Pearce shares the inspiration for her Sunday Times bestselling novel Dear Mrs Bird.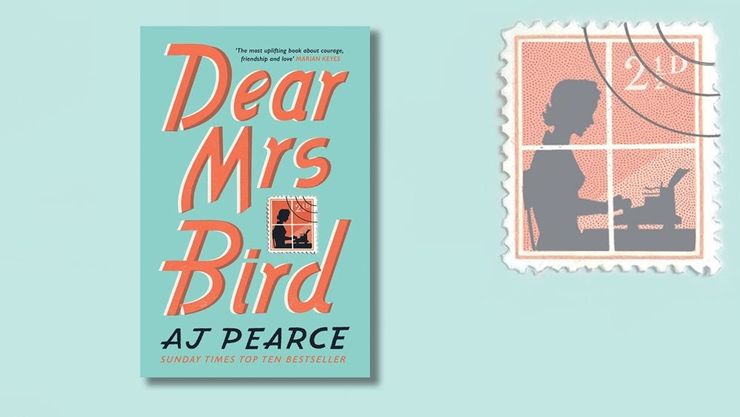 AJ Pearce's Sunday Times bestseller Dear Mrs Bird is a funny, charming and moving story of friendship set in London during the Second World War. As bombs fall over London, Emmy dreams of contributing to the war effort by becoming a Lady War Correspondent. Instead, she finds herself working as a typist for Henrietta Bird, agony aunt at Women's Friend magazine. Mrs Bird is very particular about the letters she will answer, but Emmy just can't bear the thought of all the desperate women out there waiting for an answer that will never come . . . 
Dear Mrs Bird was selected as a Richard and Judy Book Club pick, and has also been optioned for TV by production company 42. Here, AJ shares how the female friendships in her life inspired the friendship between Emmy and Bunty in the book, and why she couldn't imagine the novel without heroine Emmeline Lake's mother. 
I just couldn't imagine Dear Mrs Bird without the heroine Emmeline Lake's mother, both on and off the page.
Knowing about her mum – and her grandmother – was central to writing the book. It's the same for all the main characters. Understanding their families really well, even though most of them don't appear in the book helps me define why the characters are who they are.
When the novel begins, Emmy's mother and grandmother are still the biggest influence in her life. She is twenty two and dreams of becoming a war journalist, reporting the truth and making a difference. When she finds herself at Woman's Friend working for agony aunt Henrietta Bird who refuses to help women with problems seen merely as an 'Unpleasantness', Emmy feels she can't just stand by and watch. Completely unqualified, she decides to write back to the readers herself.
It's a brave move and as Emmy doesn't take it lightly, it was important for me to know exactly why she feels so strongly and is willing to risk her career in trying to help strangers. So I spent a lot of time thinking about where she came from – her upbringing and particularly her mum. It didn't take long to decide that her father's side of the family would bring a traditional stability. Dr Lake is a decent, intelligent man who was clever enough to marry Emmy's mum - the radical one in the partnership.  As I developed the characters, although none of this features overtly in the book, I knew Emmy's grandma had been a notable suffragette (there's a clue in Em's name) and Mrs Lake had joined her in the movement as a teenager. Emmy has been brought up to expect fairness for everyone – and to get on and sort things out for herself if something needs to be done.
It's a question I find fascinating: what would it be like if a major influence in your life – your mum or grandma – had been a suffragette? How would that impact Emmy's outlook as a young woman in 1941?
It's not an overriding theme in the book but something that is at the back of my mind as I write. Her mother's inspiration runs deep in Emmy's character. Emmy believes that anything is possible if you just keep trying, that women (actually, everyone) should be listened to, and most of all, that you should never give up on your friends.
As her father says with some pride, 'Emmy . . . you are following in a long line of formidable women.' And as her mother says, 'Once this silly business (the war) is all sorted, you . . .  and all your friends will be able to get on and achieve whatever you want. Or else we're wasting our time fighting That Madman in the first place."
(I really love the Lakes – the chapter in which Emmy goes home for the weekend is one of my favourite parts of the book.)
Emmy is lucky. Her mother is with her as she battles through, sometimes actually in the novel, and always in terms of inspiration. Emmy's story, and Dear Mrs Bird could not have been written without her.