Bauhaus: The school that shaped how we live
Few artistic movements have had as much of an impact on our everyday lives as the Bauhaus movement. Here, author Naomi Wood explores the lasting influence of Bauhaus design and teaching on the way we live now.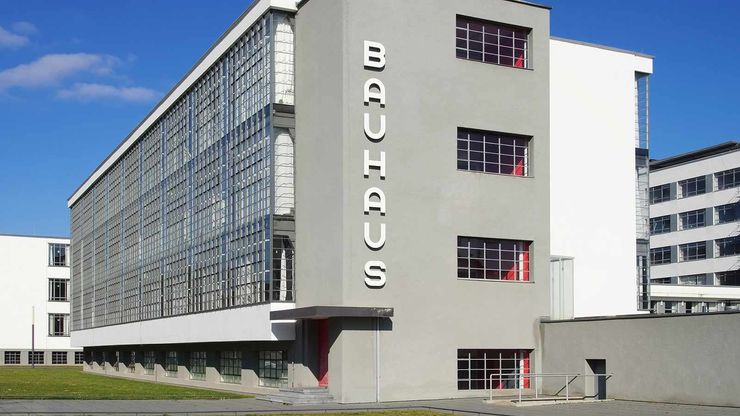 The Bauhaus was one of the most revolutionary art and design schools of the twentieth century, founded in 1919 in Weimar by architect Walter Gropius. The Bauhaus movement had a huge influence on the way we live now, with its reach stretching far beyond concrete-and-glass skyscrapers. Naomi Wood, author of The Hiding Game, a novel set within the Bauhaus art school, explores some of the ways the Bauhaus might be secretly influencing your everyday life.
Your home
The Bauhaus design laboratories focused on rethinking everyday household objects with clean and simple designs. The artists of the Bauhaus cut out embellishment and decoration, instead preferring to use repeating shapes and limited colours. 
Marianne Brandt and Marcel Breuer are two of its most famous designers. Brandt was a metalworker whose designs have become iconic: her tea-infusers, lamps and ash-trays have become signature Bauhaus pieces. (Many of her designs are now under license with Alessi).  Breuer's Kandinsky chair, and its copies, can be seen in every multinational's reception foyer. 
Bauhaus Teapot
Marianne Brandt's iconic teapot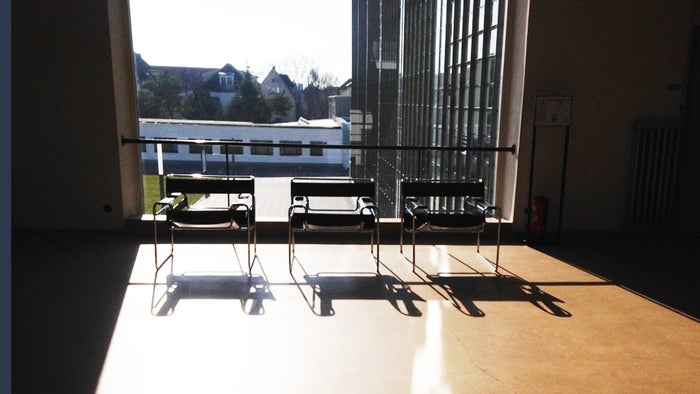 If you kit your home out with IKEA, or Muji, or Skandium – in fact, most 20th century furniture – its clean lines and modern materials will be inspired by the designers of the 1920s. In fact, many IKEA objects – its nesting tables (see Josef Albers' set) or anglepoise lamps (see Brandt's Kandem lamps)  are so influenced by their Bauhaus forbearers that the curators of the Dessau Bauhaus have used IKEA pieces to deck out the showpiece student rooms.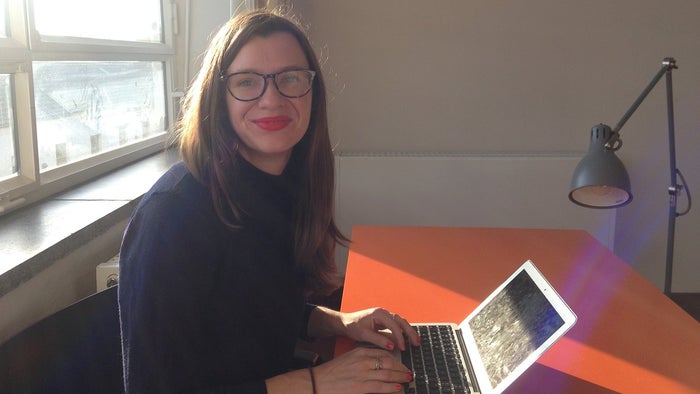 Your threads
Fashion designers have long been influenced by the design school's 'less is more' attitude. Gone was the languid, floral and decorative style of the Art Deco movement: the Bauhaus cherished strong geometric forms and contrastive colours. Fashion designers who count the Bauhaus as their inspiration include Paul Smith, Mary Katrantzou and Jil Sander. On the high-street, the school's influence can be seen in brands such as COS and Toast. 
Bauhaus Paul Smith Scarf
A Paul Smith scarf inspired by the work of Anni Albers.
Your hair
Vidal Sassoon brought a modernist approach to British hairdressing in the 1960s. 'I wanted to eliminate the superfluous, and get down to the basic angles,' Sassoon said, referring to his flamboyantly geometric styles like the 'five point cut' and his asymmetric bobs. 'When I looked at the architecture . . .  you saw a whole different look . . .  My sense was hairdressing definitely needed to be changing. To me, hair meant geometry and angles.'
Vidal Sassoon Five-Point Cut
Vidal Sassoon's five point cut - via Suzy Menkes on Instagram
Your kid's toys (and how they learn)
Alma Siedhoff-Buscher's toys deconstructed 'realistic' toys – like dolls and boats – down to their loose parts. Her 'little shipbuilding game' and her cut-out kits reduced toys to their separate forms so that children could choose how to assemble them. It was essentially the beginning of 'loose parts play' – which encourages rather than dictates the child's imagination. Together with the Steiner and Montessori movements, the Bauhaus emphasis on material exploration, colour theory and abstractionism all influence how we teach art to young and old children alike. 
Your font
Herbert Bayer, who taught in the Advertising and Print workshop at the Bauhaus, pioneered the idea of an 'internationalist' sans-serif typography which was easy to read, without all the distractions of 'gothic' or Blackletter fonts. Helvetica, Gill Sans, even your humble Calibri: all could be said to be the babies of Bauhaus typography.
How you (might) think about creativity
Learning about the Bauhaus workshop in the course of writing this novel became a big and unexpected influence on my writing (if not quite my font). The Bauhaus teachers invested heavily in the Foundation course, which encouraged students to explore without making. 
As I learnt about the workshops I became convinced these were very sound principles for authors as well as artists: that process, rather than product, is the animating principle behind creativity.  
Brandt and Breuer may have come up with iconic designs which feel contemporary today, but what we do not see is their countless prototypes which went in the bin. I think all creative people might bear in mind Josef Albers' words to his students: 'Every work of art has a particular source material, so we must first investigate how this material is obtained. In order to do this, firstly we are going to experiment, without actually producing anything. At this moment we are going to focus on beauty as skilfulness.' 
If beauty is about skilfulness, rather than what it is produced, then the artist, surely, is in a place of greater safety.