Lee Miller and the beginnings of the Surrealist movement
Journalist Lucy Scholes on the origins of Surrealism in 1920s Paris, and the influence of the movement on the life and career of photographer Lee Miller.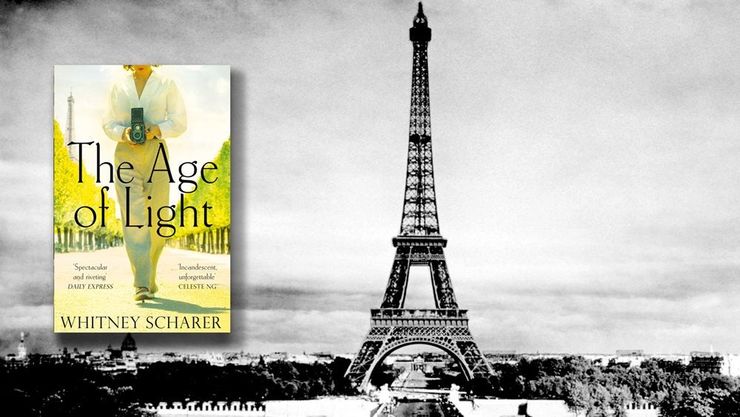 Whitney Scharer's debut novel, The Age of Light, is a story of love, art and obsession set within the Surrealist movement of Paris in the 1920s and 30s. The book tells the story of model and photographer Lee Miller, from her arrival in Paris, to her work and relationship with leading Surrealist artist Man Ray, her daring time as a war correspondent and her later life in England. Here, journalist Lucy Scholes sheds light on exactly what the Surrealist movement was, and Lee Miller's place within it.
"One look at Paris and I said, 'This is mine—this is my home'," recalled Lee Miller of her first visit to the French capital in 1925 when she was only eighteen years old. Certain cities seem to belong to particular historic moments, zeitgeist and metropolis forever entwined. Fin de siècle Vienna, for example; London in the Swinging Sixties; or New York in the Seventies. For Paris, it has to be the Roaring Twenties, when the city was a hotbed of revolutionary artist endeavor. And if there's one movement that's since come to define both the city and the era, it's Surrealism.
The genesis of the term lies with the avant-garde poet Guillaume Apollinaire. As early as spring 1917, Apollinaire described the ballet Parade as "a kind of Surrealism." It was a production that brought together some of the greatest artistic talent of the day—a performance by Sergei Diaghilev's Ballet Russes, the scenario written by Jean Cocteau, the music composed by Erik Satie, with choreography by Léonide Massine, and design by none other than Pablo Picasso himself. "In my view this is just the first of many manifestations of the New Spirit now abroad," Apollinaire continued astutely. Only a few weeks later, the audience watching his play 'Les Mamelles de Tirésias' in a small theatre in Montmartre were also introduced to the word "surrealist". Amongst them was André Breton, a young poet then serving as a medical auxiliary in one of the city's hospitals.  
Seven years later, in 1924, Breton found fame as the official movement's co-founder and chief theorist when he published his Manifeste du surréalisme. Having grown out of the Dadaist movement—which had been in large part a response to the carnage of World War One, its followers believing that excessive bourgeois values were to blame for the conflict—Surrealism rejected all things rational in favour instead of the unconscious, be it fantasy, dreams or hallucinations. "Pure psychic Automatism," as Breton described it, "by which it is intended to express verbally, in writing or in any other way, the true process of thought. It is the dictation of thought, free from the exercise of reason, and every aesthetic or moral preoccupation."
Inspired in no small part by the psychoanalytic theories that were steadily permeating culture—Breton was trained in medicine and psychiatry, and during the war had used Freud's methods to treat shell-shocked soldiers—Surrealism sought to set both man's imagination and his desire free. The numbers of those involved in the movement swelled throughout the mid and late '20s, especially as it became increasingly popular with visual artists. Amongst the most famous of the movement's disciples were the poet Paul Eluard; artists Leonora Carrington, Salvador Dalí, Marcel Duchamp, Max Ernst, René Magritte and Dorothea Tanning, to name just a few; not to mention the photographer Man Ray.
MoMA - Max Ernst. "Woman, Old Man, and Flower."
Woman, Old Man, and Flower, Max Ernst, 1923-4
MoMA - "The Menaced Assassin" René Magritte
The Menaced Assassin, René Magritte, 1927
Miller too was drawn to Surrealism when she arrived back in Paris in 1929. Her earlier visit had been cut short by parental intervention: she was indulged a few months at the then recently-opened L'Ecole Medgyes pour la Technique du Théâtre (run by the stage designer Ladislas Medgyes and the architect Erno Goldfinger), before being all but dragged back to her family home in Poughkeepsie, New York. She spent the next few years making a name for herself as a model, appearing in Vogue and other Condé Nast publications, thus when she returned to Europe aged twenty-two, it was as an independent woman able to make her own way in the world, not to mention one armed with introductions to the editor of French Vogue and the infamous Man Ray. When it came to the latter, however, Miller had no intention of just posing for him.
"I'd rather take a photograph than be one," the model-turned-photographer famously declared. Indeed, today she's known as a pioneering talent in the field. From her experimental work in Paris in the late '20s and early '30s, her couture fashion photography, or her groundbreaking work as a documentarian of war-torn Europe. How could anyone forget the image of Miller taking a bath in Hitler's tub, or her shocking pictures of Dachau? But it was in the City of Light, under the tutorship of Man Ray, that she took her first steps down the path of this astonishing career.
 Miller was Man Ray's muse, lover, model, apprentice and assistant. The libertarianism—both artistically and sexually— of the Surrealists offered her precisely "la vie de bohème" she'd come to Paris in search of. Romantically, theirs was a tempestuous relationship. But as artistic collaborators, they often worked in perfect harmony. No more so than when it came to the development of their famous 'solarization' technique. By exposing a partially developed photograph to a flash of light, they discovered that the light and dark qualities of the image could be reversed, with gloriously uncanny effects. This resulted in some of the most iconic Surrealist imagery of the movement's heyday.