Beloved children's author and illustrator Jill Murphy dies peacefully following a long struggle with cancer
Macmillan Children's Books is sorry to announce that beloved children's author and illustrator Jill Murphy has died.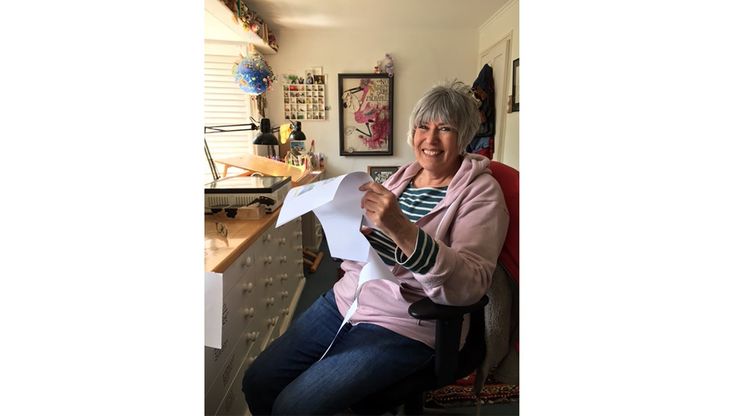 Jill Murphy, author and illustrator of some of the most well-loved books for children, passed away from cancer on Wednesday 18th August, aged just 72 years. Her son Charlie and niece Isabelle were at her side in hospital in Cornwall. 
Charlie Murphy says: 'I feel beyond lucky to have had a mum like mine, and it's impossible to summarise the ways her absence will be felt. She had a depth of character, a warmth and a life force like no other. I miss her so much already.'
Pamela Todd, Jill Murphy's friend and agent of over thirty years, says: 'It's a sad day for children's books. Jill was so creative, beautiful and funny. Her genius lay in the way both the child and the adult could identify with her stories, which she wrote and illustrated herself. Children who grew up on Peace at Last, Whatever Next! and The Large family are now buying the books for their children's children. The little girls who created playground games around Mildred Hubble and her classmates are now directing, producing and acting in the television series of The Worst Witch and the stage show, which, last year, took the Olivier award. Jill was just coming into her prime and had so much more to offer. This is a great loss, not least to me personally, but we are comforted that she leaves an amazing legacy of books for generations to come.' 
Jill Murphy was one of the UK's most treasured author-illustrators. From an early age she was drawing and writing stories, and by the age of eleven had made 90 books, which she kept and used to inspire children at events in later life. She studied at Chelsea, Croydon and Camberwell Schools of Art, and wrote and illustrated her first published book, the bestselling The Worst Witch, while still only eighteen. Jill went on to create the award-winning Large family series in 1986, starting with Five Minutes Peace, and the series has to date sold over five million copies worldwide. It was also successfully adapted for TV.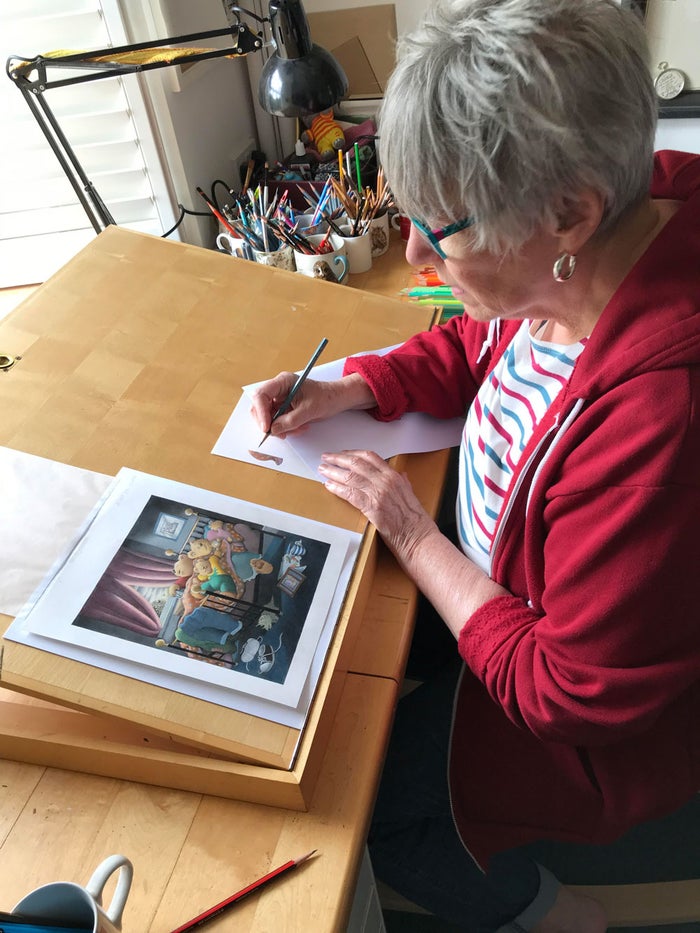 Her last picture book, Just One of those Days was published by Macmillan Children's Books in September 2020 and welcomed a new generation of fans to her well-loved Bear family. Introduced in Jill's first picture book Peace at Last (1980) and again in Whatever Next! (1983), her Bear family stories have sold over a million copies and are shared in schools, libraries and homes across the world. As with many of her stories, family is at the heart of these books. She said of them: 'The new story came when I realised that things have changed so much over the last forty years when I was writing about my own experience of mums being at home, and now that's rare, and somehow without really realising it, it turned out that Mrs Bear had a job as well, and that both Mr and Mrs Bear are going to work. They are so tired that they never catch up and with a particularly bad night they are all over-tired and the day is skewed. It isn't going to be quite the day they hoped for until they are back together again and can make it better for each other. Which is what family is all about - whatever your family make up is – it is returning to those you love and love you at the end of the day to make things better.'
Belinda Ioni Rasmussen, MD, Macmillan Children's Books says: 'It has been a privilege to publish Jill at Macmillan Children's Books for more than 40 years. She had an unparalleled talent for story-telling through words and pictures and, without doubt, her picture books have become timeless children's classics. When she drew the Bear family again for her latest book last year, it was as though they had never left her. The characters were the same, but undeniably contemporary and relevant, and ready to enchant new readers. Jill was funny, warm and kind and she was friends with many of us. She leaves a big hole in our hearts at Macmillan Children's Books and will be missed very much, not least by me.'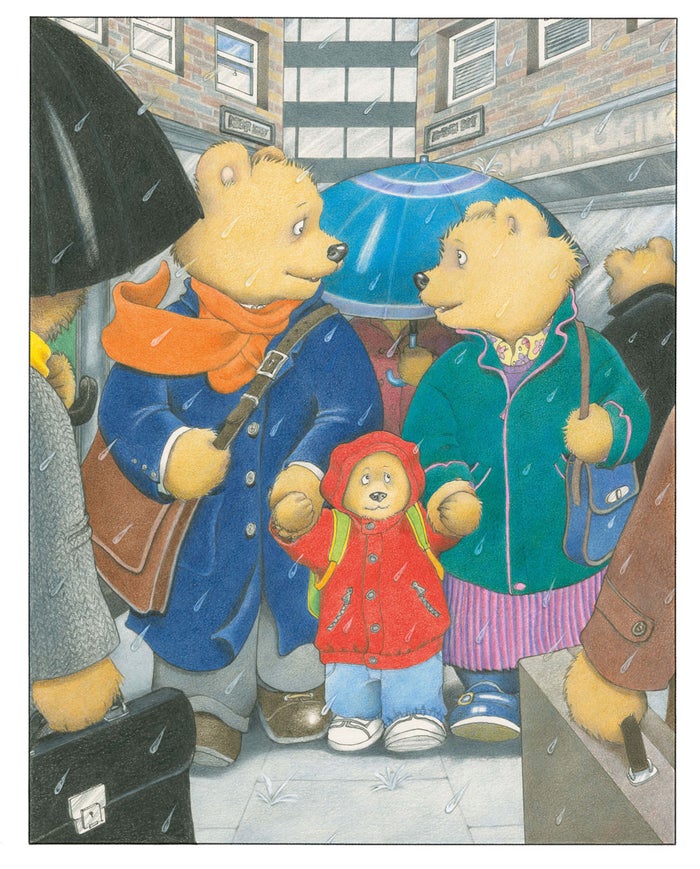 Karen Lotz, president and publisher of Candlewick Press and managing director of the Walker Books Group said: 'We are devastated by the loss of our dear colleague Jill Murphy, a giant in the field of children's literature who leaves an extraordinary legacy. Uniquely, she understood the range of childhood experience – from the humour and fun quirkiness to be found in humdrum, ordinary daily life, as in her beloved Large Family books, to the feeling of magic that empowers and enriches our childhoods, tangible in her iconic Worst Witch series. In its pathos and in perfectly capturing a range of human emotions, Jill's work speaks to adults and children alike. Jill herself lived with enormous dignity and dedication to her craft despite having to face difficult challenges. We were enormously proud to publish her at Walker and Candlewick, and it's a consolation to know that her wholly original work will continue to brighten the lives of children and families across the world.'
Francesca Dow, MD, Penguin Random House Children's adds: 'At Puffin, we are so proud to publish Jill Murphy and the hapless adventures of Mildred, Maud, Enid and Ethel at Miss Cackle's Academy. Children across the globe have discovered the joy and power of reading through Jill's magical stories, and we look forward to ensuring The Worst Witch continues to fly high on her broomstick, in memory of her incredible creator, for many years to come.'
Jill was loved by all her readers and she met thousands of young people at events over the years. Her books won many major awards, including The Smarties Prize for The Last Noo Noo. Peace At Last and All In One Piece were both commended for the Kate Greenaway Medal and A Quiet Night In was shortlisted for the same award. She was also an Honorary Fellow of Falmouth University.   
Her books have all been critically acclaimed, and most recently the Observer said she was 'as essential to parents as to children'; the Guardian noted that her "acute observation of family life continues to delight" and the Daily Mail commented that 'few authors can convey the emotionally charged and physically tiring routine of everyday family life with such honesty and affection as Jill Murphy.'
Jill herself noted in an interview with The Observer from 2017: 'I just wanted to have a book on the shelf [alongside] The Lion, the Witch and the Wardrobe and The Secret Garden, a real book with my name on it.' 
Millions of book sales later, across a host of evergreen children's classic titles, she has achieved so much more than she may have ever initially dreamt, and her stories will continue to delight families for generations to come.
Photograph credits: Nic Knight