Everything you need to throw your very own Gruffalo party!
For the perfect children's party, we've got everything you need to throw your own make-and-do Gruffalo party. From masks, games, invitations to a Gruffalo cake!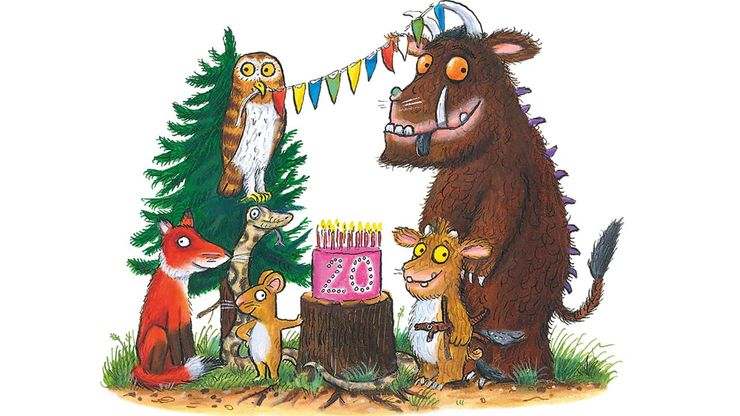 Struggling for children's party ideas? We've been having parties for The Gruffalo for years. For little readers who love The Gruffalo, we have everything you need to throw your very own Gruffalo-themed party with colour-in masks, Gruffalo invitations, party game ideas and a delicious Gruffalo chocolate cake recipe that's perfect for special birthdays.
If your little one loves The Gruffalo, discover our complete guide to Julia Donaldson's books here.
Gruffalo invitations
You can't have a party without any guests, so first things first; cut out and colour in these Gruffalo party invitations and send them to all of your friends!
Make-your-own Gruffalo costumes
Dive into the Gruffalo party spirit and give your party a Gruffalo fancy dress theme. We've got masks of the Gruffalo and his friends that your party guests can colour in and make themselves. You could even have a prize for the best mask at the party. To make the masks you'll need colour pencils, scissors, thin card, and elastic or string to tie it on. 
Bake a Gruffalo cake
No party is complete without a delicious birthday cake,  and this Gruffalo cake recipe is sure to impress the birthday girl/boy. Easy to make and fun to decorate, this cake is great fun to make with your child or as the surprising centerpiece for your Gruffalo party.
Make a birthday card
If a Gruffalo fan in your life is celebrating their birthday why not make them a thoughtful, homemade Gruffalo birthday card? We've created a colour-in birthday card with a fun pop-up Gruffalo face, perfect for siblings and friends to create for one another.
Things to do at the party
For party guests who love arts, crafts, and all things colourful, these Gruffalo colouring-in sheets are sure to keep your guests entertained.