Room on the Broom inspired Halloween party ideas
Kids will have lots of spooky fun with these Halloween party ideas inspired by Room on the Broom.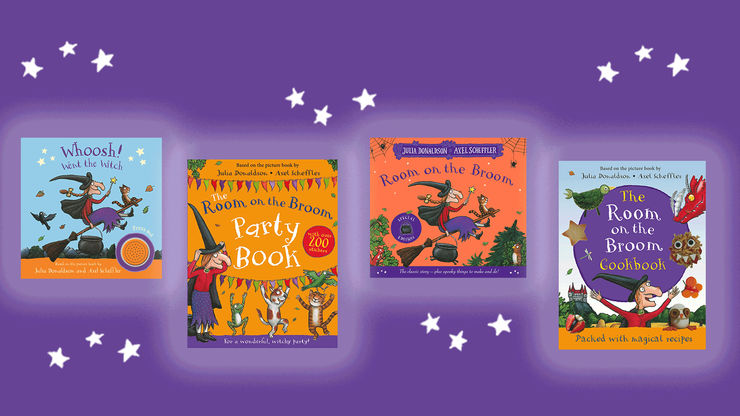 Iggety, ziggety, zaggety, ZOOM!
With Halloween creeping up, we bet you need some inspiration for how to celebrate. Read on for everything you need to throw a not-so-scary Halloween party for kids inspired by Julia Donaldson and Axel Scheffler's best-loved story, Room on the Broom. From costumes and crafts to recipes and Halloween party games, we've got lots of ideas from the Room on the Broom Party Book to make sure your bash goes off with a bang!  ​
Room on the Broom decorations and costumes 
A kid's Halloween party isn't complete without homemade costumes and decorations and making them is heaps of fun for kids. Here are some easy Halloween craft ideas to help you get ready for the big event.   

Get inspiration for your little one's Room on the Broom costume with this tutorial for an easy no-sew witch outfit.
Everyone knows that any self-respecting witch needs a very tall hat, so top off your child's Halloween costume with this simple DIY version. All you need is some black card, sticky tape and something sparkly for your child to decorate it with.
Add some magic to the party with these homemade glowing witch wands. You could get each guest to create their own when they arrive, or you and your child can make them in advance. Just bend the glowsticks to light the wands up once guests arrive.


Halloween party recipe ideas
Hubble, bubble, toil and trouble. Make a bubbling witches' brew for all of your guests to enjoy with this easy party recipe. Make it even more like a real witches' potion by pouring it in a cauldron and serving to guests with a ladle.
The Room on the Broom Party Book has lots more Halloween party recipe ideas, including Boggy Jelly, Cauldron Rolls and Ice Cream Potion.
Room on the Broom inspired Halloween party games
Party guests big and small can get involved with a game of Broomstick Limbo. All you need to play is a broomstick just like the one in Room on the Broom, and two grown-ups to hold it. Take it in turns to squeeze under the broom (the sillier the moves as you do it the better), and every round the grown-ups will lower the broomstick a little bit. The person who manages the most rounds without falling over wins!
Do the Monster Mash
Get everyone in the party spirit with the help of a Halloween themed playlist. Check out Spotify for lots of ideas for kid-friendly playlists like this one.
Room on the Broom books: