Molly Moon's Incredible Book of Hypnotism – the movie!
Everybody's favourite young hypnotist, Molly Moon, is back – this time on the big screen!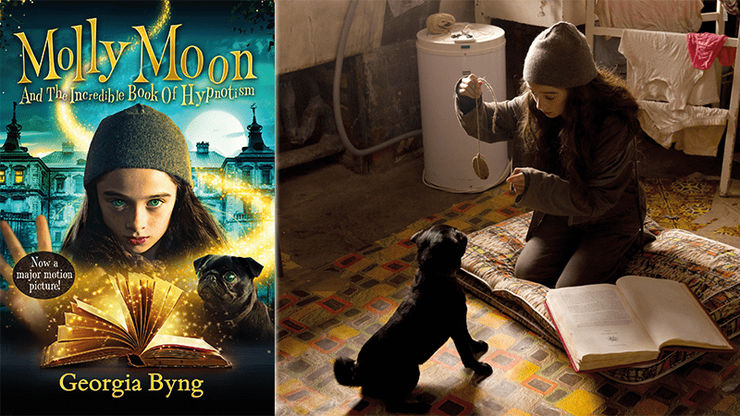 That's right, Georgia Byng's bestselling and acclaimed novel, molly moon's incredible book of hypnotism, has been adapted for film by Lionsgate – and will be coming to DVD from December. with an all-star cast including Raffey Cassidy (Tomorrowland, Mr Selfridge), Dominic Monaghan, Lesley Manville, Emily Watson and Joan Collins, you won't want to miss out.

Molly Moon's Incredible Book of Hypnotism, written by Georgia Byng, first published in 2003, and took the world by storm. if you haven't discovered the books yet – here's a quick overview:
After being found as a baby in a box of moon's marshmallows, Molly Moon has spent ten years in gloomy Hardwick House, always getting into trouble with the horrible Miss Adderstone.  but her life changes overnight when she finds a mysterious book on hypnotism and discovers an amazing talent – the power to make people do anything she wants!  when her best friend, Rocky, is adopted, molly uses her powers to escape the orphanage and follow him, finding fame and fortune along the way.  but Molly's adventures lead her into the path of a dangerous enemy who will stop at nothing to steal her hypnotic secret...
If that whets your appetite, we've got a sneak preview extract for you to read right now in anticipation of the movie:
Find out more about the molly moon series at www.mollymoonsworld.com – and be sure to like the official facebook page here: www.facebook.com/mollymoonsworld