The real Phileas Fogg: the true story of the woman who travelled around the world in (less than) 80 days
Where did Jules Verne find his ideas for Phileas Fogg and his extraordinary globe-trotting adventure? And have the BBC also taken inspiration from real-life events for the TV adaptation of the famous adventure novel?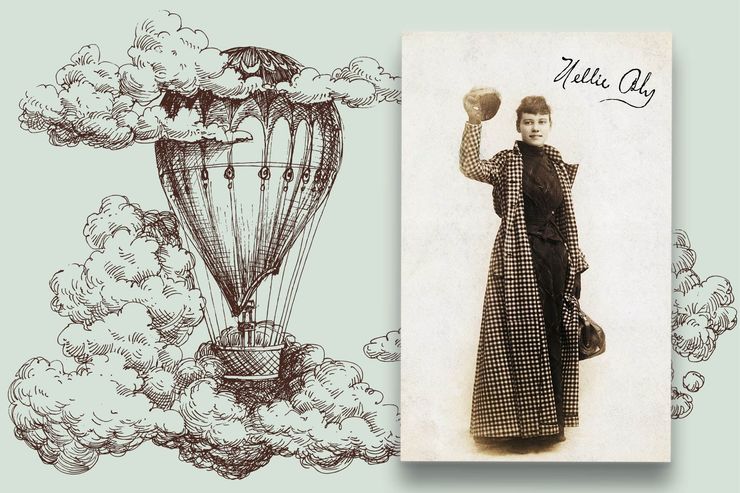 Jules Verne's Around the World in Eighty Days set the Victorian world alight in 1872; an adventure novel with grand dreams of circumnavigating the known world in less than three months. The novel's publication came at a time when technological innovations were opening up new possibilities for rapid travel and global tourism, with many 'around-the-world' cruises advertised for the first time – it was easy to see where Verne found his inspiration for Phileas Fogg's famous journey. 
But have the creators of the BBC adaption also used real-life events and people to help bring Phileas Fogg and his travelling companions to the screen?
2023 sees the premiere of season two of the BBC series based on Jules Verne's classic novel Around the World in Eighty Days, first published in 1872. Phileas Fogg, the intrepid traveller, is played by David Tennant, his sidekick Passepartout by Ibrahim Koma and Leonie Benesch as Abigail Fix, completing the travelling trio.
Abigail Fix? Isn't the character in the original book called Mr. Fix who's a detective pursuing Phileas Fogg around the world? He telegraphs Scotland Yard:
'Am shadowing bank thief, Phileas Fogg. Send without delay warrant for arrest Bombay.'

Detective Fix
The BBC is perfectly justified in reimagining this famous story. Mr. Fix the detective is now Abigail Fix the journalist, not in pursuit of Phileas Fogg but rather documenting his travels around the world.  
What would Jules Verne make of this interpretation of his story? After all, he based his novel on a true story, right? 
No – he didn't! Around the World in Eighty Days is not based on a true story, it is actually completely fictional. Where did Jules Verne get his story from? Well, of course, largely from his own imagination – he is known as one of the fathers of science fiction, with an unrivalled ability to conjure up imagined worlds and to take his readers on wonderful adventures, all created by his own, endlessly inventive mind. 
Don't Miss
Classic books to read at least once in your lifetime
Jules Verne loved the sea. He grew up in the busy port town of Nantes, and from a young age, he was transfixed by great sailing ships coming into port and setting sail for distant countries. He became a keen sailor, who enjoyed long voyages on his own steam-powered yacht – complete with a ten-strong crew. And, of course, Verne lived in a time of momentous innovation – railway routes were being laid around the world; across America and throughout India. The Suez Canal had been opened and the idea of circumnavigating the world was in the air.
So much so, in fact, that his book inspired the acclaimed American Journalist, Nellie Bly, to make her own attempt at beating Phileas Fogg's fictional eighty-day record. 
Nellie Bly, whose real name was Elizabeth Jane Cochrane, was a pioneering American journalist employed by Joseph Pulitzer to write for his magazine, New York World. She first came to fame when she elected to write about the Women's Lunatic Asylum on Blackwell's Island. She revealed the appalling conditions and the terrible treatment of the women held within its walls, by going undercover herself as a patient admitted to the asylum. She became famous for investigative reporting, not shying away from difficult issues, many of them in support of women's lives. She exposed the prejudice and oppression that many suffered and was a true pioneer in her field.
But undoubtedly her most famous assignment was more light-hearted and entertaining – Nellie took on the challenge to beat Phileas Fogg by travelling around the world faster than Verne could imagine.
In 1889, she left America and sailed to London in just seven days, undaunted by seasickness on the way. She carried on by train to Paris, where she took valuable time out to meet Jules Verne himself in Amiens. She carried on through Europe, Egypt and through the Suez Canal, through Asia and onwards to Japan. The final stint was to sail across the Pacific to San Francisco, where she was greeted by an applauding crowd. 
She had successfully beaten Fogg by completing the journey in seventy-two days – a new world record.
Maybe then, it's absolutely a good thing that when Around the World in Eighty Days hits our screens on Boxing Day, Mr. Fix becomes Abigail Fix, an intrepid investigative reporter. Where could that idea have ever come from?
'I have never written a word that did not come from my heart. I never shall.'

Nellie Bly
Rediscover Verne's thrilling classic with the Macmillan Collector's Library Edition: