Leah Cowan on Nella Larsen's novel Passing
Nella Larsen's Passing is a tautly plotted and tragic exploration of racial identity in 1920s New York. Leah Cowan writes of the importance of a novel that centres black female identity.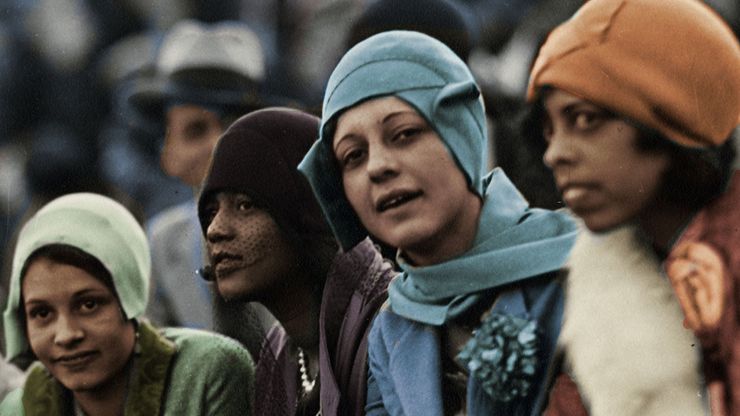 Racial identity is at the heart of Nella Larsen's novel about two African American women who rekindle their childhood friendship after a chance meeting. Irene lives with her husband in Harlem, immersed in the African American community, while Clare 'passes' for white and is married to a racist white man who has no idea about her racial heritage. Passing, a story 'underpinned by the relentless brutality of shared trauma, careful hope, and strategies for survival,' is just as vital and relevant today as it was when it was published in 1929. Here, Leah Cowan tells us more about the history of racial passing and this novel's importance for portraying authentic black female experience. 
Writing in 1928, novelist Zora Neale-Hurston muses, "I feel most colored when I am thrown against a sharp white background". In her essay 'How It Feels to Be Colored Me', she marks out her defiance of any expectation or restriction placed upon her by white supremacy. However, she remarks that while race is integral to her sense of self, she feels most black when a white companion is unable to relate to her experiences, and he is left standing on the other side of a gulf, jettisoning attempts at connection into the breach. Nella Larsen's 1929 novel Passing examines this same jarring experience of butting up against the markers of inequality and difference, as explored through the lives of two black women, one of whom navigates life 'passing' as white. 
In Passing, old school friends Clare and Irene reconnect after years apart; their breathy ruminations about each other and anguished letters suggest a connection beyond platonic friendship. The women's evolving bond in Larsen's novel is driven by Clare's urge to 'reconnect' with her racialised identity, through utilising Irene as a conduit into Harlem society. Both women are plunged into deep introspection, as Irene grapples with Clare's decision to live a life packaged in secrets, and Clare chips away at the protective facade of her comfortable (to an extent) 'white' life.
Like Neale-Hurston's writings, Larsen's novel emerges in the era of the Harlem Renaissance. This period which spanned the 1920s saw an intellectual, artistic and multi-dimensional social scene bubble up through the jazz clubs and literary salons of Manhattan, as African American communities left the southern states and began to build new lives in the north. Neale-Hurston, Larsen and their contemporaries began to sculpt and document black narratives through music, literature, social commentary, theatre and more, boldly striking out in industries and landscapes largely dominated by white elites. 
The ability for black communities to shape stories in this burgeoning politicised arts scene was for many integral to healing in the shadow of centuries of oppression through the transatlantic slave trade. The violent impact of dominant white culture and whitewashed black histories was keenly felt. As Audre Lorde would write in 1982: "If I didn't define myself for myself, I would be crunched into other people's fantasies for me and eaten alive". Larsen's storytelling places black women's experiences front and centre, refusing to adopt hackneyed tropes and stereotypes, and instead making breathing space for black women's emotional worlds and variant ways of moving through an oppressive white-dominated society.
In the twentieth century, for African Americans living in the US, 'passing' was a strategic act which historians understand as having enabled some black people to access some of the opportunities which white people were afforded by virtue of their whiteness. However, Larsen's novel reconfigures this understanding, examining not what is gained, but instead what is lost by adopting the guise of whiteness. Irene observes Clare's deft social acrobatics at an afternoon tea gathering, as she performs "conversational weight-lifting" in order to navigate away from "race or other thorny subjects". Clare then proceeds to smile brightly and sip tea throughout her husband's racist tirade which follows. The heft of this emotional labour weighs heavy on Clare. 
Much like bored and unappreciated women throughout literature – from Janie Crawford in Their Eyes Were Watching God to the eponymous protagonists in Madame Bovary and Anna Karenina – Clare's journey into Harlem society alongside implied extramarital dalliances is one primarily of self-exploration. Larsen depicts a woman who is defying expectations, trying to answer a question about herself and surfacing a gamut of emotions along the way. Unlike other books written in this decade by white writers – such as The Great Gatsby, where black men are "bucks" with rolling eyeballs, and Fiesta: the Sun also Rises in which black women are reduced to offhand comments about "beautiful shiny black princesses", the black characters in Passing are drawn with depth, compassion, and intricacy. 
Larsen presents black women who are savvy and analytical as well as chaotic and inconsistent; Clare and Irene are permitted to risk shattering their own carefully-constructed lives, and to make mistakes, have regrets and weep uncontrollably when things fall apart. Herein lies the compelling power of Larsen's second and final novel: written in an era of crushing oppression, this bittersweet tale documents and honours black women's narratives in all their imperfections, underpinned by the relentless brutality of shared trauma, careful hope, and strategies for survival.