Dr Amir Khan's marriage advice (not)
The GP, TV doctor and debut novelist on family dynamics, rom-coms and his new book, How (Not) to Have an Arranged Marriage.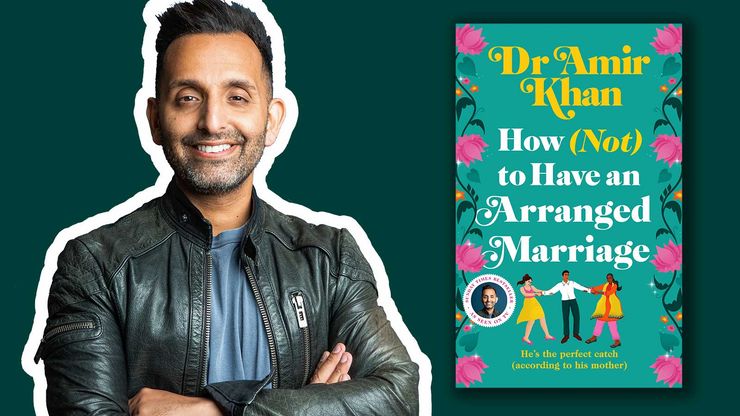 You may well know Dr Amir Khan from his appearances as the resident doctor on ITV's Lorraine and Good Morning Britain, and as the author of the memoir The Doctor Will See You Now. He's now turned his hand to fiction, with a funny and heartwarming novel about arranged marriages. Here, he tells us why he wanted to write about families, and why he can't resist a rom-com.
Why did you choose to write a book centred on family, and family dynamics?
All of us have a family of some sort: families we have no choice in, that have been gifted to us (often without receipts!) and families we choose ourselves, like our friends. I've had the privilege of being a family doctor for many, many years – too many to count – and I see lots of different families, and different dynamics. Most of the time it's good, but not always. 
Every family has a black sheep. (I think my family has at least two.) But those black sheep are usually the most interesting ones: the secrets they harbour, the trouble they cause. And what about the other members of the family, the ones who are holding it all together? What does it take to make them break, for the cracks to finally show?
All of that really intrigues me, and that's why I wrote a book that is centred on family, traditions and expectations and what happens when all of that comes crashing down.
Don't Miss
Get a sneak peak of the book with this exclusive extract
Read more
What drew you to romantic comedy as a genre?
Let's face it: who doesn't love a rom-com? 
I've got to confess, I'm a sucker for true love. I believe in it all: love at first sight, the idea of love conquering all, and finding the one person you are destined to be with. But, as we know, the path to love isn't always smooth and there are often obstacles in the way. Today, the obstacles are usually things like work, time or, in the case of the characters in my book, other people who like to interfere. . .
Can true love be engineered? Can the people who are supposed to know us best, our parents, really find a better match for us than ones that we can find ourselves or is that a step too far? For relationships to prosper, do you need the support of family and friends, or can you just do it on your own? And what happens if years of centuries-old traditions and cultural values get turned on their head? These are all questions that are explored in the book.