Lucinda Riley's son, Harry Whittaker, on how The Murders at Fleat House came to be published
Lucinda Riley's eldest son, Harry Whittaker, shares how The Murders at Fleat House came to be published, sixteen years after his mother wrote her first and only crime novel.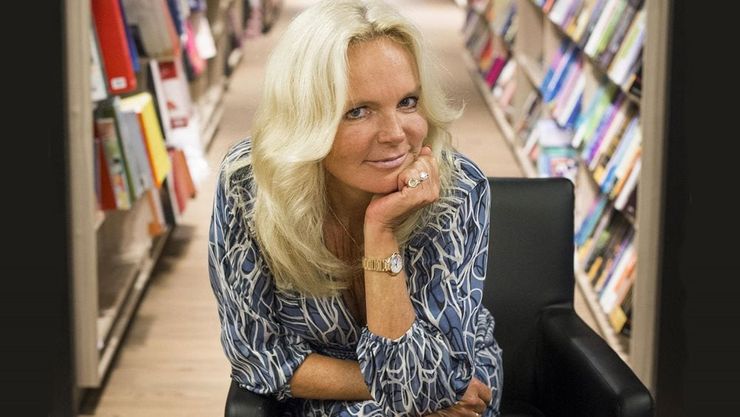 In June 2021, Lucinda Riley's family shared the sad news of her passing following a four-year battle with cancer. 
Lucinda touched the lives of all those she met, and those who turned the pages of her books – of whom there are many. Her work continues to strike an emotional chord with cultures all around the world; with her novels having been translated into thirty-seven languages and selling over 30 million copies internationally. The Seven Sisters series specifically has become a global phenomenon, creating its own genre entirely.
Sadly, Lucinda passed away before she could finish the eighth and final book in her Seven Sisters series, and so entrusted its secrets to her eldest son, Harry, who completed Lucinda's final novel to ensure her fans could complete the journey they embarked upon with her.
However, one manuscript remained unpublished. Lucinda's first and only crime novel, which she wrote while her children were young, sixteen years ago.
Here, Harry tells the story of how The Murders at Fleat House came to be.
I hope you are as excited as I am to be turning the pages of a brand-new Lucinda Riley novel. Perhaps you are an avid fan of The Seven Sisters series, and are eagerly waiting for Lucinda to transport you to a new and vivid realm. Maybe, though, you are new to her writing, intrigued by the promise of this fresh and compelling crime novel. In this case, very sadly, I must start at the end, to contextualise the pages you are about to devour. For those not aware, Lucinda – Mum – died on 11 June 2021, following an oesophageal cancer diagnosis in 2017. I am Lucinda's eldest son and co-author (not of this project, I hasten to add). Together, we created the Guardian Angels series for children, and I am tasked with fulfilling her enormous literary legacy by completing the eighth and final novel in The Seven Sisters series. 
For this reason, I wish to tell you how The Murders at Fleat House came to be. Firstly, although it has never seen the light of day, it was written in 2006. Once her youngest children had started school, Lucinda penned three novels without a publisher, two of which have subsequently been released to great acclaim – The Olive Tree (also called Helena's Secret) and The Butterfly Room. It was always her plan to publish the third of these novels, The Murders at Fleat House, after the conclusion of The Seven Sisters series.
'I felt that preserving Mum's voice should take precedence'
In the case of The Olive Tree and The Butterfly Room, Lucinda undertook extensive rewrites (as any author revisiting a project after a decade would wish to). Mum has not had that opportunity in the case of The Murders at Fleat House. As such, I faced a quandary when taking the decision to release this book. Was it my responsibility to edit, adapt and update the text, as she would have wished to? After much contemplation, I felt that preserving Mum's voice should take precedence. With this in mind, only the bare minimum editorial work has been undertaken. 
All that you will read, therefore, is Lucinda's work from 2006. 
Mum was hugely proud of this project. It is the only crime novel she ever wrote, but loyal readers will instantly recognise her unrivalled ability to capture a sense of place. I'm sure it will interest you to know that, at the time of writing, my family lived in the vast, mysterious landscape in which the story is set. What's more, the Norfolk school featured in the book was heavily inspired by the one which we, her own children, attended. Thankfully, I can confirm that nothing so dramatic actually took place in the corridors of the boarding houses.
As you might expect, hidden secrets from the past strongly influence present-day events, and we are treated to some typically superb characterisation in the form of DI Jazz Hunter, who I'm sure you'll agree has the potential to anchor a series of her own.
Perhaps she would have, in another life.