Reading group questions for The Attic Child
If your book club loved Lola Jaye's powerful novel The Attic Child, here we share reading group questions and discussion starters to help you explore the themes the book explores.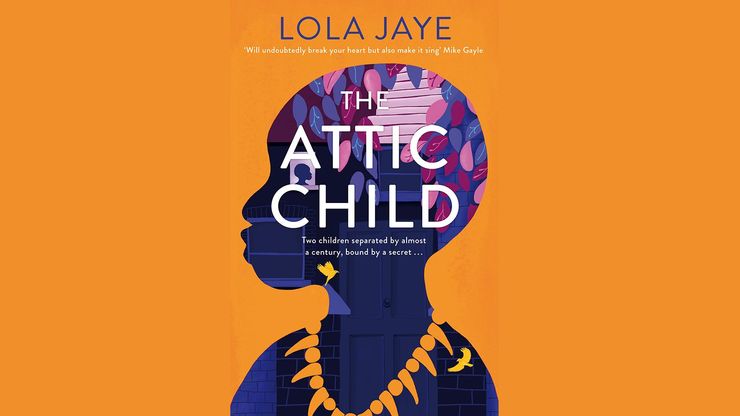 Lola Jaye's emotionally charged dual-narrative novel tells the story of two children trapped in the same attic almost a century apart, and bound together by a secret. Hauntingly powerful, The Attic Child was inspired by the true story of Ndugu M'hali, a little boy taken from his native land by so-called European explorers, whose photo Lola first saw in a temporary exhibition at the National Portrait Gallery.
The Attic Child stayed with us long after the last page, and the amazing team at Afrocenchix, a multi award-winning natural hair care company, agreed. So we've teamed up with them to create reading group questions to help you and your book club discuss the many emotions and themes that the book explores.
Reading group questions for The Attic Child
What parallels do you notice between Lowra and Dikembe?
What does Dikembe's naming signify to you?
Both Lowra and Dikembe endure terrible mistreatment under the same roof. How significant is the building itself to their trauma?
Sir Richard was a hero in his time, but a villain in ours. What can we learn from this?
The story takes us back and forth between Lowra's story in the present and Dikembe's story in the past. How did transitioning between the two time periods affect your reading of the story?
To what extent do you think that Lowra and Dikembe both managed to heal from their trauma?
Lola Jaye sought to give Ndugu M'Hali a voice through basing the character of Dikembe on him. Could it be argued that, in his own twisted way, Sir Richard tried to give Celeste a voice through the renaming of Dikembe?
Through meeting Montgomery Alburn, Lowra's perspectives are forever changed. Were any of your perspectives changed after reading this book?
Both Lowra and Dikembe face severe trauma and find new identities and belonging in their own ways. What do you think helps them overcome their intense losses?
Throughout the book, both characters long for homes that have been taken from them. For these characters, as well as yourself, what really makes a home?
In what ways is the ending hopeful?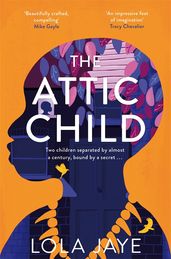 The Attic Child is also currently included in the beautifully curated Afrocenchix Book Club Box, the ultimate gift for those that love self care and contains treats for your mind, spirit and hair!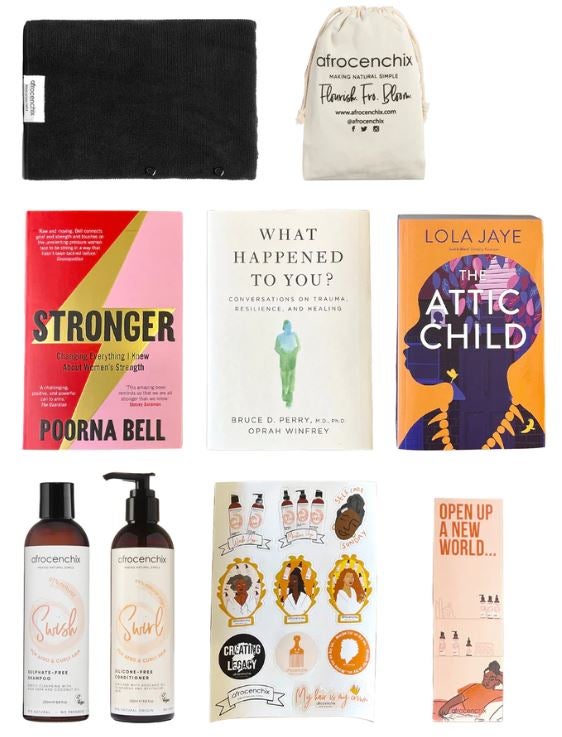 The Afrocenchix Book Club Box contains: 
Afrocenchix Swish, Swirl & Microfibre Towel (worth £50), full size bottles of our award-winning sulphate-free shampoo, silicone-free conditioner and hassle-free towel for a quick and easy wash day. It even comes in a handy cotton bag, which is great for travelling or going to the gym! 
Exclusive Afrocenchix Bookmark to help you keep track while reading. 
Afrocenchix Stickers Set to ​​dress up your laptop, phone, planner, calendar, scrapbook or whatever you want! 
A golden ticket which gives you free entry to an exclusive Afrocenchix & Pan Macmillan Book Box Club event. 
The Attic Child by Lola Jaye, an epic historical novel exploring trauma, joy, family secrets, love, loss, identity and belonging. It's released on 28th April so our Book Club gets a sneak peak! 
Stronger by Poorna Bell, a mixture of memoir and manifesto, this book is about strength and relationship between physical and mental strength. 
What Happened To You by Oprah Winfrey, Dr Bruce Perry, a book based on the personal conversation between Oprah and brain expert Dr. Bruce Perry that focuses on childhood trauma and how it influences the people we become.
About Afrocenchix: 
Afrocenchix is a multi award-winning natural hair care company backed by Google. We blend top quality ingredients into safe, effective, vegan products for afro and curly hair. We were the first brand of our kind to be stocked in Superdrug, Whole Foods Market UK and Holland& Barrett, and we're loved by thousands of customers worldwide.
Created in partnership with the Afrocenchix team.