Lucinda Riley's family announce that she has died after a four year battle with cancer
It is with great sadness that Pan Macmillan shares the news of the death of Lucinda Riley.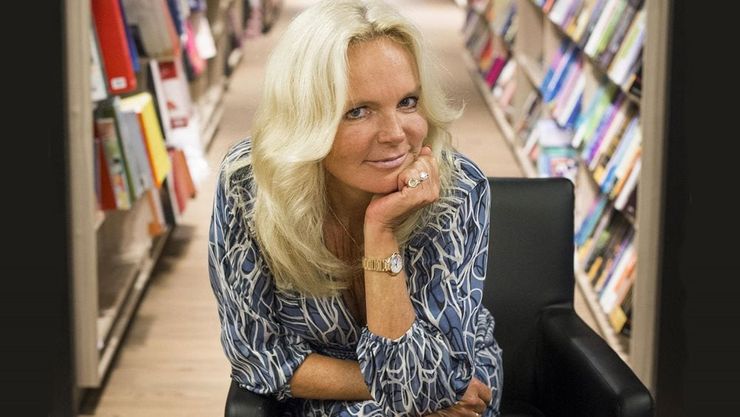 Lucinda Riley, Global No.1 Bestselling Author, known especially for the international phenomenon of the Seven Sisters series, has died, it was announced today. The global publishing community who have worked with Lucinda over the last decade of her career have joined in an outpouring of shared grief and to remember her life and work.
Lucinda's family released the following message:
To Lucinda's friends and readers around the world,
We are so sorry to have to tell you that Lucinda died peacefully this morning, surrounded by her family, who were so important to her. We realise that this will be a terrible shock for most people, who won't have been aware that Lucinda had been battling cancer for four years. 
During those four years, Lucinda penned 5 novels, and this week, The Missing Sister is Number 1 in book charts across the world. 
Lucinda touched the lives of all those she met, and those who turned the pages of her stories. She radiated love and kindness in everything she did, and will continue to inspire us all forever. 
Above all, Lucinda loved life, and lived every moment to the full. 
In her own words:
'Through the pain and the joy of the journey, I have learnt the most important lesson life can offer, and I am glad of it.
The moment is all we have.' 
Lucinda touched the lives of all those she met, and those who turned the pages of her books. In her memory, Lucinda's family has created a fundraising page for Mary's Meals, a charitable organization that provides more than one million children across 13 countries with a meal at their school, every day.
Readers of The Seven Sisters series will know that Lucinda has supported Mary's Meals for many years through www.thesevensistersshop.com, and the money raised so far has sponsored the Assembly of God Mission School in Liberia, ensuring that its 500 children are fed each day.
Lucinda's family welcomes any donations from those who wish to support the cause. Lucinda's Just Giving page for Mary's Meals can be found here.
After consulting with the Riley family, we share a message regarding Atlas: The Story of Pa Salt:
Shortly before the publication of The Missing Sister, Lucinda announced an eighth and final book in The Seven Sisters series, promising to answer the question at the heart of the story: Who is Pa Salt? Before her death, Lucinda was able to write several important passages and detailed notes on the story. She expressed a clear wish that her eldest son, Harry, should complete the series if the worst were to happen. 
We can now confirm that Atlas: The Story of Pa Salt will be published around the world in spring 2023, co-written by Harry Whittaker. Lucinda and Harry worked closely together on The Guardian Angels series for children. Harry writes: 'Mum has passed on the secrets of the series, and I will keep my promise to her in sharing them with her loyal readers. Rest assured that in spring 2023, the whole world will know just who Pa Salt is and why he adopted the sisters.' We thank those of you who have allowed us the space to grieve, and those who have donated so generously to Mary's Meals. – Lucinda's family
Jeremy Trevathan, Managing Director of Pan Macmillan's Adult Publishing Division, says: 
'It's been an immense and very rare privilege to work with Lucinda. Popular fiction is often looked down on but when authors like Lucinda break through and strike an emotional chord with their readers that really is the joy of publishing. Lucinda had an enormous capacity for fun, friendship and love and I was honoured to call her a friend. I, and the whole team at Pan Mac, are so thankful to have been given the opportunity to go on this journey with her. I am going to miss her terribly and I know many of my colleagues here and around the world will do so too.'
The Missing Sister, the seventh book in Lucinda's Seven Sisters series, had recently reached No.1 in all of Pan Macmillan's largest English language markets in its first week of publication, seeing fans queuing around the block in some territories to get their copies.
In South Africa, it was the fastest-selling fiction title in the last five years. In New Zealand it became the biggest launch for a book since the release of Dan Brown's The Lost Symbol in September 2009. In Australia, it shot to No.1 in the overall market. There are now 150,000 copies in print across all markets.
Lucinda has sold 30 million copies internationally to date, with her books being No.1 bestsellers in 25 countries, gaining 85 No.1's overall. Her books have consistently topped the yearly lists of 'bestselling book overall' in the Netherlands, South Africa, New Zealand, Sweden, Norway and Germany. In the Netherlands specifically, she has broken all records, with 8 of her books in the Top 10 bestseller list for weeks, and 3 million copies sold in total over only two years. In Germany, the second biggest book market in the world, The Seven Sisters were the top-selling 6 ebooks of 2020. The Seven Sisters have become a worldwide phenomenon, creating their own genre, and are currently being developed for a major TV series.
Her books have been nominated for numerous awards, including the Italian Bancarella prize, The Lovely Books award in Germany, and the Romantic Novel of the Year award. In 2020 she received the Dutch Platinum award for sales over 300,000 copies for a single novel in one year – an award last won by J K Rowling for Harry Potter. The proudest moment of her life was when, after 27 years as a published author, in Autumn 2019, The Butterfly Room topped the Sunday Times bestseller list for the first time.
Other projects include The Guardian Angels series of books for children, written in collaboration with her eldest son, Harry Whittaker. The first of which, Grace and the Christmas Angel, will be published around the world and in the UK in October 2021 by Macmillan Children's Books.