The Shore to Shore poetry competition winners
We are delighted to announce the winners of our Shore To Shore poetry competition.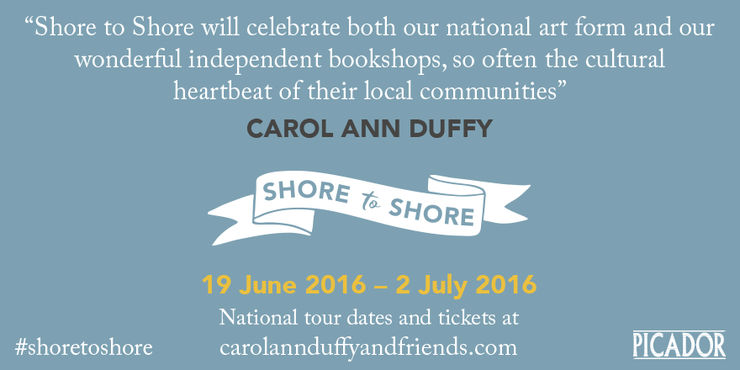 We are delighted to announce the winners of our Shore To Shore poetry competition, based around the theme of community.
Our winners were chosen by the Picador Poetry team and Poetry Editor and award-winning poet Don Paterson.
Falmouth - Pippa Stilwell
Community
"ah, that'll be don; sorry pip, i'll have to go". sends love, puts down the phone.
in my mind's ear i hear her cross the hall, unlock, release the chain,
open the door. i conjure up the small grey man
in his grey hat, only 80, young to her ninety nine,
standing in the sunlit porch proffering oranges,
satiny rhubarb, beetroot, change.
she offers coffee, cake, soup made by her,
friendship: she long a widow, he a widower.
they talk of neighbours: who's new,
who's moved, who died: long-ago jubilees,
his budgerigars, her garden. flooding in lutley lane
(but never climate change).
elsewhere, the river calder turned its torrents
through hebden bridge, carrying off turkeys, christmas trees, presents
and leaving its own gift of water, stinking,
drowning the furnishings.
some newspaper suggested spending foreign
aid on reparations: charity begins
at home. but a local man (also called cox, as it happens)
posted that life is more than just looking after your own.
sweeping his rooms clear of black sludge
he lashed out at those using the deluge
to make the case for racism –
averred that everywhere on this planet is home.
today, on the 24th of june 2016, they celebrate
hebden royd alternative christmas day;
jingle bells, crackers, mince pies,
making the world a better place.
Bath - Lara Klinpikuln
Bristol
groggy and unpolished,
full of the lethargy of a hearty
slumber, the city's soul begins to stir.
and over the downs, the sun rears its heavy head,
spreading its blanket over the bed of grass –
velvety, steady.
and in the bear pit, a shrine to people power,
the newly-planted saplings are swayed by a determined breeze –
delicate, incongruous.
and on stokes croft, rays resist the boundaries of buildings
to illuminate banksy and his copycats –
mutinous, vital.
and up park street, the number 2 creaks up the hill,
collecting hurried lives on its way –
dependable, stubborn.
and somewhere,
in a bay-windowed living room, a man
flaps open the guardian and sips at a coffee.
and somewhere in a run-down office block, a woman
is finishing the final floor
with henry.
and somewhere on a long and steep hill, a student
stumbles to his temporary home after a night
he will always remember, smiling.
and somewhere in a park surrounded by suburbs, a group of children
make their way to school,
clambering at freedom.
and, heart wide open, bristol
cradles this precious life in her arms.
Oxford - Steve McGloin
Climbing Everest
lillie and mittie and kittie and me (cadilla)
are off to climb hills, with no sign of a fella!
i've picked out a modest one - barely a brae
we'll be up and down it in less than a day
lille's brought sandwiches and bags of warm chips
mittie's brought strawberries and cherries and dips
kittie's bought artichokes, potatoes and feta
me, just a rucksack to hide my barreta
we start out quite early, skies joyously clear
all four together, all hearts held most dear
our steps spring so lightly, as upwards we rise
my mind it feels giddy with hidden surprise
mittie is first, as her head starts to drop
she blames my advice to wear just flip flops
she's slipping and sliding - they're no good for snow
i shrug and smile sweetly, how was i supposed to know?
at the edge of the glacier, mittie slips from our clutch
i reach out to stop her, though i don't try too much
down into the crevasse we all watch her fall
four bards on a mountain, only three left to call
lillie is next when her rope finds a snag
is that the frayed one i lent her? old dear what a drag
she sways on the cord with such desperate cries
as i intone her epitaph, tears freeze in my eyes
the rope tears asunder, poor lillie falls fast
but i grab at her chips as she goes tumbling past
now we're nearing the top, just south summit to mount
four poets on everest, only two left to count
kittie's complaining there's no tea in the flask
while i'm busily sucking oxygen up through a mask
she's becoming delirious, claiming i'm mad
altitude sickness can be terribly sad
she screams and scarpers towards a traverse
but the snow slows her down, and things turn much worse
when after firing my gun, the echoing bang
triggers an avalanche from a white overhang
three poets have gone, only one bard is left
to climb up alone, feeling almost bereft
but standing at the summit, this laureate bird
knows how sweet it is to have the last word.
Chipping Norton - Sue Leigh
A Local Habitation
this is where i live
a place of willows, springs
where the romans built a villa
(a single mosaic remains)
this is where i live out my days.
home is another matter.
its our common tongue
that shared community of words
i dwell among, deep rooted
in earthy names,
heart's lovely lexicon.
Monmouth - Brenda Sorrell
Community
for most of us, the challenge is the hill,
and yet the least fit of us struggles up,
combating breathing problems, a weak heart,
arthritic, crumbling bones and painful joints,
and taking shanks's pony, taxi, bus,
to reach our goal, the parish institute.
aged seventy to more than ninety years,
we women, drawn in by a common need
to foster writing and our love of words,
each have a share in this community.
at first, a tutor was our scribblings' guide,
even when fighting terminal disease.
but, when she died, we vowed to carry on
and found ourselves a haven in this hall,
cavernous, dim and cool, with rotting floor.
we huddle near a radiator's warmth
and comment on our essays, read out loud.
each member of the group takes it in turn
to choose a topic for the next week's meet.
we write our sometime reminiscences,
fiction, non-fiction, poetry or prose.
we write our comments on each other's work,
and then return them during the next week.
the bond of writing lies at our group's core;
sharing individual talents round.
at tea break, and through writing, we learn much
about each other's lives, our joys and pains.
when three o'clock approaches, we wash up,
wrestle with crutches, walkers, sticks and coats
and struggle out, downhill, against the rain.
Oswestry - Trixie Roberts
Northern Town
the hooter shrieks. eighty minutes to play.
twenty six men run on to the pitch,
bewitching the crowd with their speed and skill;
in for the kill. muscles packed for the ruck
and the scrum. gum shields clenched, a grabbed shirt wrenched,
a hunted-hare-slalom run for the line.
the crowd's dumfounded, the try is grounded
and will stay in the memory . . . till next time.
the hooter bellows, eighty minutes played.
twenty six men, muddied and bloodied, wave
to the stands, with pride at what they gave.
they disappear down to the ritual bath,
while lingering, spellbound supporters cheer
then crocodile away to homes, greyhounds
and beer. passing the monument to miners,
who worked out and lost their lives underground.
when the pit hooter wails it's always bad.
the shrill siren signal cuts through the mist.
groups of grey women, bent fathers gathering
in cold, slow streets.
soon to be joined by the doctor and priest.
a neighbouring thread, lowry-like, winding
with nerve-racking dread,
up to the magnet of the pit head.
a blast in tunnel four.
no warning.
no canary call,
before the roof-fall.
they found them with the gas still curling,
pitched-in together, as in a scrum.
the winding gear's silent. the hooter's struck dumb.
the men, bones grime-black from under the coal,
raised past the pit bath to church bell's toll.
long in the memory . . . . long past the next time.
Caernerfon - Robert Greig
Once Upon a Red Box
once upon a time there was
a red box from a while ago
to be replaced
by metal frames
surrendering
to times a-change
pale symmetries
of stark remains,
once upon past it stood now
tiny shards shattered glass
broken scattered
littered ground,
a use-by date
a musty scent
is this the future
that you meant?
now upon a this time stands
colourless without a door
except for tags
graffiti-daubed
an uninviting
public phone
of little note
or thought.
here upon a midnight clear
vandals go and vandals
come to throw
another match
onto a bonfire
a list of names
a yellow page
last refrains.
since the shop
the hall, the school,
a church whose pews
now rarely used,
the families moved
to pastures new
to leave the old
to feel the cold,
houses sold to
come-and-go's who
spend the hours
in long commute,
just disconnect
on mobile phones
and in effect
becoming clones.
thereupon it comes to pass
receiver hanging impotent
a droning tone
a gallows death
no number dialled
no message left
a spiders web
seraphic-weft.
once upon a dog-eared day
two lovers squeezed inside
to shelter from
the shedding rain
a confidante
if so inclined
while they wait
away the time.
Stockport / Bramhall - Nairn Kennedy
Solitaire
'There's no such thing as society.' - Margaret Thatcher
i miss the buzz, of course; all the girls
humming and heaving,
swapping round the party pheromones
swarming with the day's orders.
brilliance, i call it. no more slogging round
the dandelion clock; just don't go back
to another bad case of hives.
all the nectar i swig myself;
wallow in the sun like a furry pineapple,
sleep it off parcelled inside a snapdragon.
night time i'd never seen before:
the sky has tiny petals
like stopped raindrops.
now, the world's slowed down;
inside snarled flowers
nectar's turned to tree-gum,
while, like the point of my sting,
tomorrow seems to grow ever smaller.


Carlisle - Tony Hendry
Sousse
council of war in whitehall basement.
officials and ministers stare at footage.
blood soaks into a tunisian beach.
responses are debated with top brass.
a stenographer's eyes blur with tears.
all morning on radio, voices break.
family members cry for their losses
or rage at holiday company bosses,
and traumatised survivors can make
no sense of what visited the resort.
no more can i. no acrostic or quatrain,
no such ordering or distancing device,
stops me feeling lost and sick at heart.
but carlisle is trying harder today,
and that's a start. more shoulder pats
on botchergate, more nods and smiles
in market square, more grans basking
in the innocent beams of babies
on fisher street and rickergate,
more value given to our fellow's lives
as paths cross under summer skies.
the cathedral is a little busier today.
Corbridge - Colin Bancroft
Hadrian's Wall
'Something there is that doesn't love a wall' - Robert frost
so strange to find it here in this most northern tract
where divisions are often at their chiselled hew;
see strewn across our histories field the plainest fact;
that with hard times comes thought for one, not two.
nothing bears this out more truly than the wall,
built, as walls are, to keep something out or in.
but over time the greatest walls must fall
and the making sense of walls can then begin.
the wall works now in such a different way
and brings together those it once repelled –
let's hope then for a monumental day,
when all the walls in all the world are felled.
St Boswells - Laurna Robertson
Yesterday
the sun was brighter than anything
and winters were cold.
think of walking home in rain to light a fire.
how slowly a flame turns smoke to steam
to a cup of tea nursed between numbed fingers.
there were fevers. infections spread.
old cures sometimes worked.
we prayed all night until penicillin.
work was hard. on foot. by hand. horses
and tackle. then tractors breaking down.
spark plugs needing attention.
everything to be cleaned, mended. every
surface a different treatment. every procedure
precise, tedious. paraffin. vinegar.
people whistled tunes from the wireless
or the variety. the same song could travel streets
carried and passed on.
celebrations were bigger, whole families came.
smiles lasted longer. enough for any life.
Biggar - Derek Hodgekiss
The Beautiful Game
'Football solidarity as Syrian refugees praise 'good treatment' in Scotland' - The Herald
from syria to scotland they fled,
from terror and torture to safety.
not local but now in our locality.
no shared historical heritage,
no common culture,
nothing in common
but our humanity.
we opened our hearts and our homes.
and now they play for "the cup of kindness"
in a friendly football tournament.
on this battlefield "shoot" and "attack"
are words of encouragement.
they think it's all over.
it is now.
football and fellowship,
bringing us together.
no old firm divide here,
but a union for a changing world.
we are strangers no longer.
may our community grow stronger.
St Andrews - Aileen Ballantyne
Lockerbie
Pan Am Flight 103
i
rescue worker
he can see them
where he found them,
lit by the beam
of the torch on his forehead.
untouched, it seemed,
by the fall.
he hoped
they had slept
but knew they had not:
those two young women
he found in the dark field
that december night
still strapped
to their plane-seats,
their arms
tight around each other.
their fingers crossed.
ii
on a hillside
human flesh hung on the trees at tundergarth,
the day the sky rained limbs
and knives and forks
and tight-wrapped salt
and sugar-packs and hand-wipes.
and in the field, at tundergarth,
the farmer heard the corbies caw.
ruth saw a hand on her roof
and told the police.
jessie made 200 scones
for the rescue workers.
her dog brought an arm
to the door
and she wrapped it in a cloth.
when the people came
from far away
about the t-shirts and the jerseys,
the notebooks and the backpacks
of the dead sons and daughters
that fell on ella's house,
she gave them tea,
and helped them to find
their children's possessions.
and when the mother travelled,
with pieces of glass and sand
from the surfing beach
her son loved,
ella helped her build a cairn
on the hill near tundergarth
and sent her home,
different
from when she came.
iii
toothpaste
it was the toothpaste that nearly defeated them.
one woman washed, one ironed, and one folded.
it was there, in each suitcase: each tube had exploded
over each shirt and blouse they tried to mend.
but one washed, one ironed and one folded,
until each trace of the blast
and of blood and of fuel was removed,
and at last, after seven years of waiting
the clothes of each son, of each daughter,
were returned to each mother, to each father.
and the unread pages of a journal
of a girl who lived to twenty
were unfolded, leaf by leaf,
ironed one by one,
her words returned
clean and washed in their pages.
Our winners will receive a copy of Off the Shelf: A Celebration of Bookshops in Verse, a brand new anthology published by Picador to coincide with the Shore To Shore tour as well as the collected poems of Carol Ann Duffy, Clive James, Michael Donaghy and Sean O'Brien.
Carol Ann Duffy is a bold, original voice and one of Britain's best-loved poets, she was appointed Poet Laureate in 2009.
Over fourteen consecutive days in June and July 2016, Carol Ann Duffy performed alongside three of the fellow poets whom she most admires: Gillian Clarke, Imtiaz Dharker and, the new Makar, National Poet for Scotland, Jackie Kay. Each evening was also accompanied by music from instrumentalist and composer John Sampson plus a special guest spot every night.
Listen back to readings from Carol Ann Duffy, Gillian Clarke, Imtiaz Dharker and Jackie Kay, recorded live at Hope Park & Martyrs Church, St Andrews on Saturday 2nd July 2016.