How social media helped a great-grandmother find the family of the man who liberated her from Auschwitz
Great-grandson Dov Forman introduces his great-grandmother Lily Ebert, who survived the holocaust as a teenager, and the inspiring social media campaign that led to her meeting the family of Private Shulman – the soldier who helped to liberate her from Auschwitz in 1945.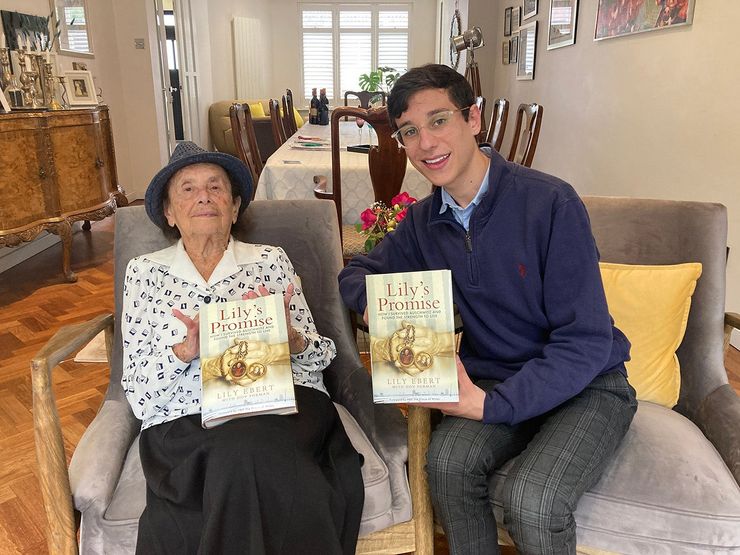 A banknote with a few quick words of kindness could be considered a modest gift by some, but for Lily Ebert it symbolised the hope-filled beginning of a new life. 
At 14, Lily was taken to Auschwitz and endured months of slave labour, separated from most of her family, who later died in the camp. She was liberated at last during a death march in 1945, when she met Private Hayman Shulman. With no paper to hand, Private Shulman scribbled a message of hope onto a German banknote and gave it to Lily – her first real possession since being freed. 
When her 17-year-old great-grandson Dov discovered the banknote 76 years later, he realised the importance of it immediately. After a surprising viral social media campaign, the family of Private Shulman were located, resulting in an incredible meeting with Lily and the children of the soldier who liberated her.
Dov writes here about the importance of his grandmother's voice, and the incredible story behind the social media campaign that brought two families together again across generations. 
I cannot recall a time where I was not aware that my great-grandmother, Lily Ebert BEM, was a survivor – not only of Auschwitz, but of Nazi enforced slave labour and the Death March. 
It is a part of me, and of all of Lily's many descendants. 
Having been forced apart from Lily for two months during lockdown, I grasped how precious she is. I have been incredibly privileged to have spent so much time with her whilst growing up. It occurred to me in lockdown that Lily was of a similar age to me when the Nazis invaded Hungary, back in March 1944. As soon as lockdown rules were eased, I jumped at the chance to spend time with Lily again. I was struck by a newfound determination to absorb and preserve her testimony, whilst I still had the chance. 
History A Level has demonstrated to me that the Holocaust is simply not a subject that can be done justice in a classroom, through a textbook. Most people in this country won't have ever met a Holocaust survivor. Most people won't have ever seen a tattoo on the arm of their Great Grandmother. A-10572. Lily's whole identity. Reduced to ink. A permanent reminder of the horrors committed by the Nazis. 
Others must understand Lily's story and what she had to suffer through, just for being Jewish. However, the pandemic meant Lily was no longer able to speak at schools or at other events, where she used to share her testimony of the Holocaust. So, with it being our best option, Lily and I decided to use social media in attempt to share her Holocaust testimony. 
One of the many relics Lily had shown me was a German banknote. It had been inscribed with ten words. Ten words of hope. 
'The start to a new life - good luck and happiness!'

Private Hyman Schulman, written on Lily's banknote
It was imparted to Lily in 1945 by an unnamed American liberator. It deeply touched my heart – the soldier who had given the banknote to Lily was the first person to inspire hope in her, after having endured hell on Earth. It was one of the first possessions Lily owned after being liberated. Its monetary value may have been negligible, but it was worth holding on to for seventy-six years. The moment I saw it, I understood it was invaluable. 
On the fifth of July in 2020, Lily and I posted a picture of the banknote on Twitter. I remember joking with Lily that, through Twitter, we would find the individual who gave her the banknote. 
The tweet went viral. It sparked international media attention. After only eight hours, we had identified Private Hayman Shulman (an American G.I.) as the soldier whose words were written on that banknote, as the man who had imbued Lily with hope. A few days later, a meeting was organised between Lily, myself, and the family of Hayman Shulman. Meeting the Shulman family on Zoom was nothing short of a miracle for Lily. It was another of life's affirmations – the Nazis didn't win. 
The media coverage that followed from the banknote led to other historians and people associated with Holocaust education to reach out to us. They were able to provide even more information surrounding Lily's journey. It was incredibly exciting. Lily was not aware that most of this information even existed.
Nevertheless, Lily's experience of surviving Auschwitz is not a typical story of the Holocaust. A typical story is not told. A typical story involves the obliteration of an entire family, of an entire village or community – either by guns, gas, or starvation. 
Lily made a promise to herself in Auschwitz. If she managed to survive, against all the odds, she would do all she could to share her testimony; for herself, and for all those who did not survive. 
I feel honoured and humbled to have written Lily's Promise with Lily. It is the fulfilment of this same promise that she had made to herself over 75 years ago, ensuring that her testimony will never be forgotten.