Kate Mosse on five warrior queens you may not know about, but really should
In Warrior Queens & Quiet Revolutionaries, bestselling historical fiction author Kate Mosse puts unheard and under-heard women, who deserve to be better known, centre stage. Here, she introduces five of the Warrior Queens featured in the book.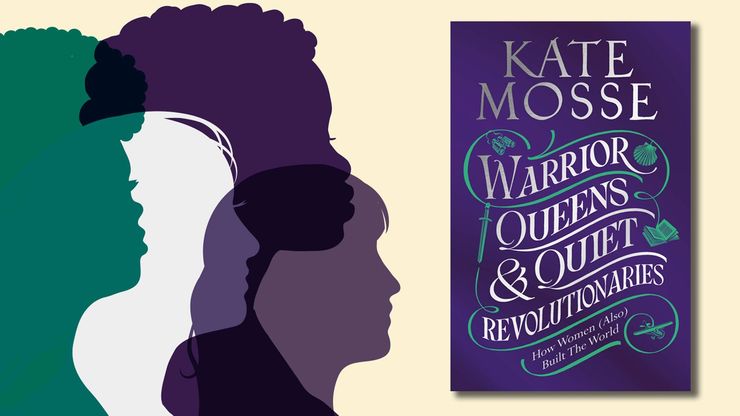 Part a detective story into my own family history, part a celebration of nearly 1,000 trailblazing and brilliant women, Warrior Queens & Quiet Revolutionaries seeks to put women back into the history books: women of faith and conviction, engineers and explorers, lawyers and scientists, writers and campaigners, mothers of invention, those who lived by the pen and died by the sword.
Women's achievements have been routinely left out of history, or misattributed or overlooked. Those women who do make it into the history books are often those who were most visible, most celebrated, most notorious, who lived their lives in public view, though that doesn't necessarily preserve their legacy. One person's heroine is another's mortal enemy, it depends whose side you're on, but we can still salute the determination of these warrior queens and pirate commanders who survived, as women, in a desperate and dangerous man's world.
Here are five trailblazing women who deserve to be household names. And don't forget to nominate a woman from history who you think deserves more recognition using the hashtag #WarriorQueens on social media.  History, completed.

Melisende, Queen of Jerusalem (1105 – 1161)
One has to guard against eulogising any aspect of Crusader history – they were bloody religious wars of conquest and devastation – but, Melisende is a woman I admire. The eldest of the four daughters of Baldwin II, she was raised to succeed her father and her name appeared alongside his on official documents and in diplomatic correspondence. When he died, her husband attempted to sideline her, but Melisende refused to yield. Instead, she went to war to secure her rights and, extraordinarily for these times, the clergy and nobility supported her. She ruled as queen from 1131 to 1153, and again as regent for her son when he was on campaign from 1154 until 1161. She endowed many convents and religious institutions and was a generous patron of the arts, yet, despite all this, she is barely a whisper in the history books and there is no major mausoleum or tomb dedicated to her.
Khutulun (c. 1260 – c. 1306)
From Jerusalem to Mongolia and the amazing wrestling warrior princess, Khutulun. The great-great-granddaughter of Genghis Kahn and the most trusted military adviser and general to her father, Kaidu Khan, she was also a famous wrestler. Legend has it that she said she would only marry the man who could beat her in a wrestling competition. If she won, they had to present her with one hundred horses – some versions of the story say one thousand – and she is reputed to have built up her own herd of ten thousand horses. . .
Kaidu failed to secure his daughter's succession as Grand Khan and for centuries she was forgotten, until an 18th eighteenth-century French orientalist and traveller wrote a story inspired by Khutulun's life story – 'Turandot', or the 'Turkish Princess' – though rather than wrestling her suitors, his princess sets them riddles. That story inspired others, not least Puccini's famous 1924 opera.
Gráinne O'Malley (c. 1530 – c. 1603)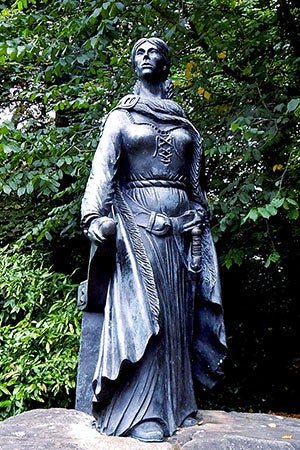 A towering, almost mythical, figure in sixteenth-century Irish history, Gráinne was head of the O'Malley clan who, for more than three hundred years, ruled the southern shore of Clew Bay and most of the barony of Murrisk. One of the many legends surrounding her is that when she asked to accompany her father on a trading trip to Spain, and was refused on the grounds that her long hair would catch in the ship's ropes, she chopped off her hair rather than accepting her father's decision. The act earnt her the first of her nicknames, Gráinne 'Mhaol', maol meaning bald or cropped hair. Later in life, when her lover was killed, she took revenge by storming his murderers' castle at Doona and acquired a second nickname, the 'Dark Lady of Doona'.
At her father's death, Gráinne took the helm as captain of the fleet and became one of the most powerful pirate commanders of the time. Extraordinarily, given how she lived, Gráinne survived into her early seventies, and died of natural causes in 1603.
Laskarina Bouboulina (1771 – 1825)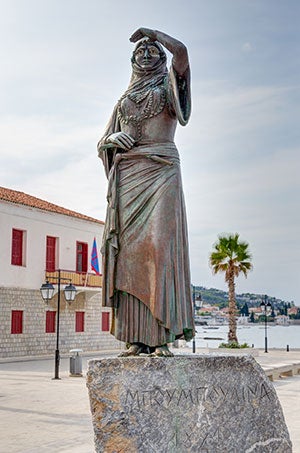 From Ireland to Greece. Known as the kapetanissa, Laskarina Bouboulina was the heroine of the Greek War of Independence of 1821 and the first woman to attain the rank of admiral. Widowed twice and left with seven children from two marriages, and a large fortune, Bouboulina built up her own fleet of ships, including an eighteen-canon warship, Agamemnon. On 13 March 1821, Bouboulina raised the Greek flag and began a naval blockade against the Turkish fleet, playing a key role in their defeat. The later years of her life remain murky, and she was killed in a domestic dispute rather than in battle, but her legacy as a fearless and courageous woman lives on.
She-Dong-Hong-Beh (c.1815/1835 – after 1851)
Finally, in Dahomey in West Africa, modern-day Benin, Seh-Dong-Hong-Beh was a leader of the Dahomey Amazons. In 1851, she led an all-female army consisting of 6,000 warriors against the Egba fortress of Abeokuta. In 1851, a British naval commander drew Seh-Dong-Hong-Beh in her uniform, armed with a musket and holding a captive's severed head. Her army was known for its fearlessness – in one of the final battles against the French, before Dahomey became a French colony in 1892, it's said that only 17 of the 434 Amazons came back alive – and there are descendants of She-Dong-Hong-Beh and her warrior queens living in present-day Benin today.