Linda Porter on the many fascinating mistresses of King Charles II
From 'pretty, witty' actress Nell Gwynn to his long-suffering wife Catherine of Braganza, Charles II certainly had an eye for the ladies. Here, historian Linda Porter introduces us to Charles's mistresses.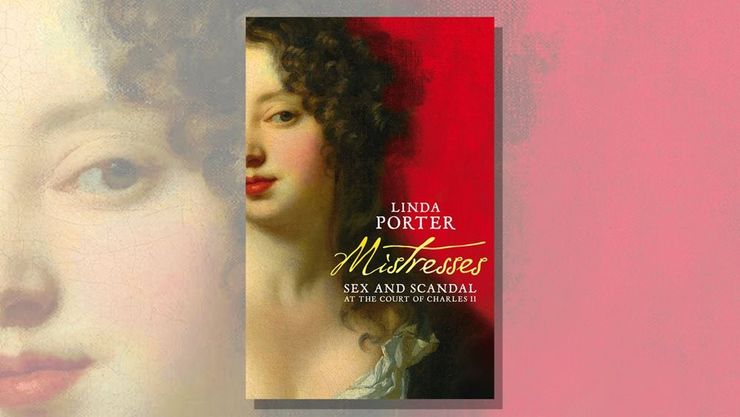 According to the great diarist, John Evelyn, Charles II was 'addicted to women'. In Mistresses, historian Linda Porter tells the story of the women who shared Charles's bed, gaining influence over the country's political and cultural life. Here, she introduces us to the many women in King Charles II's life, from Nell Gwynn, the famous actress who counted Samuel Pepys among her many fans, to Charles's wife, Catherine of Braganza.
If you like the six wives of Henry VIII, you'll be captivated by the mistresses of Charles II.  Six of these ladies – and his long-suffering, underestimated wife, Catherine of Braganza – feature in my new book, Mistresses: sex and scandal at the court of Charles II. 
 According to the great diarist, John Evelyn, Charles II was 'addicted to women', and throughout his long reign, a great many succumbed to his advances. It was while in exile at The Hague, having fled from the Civil Wars which would culminate in his father's execution, that Charles met a seductive young woman from Wales, Lucy Walter.  Theirs was a brief liaison, probably no more than a few nights of summer passion between teenagers, but it would have lifelong implications.  Lucy claimed they had gone through a form of marriage, which would have made their son, James, later Duke of Monmouth, Charles's legitimate heir. The king, restored in 1660, always denied that he had wed Lucy but the rumour would not go away and led to a political crisis about the succession in the late 1670s. Charles quickly tired of Lucy, not least because of her constant demands for money. By the time of his restoration, the tally of royal mistresses was growing, but it was the woman Charles met soon after his return to England who would dominate him for the next decade. Barbara Villiers' affair with the king was the talk of London. Neither cared. In fact, the passionate, auburn-haired Barbara revelled in her notoriety, flaunting her jewels, titles and wealth and producing five children with the king.  But she was never entirely secure. Charles had wandering eyes and wandering hands, as the fifteen-year-old Frances Teresa Stuart found out soon after she arrived from France as a maid of honour, 'the prettiest girl in the world,' as Charles's sister, Minette, described her. After four years fighting off the king's advances she eloped with the Duke of Richmond and enjoyed a happy marriage, much to the king's initial displeasure. 
 But, Charles was not unhappy for long. Breton aristocrat Louise de Kéroualle lost her virginity to Charles in 1671 and became his most durable mistress, courted by politicians who believed she had great influence with the king.  The French were not so sure, but hoped to use her services as a spy nevertheless. Never one to feel restricted by convention, Charles was also bedding the cheerfully vulgar comedy actress, Nell Gwyn, the most well-known of his mistresses, though not the most significant. And still he was not finished.  His last mistress was the bisexual and flamboyantly beautiful Italian, Hortense Mancini, niece of Cardinal Mazarin, France's chief minister. By the end of his reign Charles had fathered thirteen illegitimate children but no legitimate heir with his wife, the Portuguese princess Catherine of Braganza. She had suffered two miscarriages and was always loyal and loving, despite her incorrigible husband's behaviour. Often depicted as a dismal little figure taking refuge in religion, recent research has shown how Catherine effectively forged an independent existence and was an important patron of the arts as well as a trend-setter in furnishings and tea-drinking. 
 Against a backdrop of plague, fire and ice, when England was humiliated abroad and bitterly divided at home, these women held centre stage.  Their stories reveal the heart of a court as colourful as it was corrupt. The eagerly admired celebrities of their day, these women were the glittering stars of Restoration England.