Annabel Karmel's gingerbread mummies and skeletons
Little ghosts and ghouls can help their mummies make these frightfully tasty treats!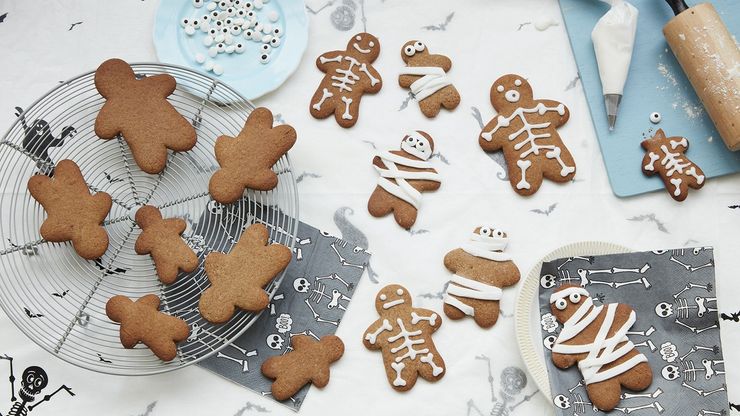 Total time

Prep time

Amount

25 - 30 biscuits

Ingredients

140g/4¾oz chilled unsalted butter (diced)
100g/3½oz soft dark brown sugar
300g/11oz plain flour plus extra for dusting
2 tsp ground cinnamon
2 tsp ground ginger
1 tsp bicarbonate of soda
½ tsp mixed spice
½ tsp ground allspice
1 egg
beaten 50g/2oz black treacle
50g/2oz golden syrup
½ tsp fine salt
icing sugar for dusting
300g/11oz ready-made white fondant icing
white icing pen
edible eyes
200g/7oz icing sugar
Preheat the oven to 180°C/350°F/Gas 4 and line 2 baking sheets with baking parchment.
Put the butter, sugar, flour, spices and bicarbonate of soda in a food processor and blitz until the mixture resembles fine breadcrumbs. 
Whisk the egg, black treacle, syrup and salt in a bowl. Add the wet mixture to the dry ingredients in the food processor and blitz briefly until combined. Transfer the mixture to a clean work surface and knead to form a soft dough. Wrap the dough in clingfilm and chill for 30 minutes.
Roll the chilled dough out on a floured work surface to the thickness of a £1 coin then stamp out 25-30 gingerbread men, re-rolling the dough as necessary.
Place the gingerbread men on the lined baking sheets then chill for 10 minutes.
Bake the chilled gingerbread men in the oven for 15 minutes until lightly browned and firm. Remove from the oven and transfer to a wire rack to cool.
For the gingerbread mummies, dust a work surface with a little icing sugar and roll out the icing until thin. Slice 5mm/¼ in strips of icing to make bandages to make the gingerbread men look like mummies. Attach edible eyes to the cookies using an icing pen; then arrange the lengths of white icing strips as bandages on half of the gingerbread men, trimming the icing as necessary.
For the gingerbread skeletons, mix the icing sugar with a little water until it has a smooth, thick consistency. Spoon the icing into a piping bag fitted with a small round nozzle. Pipe white lines onto the remaining undecorated gingerbread men to make the bones of the skeleton, holding the piping bag at a 45-degree angle just above the gingerbread and squeezing the icing with a constant pressure. Don't move the piping bag until the icing has met the surface. Leave to set for 30 minutes.
The undecorated cookies can be frozen for up to 2 months. Defrost at room temperature.