How to read more using the Japanese method of Kaizen
The Japanese method of Kaizen – meaning 'change' 'good' – is the practice of making small, step-by-step changes to transform your life in a big way. Here, journalist Ali Roff Farrar puts the Kaizen method into practice in hope of rediscovering her love of reading.
When it comes to philosophies to help us live better lives – just as hygge cultivates a sense of cosy contentment and Ikigai inspires us to embrace our sense of purpose – Kaizen is set to help us change habits, for good.
Heralding from a country that boasts a bounty of philosophical wisdom, the Japanese method of Kaizen is a practice which encourages small, step-by-step changes and setting incremental goals to ultimately achieve transformational change. A far cry from another to-do list, Kaizen focuses on having patience, shaping a way forward that is right for you, and mindful, positive change.
Whether you're setting your sights on changes in your health, relationships, career, hobbies or habits – Sarah Harvey's Kaizen is a beautifully illustrated introduction to the philosophy, offering a personalised, flexible approach.
Wanting to carve out more time for reading – a cause close to our hearts – Ali Roff Farrar was keen to replace her Instagram habit with her lost love: a good book. Here, she tells us how putting Kaizen into practice helped her do exactly that. If you're struggling to switch off from the endless news cycle and focus on a good book, the Kaizen method could help.
Recently, my days fly before my eyes, and when I look around for more time, it's always the things that bring me joy that I end up sacrificing to scrape back an hour here, fifteen minutes there. It seems strange to think of it now, but in another life, I was a bookworm, my nose perpetually in a novel, fingers itching to read just one more chapter. I looked forward to going to bed just so that I could get back to the world the author had created – more magical than any film. But life somehow got in the way of this simple pleasure. It happened slowly, my commute changed leaving no time to read – I turned to audiobooks. Working late nights made it easier just to pop on a podcast as I fell into bed. Prescribed reading for work meant there was always something else, 'more important', to read. And I'll be honest, I miss it – the escapism, the fevered page-turning, the abundance of creativity shared between the author and the reader. And after writing my own book earlier this year, I know the work it takes to write a book – the time that goes in, the love and sacrifice. The difficulty. Podcasts are great, but they are no comparison to George Eliot's Middlemarch, or Emily St. John Mandel's Station Eleven. It's time. I want to read again – for pleasure – not for work. For me.
But I can't quite seem to get into a book the way I used to. I've tried. Nothing captures my attention, not even the books that everyone else raves about. And I've begun to wonder if it's not them . . . but me? Replying to emails all day, hopping aimlessly onto Instagram when I need a break – not only is time an issue, and podcasts easier, but I think my attention span (or lack of) is stopping me from relaxing into a book when I do pick one up. Are my bad habits withholding me from my love of books? I decide to do something about it. And where better to look than a book? I pick up Kaizen: The Japanese Method for Transforming Habits, One Small Step at a Time, by Sarah Harvey. It sounds perfect for finally finding the time in my busy life to read for pleasure again, 'one small step at a time'.
'You can tailor Kaizen to your own needs; you can choose to do it at your own pace and work towards your own goals – not anybody else's' explains Harvey. 'In doing so, you have the potential to overhaul your current habits, acquire new skills and knowledge, and abandon unproductive behaviours.' I get excited as I read the premise; 'The philosophy of Kaizen . . . is about setting long-term, medium-term and short-term goals, then thinking of small, incremental adjustments you can make to work towards these goals.' Essentially, it's about creating small but continuous improvements towards your goal. This continuous improvement motivates you to improve on the day before, if only incrementally.
I set myself the goal of reading novels again for the sole purpose of enjoyment and reading every day as a form of relaxation and personal time, as I once did. More time reading, less time looking at screens – and research suggests that paper is best – reading on a screen can slow you down by as much as 20 to 30 per cent*. My long-term and medium-term goals are decided – so far so good. But despite understanding the simple premise, I get ahead of myself on day one, setting myself the short-term goal of reading for half an hour before bed, which, exhausted and frazzled at 11pm, I soon discover is too much. I take myself back to the Kaizen philosophy: 'small, incremental adjustments'. "Think small, not big", I remind myself, and simply pick a novel and set it on the table, before falling into bed with a small sense of satisfaction.
Over the coming days, I continue to develop my short-term goals – read for ten, no wait, 'think small' – three minutes before bed. But I soon realise that linking my reading to a timer on my phone keeps a small fraction of my mind linked to my phone – adding an element of distraction. So, I decide to change my rules – I'll read three pages. Limiting myself to this smaller goal is tough, I like to think big. But when it comes to bedtime, exhausted and frazzled once more, I balk at having to pick up a book, so tempted to just start my podcast and close my eyes. But all I have to do is read three pages, I'll be done in a matter of minutes. So, I pick up my book, The Doll Factory by Elizabeth Macneal, and I read 14 glorious pages before falling asleep with the book in my hand – conquering my goal, and having one of the most restful night's sleep I've had in weeks.
Reading for health
As I continue on my Kaizen journey, Harvey shares different ways to implement Kaizen in your life. I'm thrilled to stumble upon 'kenkō', or health, and almost stand up and dance when Harvey starts to explain the benefits of reading before bed. 'Just six minutes of reading before bed has been shown to reduce stress levels by two-thirds and promote good sleep. Choose a couple of nights of the week where you read before bed rather than look at a screen and see if it makes a difference.' I'm already with you Sarah, and it feels great.
My new habits are beginning to build on themselves. As Harvey suggests, my new bedtime reading ritual has enhanced my sleep and so reading more has lead to me waking earlier and feeling more energised, which means I get more done during the day. In turn, I'm clocking off earlier, and getting longer evenings and bedtimes, which means . . . more reading time! I also discover that regular reading may help slow the ageing process in our brains, keeping minds sharper longer*, which motivates me further.
One morning I wake feeling so great about my bedtime reads that I decide I'll squeeze in 3 pages on waking before I head to the gym. I bump into a friend there and we get talking about getting up earlier; he shares how he began by waking just 15 minutes earlier. I tell him about Kaizen and the art of making small, incremental steps, full of motivation around what I've achieved and how far-reaching its effects have been on my wellbeing.
Growing the habit
I've worked my way up to reading for 20 minutes before I go to bed by adding one extra minute, every other evening. I feel so motivated that I've achieved this, but remind myself that the key to Kaizen is continuous improvement. Luckily, Harvey has a suggestion. 'Try spending one lunchtime a week reading a book and see if it makes any difference to how you feel when you return to your desk.' I know this might be too much to ask in my busy schedule, so I decide to introduce short reading breaks at work. Time away from the screen for my eyes is an exciting prospect in itself.
I start again at my three-page goal and team it with a cup of tea. I like the idea of moving to a different space away from my desk to take my reading break but think again. Keep this first challenge small I remind myself, and I stay at my desk. Ten pages later, I dog-ear the corner and set my book down. 'Did it transport you to another world free from annoying emails?' Harvey asks. I regularly meditate at my desk when I'm overwhelmed, but I feel another level of refreshment after this reading break. I wonder why I feel so relaxed, and find a study by cognitive neuropsychologist Dr David Lewis at the University of Sussex, who found reading is actually one of the best methods of relaxation, better than listening to music, having a cup of tea or even taking a walk, reducing stress levels by 68 per cent. And it only takes six minutes of reading to slow down the heart rate and ease tension in the muscles. So, I decide my new medium-term goal of continuous improvement – six-minute reading breaks every hour or so, leading up to my long-term goal of taking a lunch break in order to read.
Over the coming weeks, I keep wanting to put my reading breaks off, to do just a little more work. But then I find myself on Zoopla.com, or Instagram having an un-prescribed break, which in turn makes me feel guilty about then taking a reading break. I realise that part of my lost relationship with reading is that it feels indulgent, and guilt about reading for enjoyment might have been an issue which led me to stop. But I've felt so many of the benefits by now on my Kaizen journey that I know how important taking time to read and escape into a story is, for my wellbeing and my productivity.
Despite taking more reading breaks, everything still gets done, and when I prioritise reading, my breaks not only stop me from falling into an Instagram-shaped black hole but also build on themselves. My six-minute reading break is becoming something I willingly do for myself, rather than feel guilty about, and keeping the steps small has been the ultimate key to my success. I'm not quite at my long-term goal of a full reading lunch break yet, but hey, Kaizen is all about continuous and incremental improvement, and I'm enjoying the slow but revolutionary journey towards it.
*Dillon, A. (1992) Reading from paper versus screens: a critical review of the empirical literature. Ergonomics
**Life-span cognitive activity, neuropathologic burden, and cognitive aging, Robert S. Wilson, Patricia A. Boyle, Lei Yu, Lisa L. Barnes, Julie A.Schneider, David A. Bennett, Neurology Jul 2013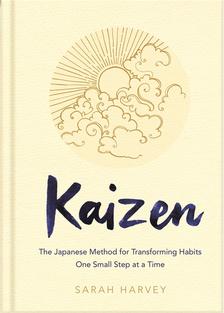 For even more insights from Japanese culture and writers, don't miss this episode of Book Break, where Emma takes a look at Japanese literature and books inspired by the culture of Japan.