Joe Wicks's vegetarian BBQ sticky harissa aubergine steaks with bejewelled couscous
These sticky harissa aubergine steaks from The Body Coach are perfect for vegetarian BBQ guests.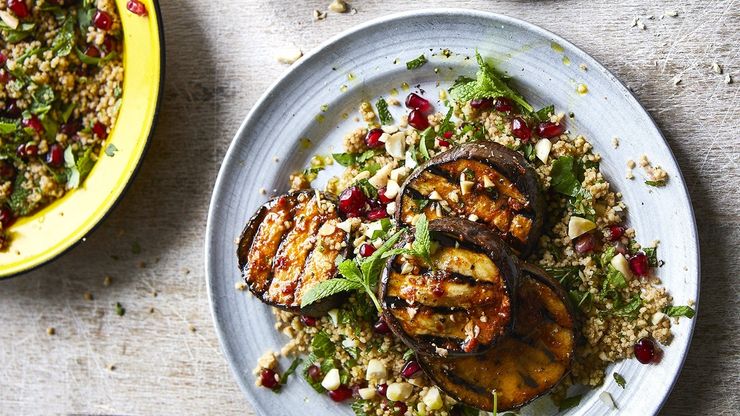 Total time

30

Prep time

10

Amount

Serves 2

Ingredients

2 tbsp melted coconut oil
2½ tbsp harissa
1 large aubergine
salt and pepper
100g couscous
2 tsp ground cumin
½ tsp ground cinnamon
juice of 1 lemon
50g blanched almonds (roughly chopped)
handful of mint leaves (roughly chopped plus extra sprigs to serve)
handful of coriander (roughly chopped)
100g pomegranate seeds
4 tbsp natural yoghurt
Fire up the barbecue. Mix the coconut oil and 2 tablespoons harissa together in a wide shallow bowl. Cut the aubergine into six meaty rounds, then soak them in the harissa oil, turning so that each side of the aubergine steak gets coated in the marinade. Season the aubergine steaks with salt and pepper.
Put the aubergine on the barbecue. Cook for 15-18 minutes, turning halfway until completely soft. While the aubergine is cooking, make the couscous. Bring a kettle of water to the boil. Put the couscous, ground cumin, cinnamon and lemon juice into a large bowl. Pour over 200ml boiling water. Cover with a plate and leave to steam for a few minutes. When the couscous has cooked, use a fork to separate the grains then tip in the chopped almonds, mint, coriander and pomegranate seeds. Season to taste. 
Swirl the remaining harissa through the yoghurt. Divide the bejewelled couscous between two plates and top with the barbecued harissa aubergine, yoghurt and extra mint.