Kale and white bean soup recipe from The How Not To Die Cookbook
Make this delicious, warming soup, perfect for lunch on a chilly day.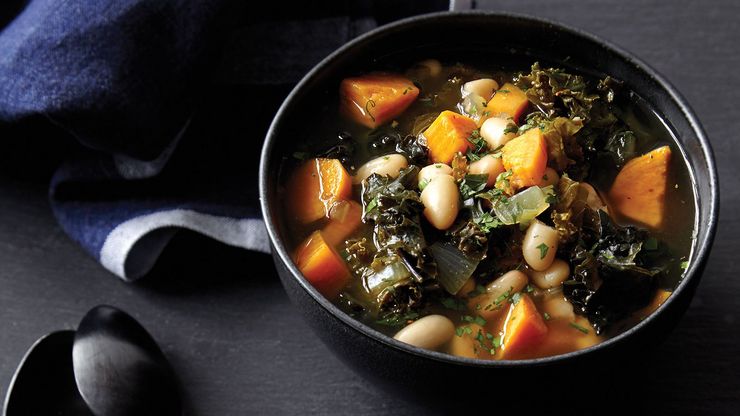 Total time

50

Prep time

10

Amount

Serves four

Ingredients

6 cups/1.4 litres vegetable broth
1 large red onion (chopped)
3 to 4 garlic cloves (minced)
1 medium sweet potato (cut into 1cm dice)
5 cups/350g chopped fresh red kale
¼ teaspoon chilli flakes (or more if you love spice)
2 bay leaves
95g cooked or 1 425g BPA-free tin or Tetra Pak saltfree cannellini beans (drained and rinsed)
1 teaspoon white miso paste
2 tablespoons nutritional yeast (or yeast flakes)
2 tablespoons chopped fresh parsley
1 teaspoon fresh marjoram or oregano (or ½ teaspoon dried)
2 teaspoons savory spice blend ( To make savoury spice blend: combine 2 tablespoons nutritional yeast or yeast flakes; 1 tablespoon onion powder; 1 tablespoon dried parsley; 1 tablespoon dried basil; 2 teaspoons dried thyme; 2 teaspoons garlic powder; 2 teaspoons mustard powder; 2 teaspoons paprika; 1⁄2 teaspoon ground turmeric; 1⁄2 teaspoon celery seeds ingredients in a spice grinder or blender to mix well and pulverize the dried herbs and spices. You can save the rest of the blend in a shaker bottle or jar with a tight-fitting lid to use another day. Store in a cool dry place.)
Heat 1 cup/250ml of the broth in a large pan over medium heat. 
Add the onion and garlic and simmer for 5 minutes.
Stir in the sweet potato, kale, chilli flakes, bay leaves and the remaining 5 cups/1.2 litres of broth and bring to a boil over high heat.
Lower the heat to medium, add the beans, and cook until the vegetables are tender, 20 to 30 minutes.
Ladle about ⅓ cup/80ml of the broth into a small bowl or cup. Add the miso paste and stir to blend.
Pour the miso mixture into the soup and stir in the nutritional yeast, parsley, marjoram and savory spice blend*. Serve hot.