Make Jasmine Hemsley's Tikka Fish & Pak Choi Stir-Fry
Discover this fresh and flavoursome recipe from Jasmine Hemsley for a healthy midweek meal.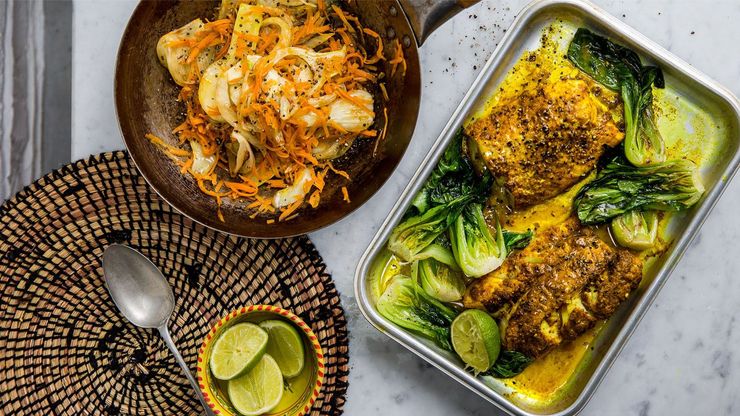 I don't have a tandoor (a type of clay oven), but I do like tikka - usually, small pieces of meat or fish in a spicy marinade, baked in said oven. This adaptation is a deliciously easy fish dish that I can pop in the oven while I prepare a stir-fry of veggies, making it perfect for entertaining. In India, the tikka marinade is made with yoghurt and spices, but since yoghurt with fish is an Ayurvedic 'no-no', I've swapped it with ghee, which helps to activate the spices as well as baste the fish. Marinate the fish in advance for the best flavour, then bring to room temperature before cooking. The whole dish comes together really easily and looks the business.  - Jasmine Hemsley
Total time

3 hours

Prep time

2.5 hours

Amount

Serves two

Ingredients

1 tsp ground ginger
1 tsp ground turmeric
1½ tsp garam masala
½ tsp freshly ground black pepper (plus extra to taste)
½ tsp sea salt (plus extra to taste)
½ tsp toasted cumin seeds or ground cumin 2—3 tbsp ghee
1 lime or lemon
1/2—1 tbsp water (optional)
2 fillets (about 300g) firm white fish (such as pollock/cod/haddock/coley/tilapia)
1 pak choi (quartered lengthways)
1 fennel (trimmed and cut into long slices)
1 tbsp black mustard seeds ¼ tsp chilli powder
2 large carrots (grated)
1. Mix the ginger, turmeric, garam masala, black pepper, salt and cumin together. Combine with 1 tablespoon of ghee and the juice of ½ lime to make a paste, adding ½-1 tablespoon of water if necessary.
2. Coat the fish in the paste and marinate in the fridge for at least 2 hours or overnight. When you are ready to cook, bring the fish to room temperature
3. Preheat the oven to 180ºC (fan 160ºC/gas mark 4). In a large pan, melt 1 tablespoon of the ghee over a medium heat and sear the pak choi until golden, then season with a little salt and pepper and set aside.
4. Place the fish on a baking tray and bake for about 15 minutes or until the fish is cooked, adding the pak choi for the last 5 minutes.
5. Meanwhile, melt the rest of the ghee in the same pan, if needed, and sauté the fennel. When it is lightly browned, add the mustard seeds and cook until they start to pop (be careful not to let them burn and become bitter). Add the carrot, season and stir-fry for a few minutes, until just tender. Plate everything up and squeeze over the juice of ½ lime.